A CIO guide to data protection resources
Data is a top priority for a CIO. How can an organization align data protection, disaster recovery, cloud adoption, scale-out storage and other data priorities?
A CIO guide to data protection resources
It is a world filled with changing CIO priorities – work from home, ransomware attacks, supply chain disruptions.
Commvault is your partner for insight and the technology to support your data management needs.
61%
of surveyed Commvault cloud customers said preventing ransomware is a top-3 priority during the global pandemic.1
Explore data protection resources for CIOs
Find the CIO level data protection resources you need. Discover ways to update your backup and recovery strategy, streamline your data management procedures and discover cost savings that can help your long-term budget.
49%
of surveyed Commvault cloud customers said that digital transformation is a top-3 priority during the global pandemic.2
During the global pandemic, CIOs have a strategic advantage in data protection.
CIOs are tasked with implementing technology that helps improve customer service, drives product innovation and delivers a better financial result.
New COVID-19 priorities are on top of a CIO's existing requirements. CIOs are focused on preventing risk, securing the organization's data and keeping the IT stack modern, effective and secure.
Learn how to find cost savings, agility and alignment with strategic goals.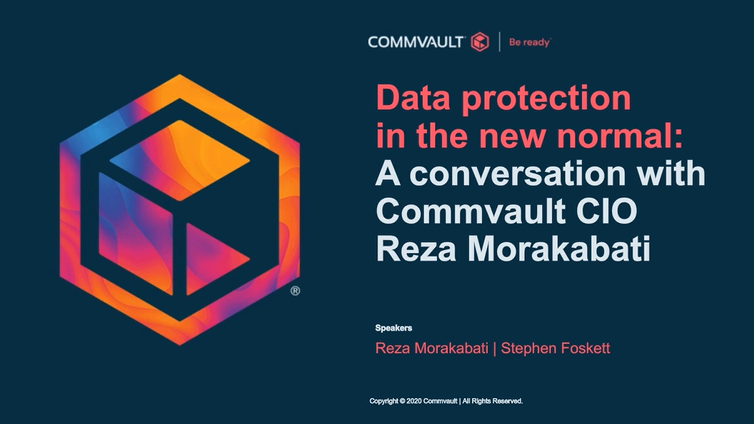 Data protection in the new normal: A conversation with Commvault CIO Reza Morakabati
Learn Data Protection Priorities from a CIO
For many CIOs data protection is top of mind during the global pandemic. Properly managed data can help drive essential services for the "new normal" of every organization. Even as the risk of ransomware is increasing, organizations can stay protected.

Learn from a CIO who is actively protecting data and planning for a strategic future. Join an engaging CIO webinar with Commvault CIO Reza Morakabati, along with Stephen Foskett, industry analyst and founder of the Tech Field Day event series.
Discover how essential data protection is during this pandemic recovery period – short term and long term. Proper data protection can save time, unearth cost savings and help keep your organization running smoothly through this unprecedented global event.
C-level leaders find data protection success
Improve efficiency
People need access to the data – and quickly. Shikun and Binui, the leading real estate and construction firm in Israel, uses Commvault to track data and ensure data backups are available.
Help the business
Each cloud offers different business advantages. CITIC Technology Development Company, an industry Internet service provider, reduces the complexity of managing cloud data with Commvault.
Plan for future growth
The amount of data under management will just keep increasing Laing O'Rourke, a large-scale construction firm, planned for future data growth. Commvault offers scalability, yet a clear approach to data management.
Most of the risks today are cyberattacks, or cybersecurity. We need to ensure that if there is a failure, we can move to disaster recovery.

—Eran Gutman, CIO, Shikun and Binui
In the era of the digital economy, data serves as the core asset of all enterprises and plays an increasingly important role in business optimization and decision-making. This requires us to pay more attention to data protection.

—Xiang Song, Chief Technology Officer, CITIC Technology Development Company

The need to move and protect workloads across our hybrid systems, and to introduce data cost management processes meant a data management platform, rather than point products, made sense to manage our large and geographically dispersed data landscape.

It was essential that our enterprise cloud strategy included plans for protecting, securing and managing cloud data as well as our on-premises datasets as they are moved, managed and used for business gain.

—Gareth Burton, CIO Europe, Laing O'Rourke
How data protection helps the changing CIO strategy
A Commvault eBook for busy CIOs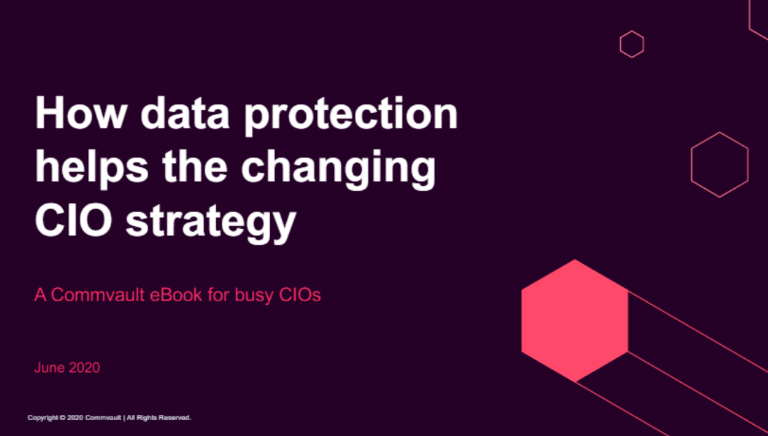 References
Commvault cloud data protection customer survey, 106 sample size, June 2020, C08-6D3-E00
Commvault cloud data protection customer survey, 106 sample size, June 2020, 5FB-EDB-76D