Almost Time To Go! Are You Ready?
By Matt Tyrer
I don't know about the rest of you, but I can't wait to get to Denver for Commvault GO, the premier data readiness event! Am I ready though? Well, let's see what I need to really be ready for this year!
Download the CommvaultGO 2019 App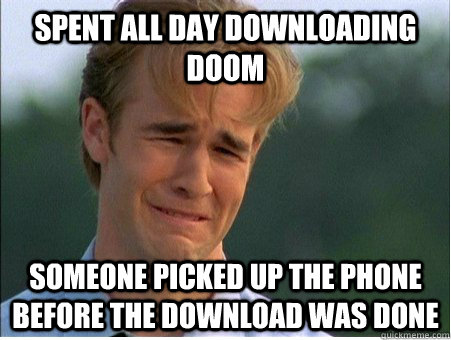 Now, I'm not sure how many will understand the struggle we had to deal with in the early days (IT WAS REAL!), but come on folks, it's 2019 – there's an API … oops, an APP for that! So start off with the conference basics: Don't make Dawson cry – download the app!
Seriously, the Commvault GO 2019 Companion App will be your best way to keep track of what's happening when interacting with your peers and making sure you get the absolute most out of your time at GO. It's available on the Apple App Store and Google Play.
Make your schedule
OK, now that you have the app on your device of choice the fun can begin! What fun? Well figuring out when all the sessions you want to hit are running! Gotta see what this Hedvig crew is all about! Wait!? What's this new "delete from backup" feature in Commvault Activate? When is the hands-on lab for cross-hypervisor recovery? And you definitely don't want to forget to lock in a time with our resident engineering Jedi in "Meet the Experts."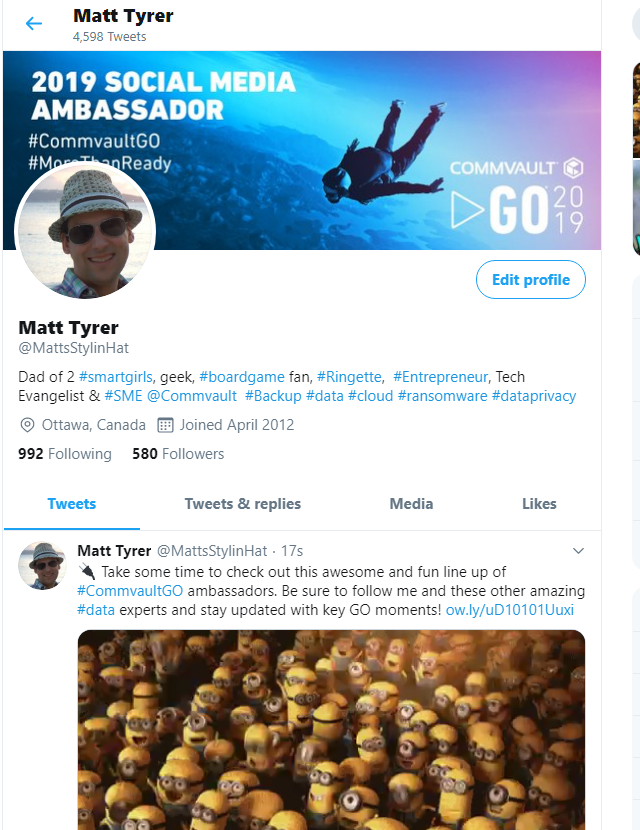 Not to mention all the fun social and networking activities planned. Trust me, I've already lined up my schedule and it was pretty easy to find the sessions I wanted to attend and make sure I wasn't double booking myself. No calculus or Tetris skills needed.
Get Social at CommvaultGO
Don't miss out on the online conversation around CommvaultGO! It's already started with lots of information about the show, our sponsors and breakdowns on some must-see sessions being shared. Find and follow the official Commvault GO hashtag #CommvaultGO on Twitter and Instagram and check in to our Facebook event (at the appropriate time).
(#ShamelessPlug) Be ready to be social! We have assembled a fantastic crew of Social Media Ambassadors who will be sharing their own witty and insightful views of the event, including some behind-the-scenes sneak peeks and key takeaways throughout the show. Learn more about the team.
I also challenge you to get your own #SelfieWithSanjay at GO 2019! He'll be around, see if you can find him 😊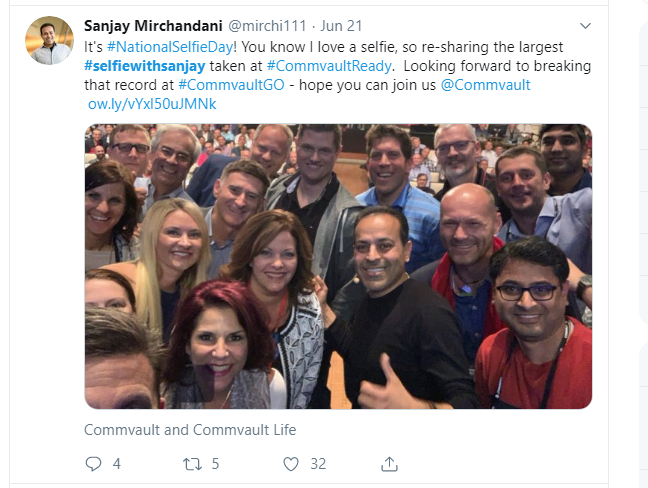 Plan to embrace the GO-tivities (yes – it's a term…)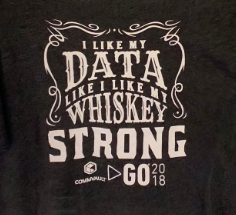 There's a ton of stuff happening at GO outside of the main events and even in between sessions. If you were at #CommvaultGO 2018 last year in Nashville then you already know about the awesome shirts we had for the attendees, and you'd better believe we'll be doing it again with a Denver twist to it! Don't worry though, there will be plenty of opportunities for you to get your shirt. #NoLines
I also challenge you to challenge yourself on the climbing wall. Can you beat your fastest time? Can you beat mine? 😉
Speaking of which: Do you like adrenaline? Do you like to be holding on to the arms of your chair just watching something amazing? Well, then come out for movie night and stretch out with some popcorn and pizza and watch Jimmy Chin's award-winning climbing documentary "Free Solo." Need more adrenaline than that? Well instead of stretching out, make sure you stretch your muscles with a morning yoga class (personally, I plan to still be sleeping at 6:30 a.m.) and/or hop in on the Commvault 5K run. Remember, running at altitude will be a whole new ball game, so be ready!
Last, but not least, if you're still not sure how you can get ready, then tune into this handy guide from @Brittany_Lamb17: Packing for GO 2019.
See you in Denver!