Announcing New Education From The Data Readiness Experts With Commvault GO On Demand
By Jesse Eichhorn
Commvault GO 2019, the premiere data readiness conference, was an educational tour de force. Attendees were able to choose from more than 170 sessions over two days on topics ranging from disaster recovery best practices, to protection of cloud data protection, to scale-out simplification – and everything in between.
With so much great education and information delivered at GO, it's only right that we spread the love and make some of the very best presentations available to everyone.
Introducing Commvault Go On Demand, a series of recorded presentations representing some of the most popular sessions presented at the conference. Check out the growing list of sessions available for playback today: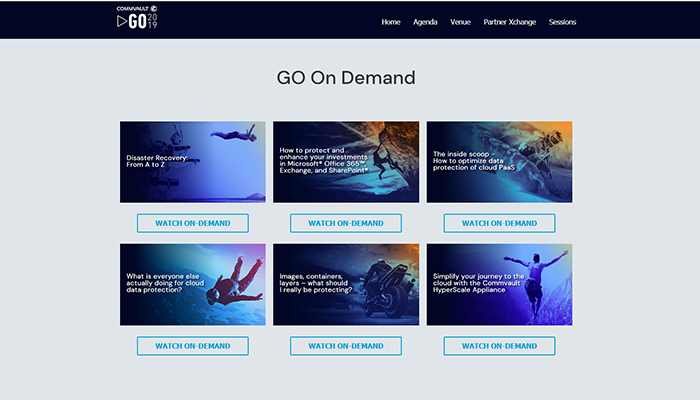 Disaster Recovery: From A to Z
Explore the many disaster recovery options available and how you can flexibly use multiple environments to deliver the best possible protection.
How to protect and enhance your investments in Microsoft® Office 365™, Exchange and SharePoint®
Managing your data within Office 365, Exchange and SharePoint environments can be a challenge. Learn the latest best practices, architecture options and methods for leveraging both on-premises and cloud resources – as well as how to accelerate your Office 365 migrations while ensuring data is both protected and recoverable throughout that process.
The inside scoop: How to optimize data protection of cloud PaaS
Learn about the limitations of native cloud protection for platform as a service (PaaS) workloads and how Commvault® software can overcome them.
What is everyone else actually doing for cloud data protection?
Learn where you compare against peers doing cloud data protection. Through survey data, customer examples and industry insights, see what everyone else is actually doing with data in the cloud. Gain insight into where other organizations are in their multi cloud journey, trends around data protection across public and private clouds, and tips to start or continue your cloud journey.
Images, containers, layers: What should I really be protecting?
Businesses are rapidly transforming their application landscape to embrace containerization, but is data protection being properly considered? Learn about the components that make up a docker container and how Commvault protects them.
Simplify your journey to the cloud with the Commvault HyperScale Appliance
Getting your data to and from the cloud can be a daunting and time-consuming task. Discover how the Commvault HyperScale Appliance can help you easily move, manage and utilize data in the cloud with just a few clicks.
Commvault GO had it all and delivered on its promise to help organizations be "More Than Ready" to solve their biggest data protection problems. Be sure to tap into the on-demand knowledge from some of the leading voices in the field today!