12 Days of Ransomware Recap Blog
By Mike Letschin
As the holiday season quickly approaches, the last thing you need is a ransomware attack dampening your holiday spirit—and threatening your data! To get you in the spirit of the season and to benefit your data, Commvault shared 12 Days of Ransomware, an initiative that shared 12 of our best ransomware defense pieces, from zero-trust to preventing ransomware reinfection.
Day 1: Protect, Detect, and Recover Data from Ransomware – Quickly and Fully
The ransomware threat continues to dominate headlines—and for good reason. In 2020, ransomware increased by 435 percent over the previous year. According to recent research from Cybersecurity Ventures, businesses are falling victim to a ransomware attack every 11 seconds—that's not very festive! The good news is, you can learn how to protect, detect, and recover data from ransomware—fully and quickly! —with Commvault. Learn more here.
Day 2: Don't Leave Your Data Home Alone!
'Tis the season for hot cocoa, holiday movies, and… ransomware attacks? Unfortunately, while we get time off to celebrate the holidays, ransomware attacks never take a break. It's like ransomware bad actors are the Wet Bandits, trying to steal your holiday cheer—and your data. The good news is, like Kevin McAllister, you're ready to defend your data against attacks. Learn more in our Don't Leave Your Data Home Alone blog.
Day 3: Why Customers Trust Commvault for Ransomware Protection
Commvault ransomware protection secures the data management environment using intelligent data protection and monitoring capabilities aimed explicitly against malware, including ransomware. Commvault customers know their data is safe, secure, and recovery ready. Hear from customers like the State of Colorado, Shikun & Binui, City of Sparks, and more in our video: Why customers trust Commvault for ransomware protection.
Day 4: The Real and Relentless Threat of Ransomware
Ransomware attacks are relentlessly on the rise. We've seen the news– and it is no longer a question of IF, but WHEN will you be attacked. While paying the ransom is not an option, the risk and disruption to an organization, its customers, and its reputation can be much more costly. Don't let this ruin your holiday cheer! Take the time to prepare for the inevitable—which starts with making sure your team is ready to respond—with our Real and Relentless Threat of Ransomware blog.
Day 5: Customers Recover with Zero Data Loss—Rapidly!
With Commvault, our customers are ready for anything—even data disasters like ransomware attacks. The proof is in the (Christmas) pudding: check out ransomware recovery stories from the State of Colorado and the City of Sparks to learn more about how IT departments can be ready for anything, and come out on the other side celebrating their successes!
Day 6: Ransomware Risk Assessment Tool
Cyber threats continue to evolve at an unprecedented pace. As new and more sophisticated threats emerge, the challenge of protecting against – and recovering from – a ransomware attack is greater than ever before. It's no longer a question of "if" but of "when." Are you prepared? Find out by taking the Commvault Ransomware Risk Assessment.
Day 7: Avoid Ransomware Reinfection with Commvault
With the modern threat of ransomware, Commvault ransomware protection solutions are built on responsiveness, innovation, and rapid execution to help you stay one step ahead. Not only does Commvault secure your data management environment using intelligent data protection and monitoring capabilities aimed explicitly against malware, including ransomware to keep your data safe, secure and recovery ready, but also goes one step further, safeguarding you against ransomware reinfection. Learn more in our feature demo.
Day 8: Ransomware Strikes! Respond and Recover Quickly
Being recovery ready means you have the confidence and ability to quickly recover any data across your environment, across physical servers, virtual machines, and various cloud platforms. Check out Commvault's five-part series on how you can respond and recover your data as part of a layered security approach against ransomware.
Day 9: Zero-Trust Isn't About a Bad Relationship
Zero-trust is a valuable component of a multilayered security framework. It ensures administrators and users are authenticated and authorized, preventing external and internal threats to your environment. Learn how to improve your security with zero trust and easily implement it in your Commvault environment.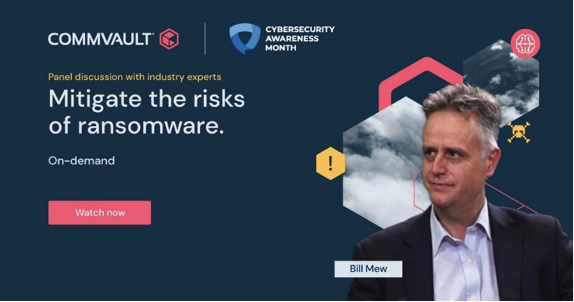 Day 10: Mitigate the Risks of Ransomware. Panel Discussion with Industry Experts
'Tis the season to be ready for ransomware. Learn from the experts with our "Mitigate the Risks of Ransomware" panel discussion featuring industry experts like Bill Mew, Iain Patterson, and more. Understanding the ransomware landscape is the gift that keeps on giving—you're welcome!
Day 11: Ransomware Prevention and Recovery Tips from Commvault
What if… a backup admin accidentally tries to delete a backup job, policy, or library? What if an authorized or malicious user tries to delete protected backup data? What if an authorized user tries to encrypt, move, or delete files, or reformat a disk? In the world of data "what ifs," you can't afford to be unprepared. Learn more about data immutability from Commvault.
Day 12: Ransomware Happens. It's What Happens Next That Counts
Did you know that half of cyber professionals still believe their organizations are not prepared to deal with a successful data breach? That's a surprise—and not the good kind. The good news is you can be ready by enhancing your data protection strategy to reduce the impact of a potential attack and being cyber smart. Learn more in our blog from Metallic, a Commvault venture.
… and a partridge in a pear tree! Now that your data is defended against ransomware, you are free to celebrate and relax. Happy holidays from all of us here at Commvault, to you and your data!