21 Things About Connections21 You Can't Miss

It's no secret that here at Commvault, we are beyond excited for Commvault Connections21: it's the industry's premier hybrid data services event.
We're welcoming folks into our headquarters for three hours of programming, featuring incredible keynotes from our executives, customers, and expert guests. We also have exciting breakout and roadmap sessions, and the opportunity to chat one-on-one with experts. Basically, we can't wait to get started and share what we've been developing with you. If you weren't already excited enough, don't worry, we have 21 things about Connections21 to get you jazzed for the big event….
If we had you at "data", "Commvault" or "roadmap" – you can register right now and enjoy the rest of the blog at your leisure…
Our Exclusive Keynotes
Not only are we featuring Commvault CEO Sanjay Mirchandani, but did you know we're featuring speakers from ADP and AWS? We'll be joined by Dave Martin, the Chief Security Officer at ADP and Stephen Orban, GM, AWS Marketplace and Control Services (who literally wrote the book on cloud)—how's that for an all-star line up?
Our global panel
There is no more important voice than that of our customer, and we are excited to hear from them. Moderated by our incredible emcee, Lauren Schwartz (Google her—she's a regular on the Today Show), the panel will feature Christopher Rein, CTO, State of New Jersey, John Gallagher, Senior Manager of Global Enterprise Infrastructure, Syncreon and our rockstar Reza Morakabati.
Forecast – there is no future without SaaS – from Metallic IO
It's shiny with a 100% chance of Metallic SaaS…. Is exactly the kind of forecast you can expect from our Metallic Session! Find out the very latest from the world's best travelled two year old, Metallic and learn what we've been working on in the world of SaaS.
Metallic + Microsoft (the only M&M you need)
Get the inside scoop on how Metallic and Microsoft are redefining cloud data management via their partnership, with a SaaS-focus. Featuring David Totten, CTO US Partners, Microsoft, Manoj Nair, GM Metallic and of course the man in the know (Ngo, see what I did there…), David Ngo, CTO of Metallic. This session focuses on how customers can accelerate cloud transformation.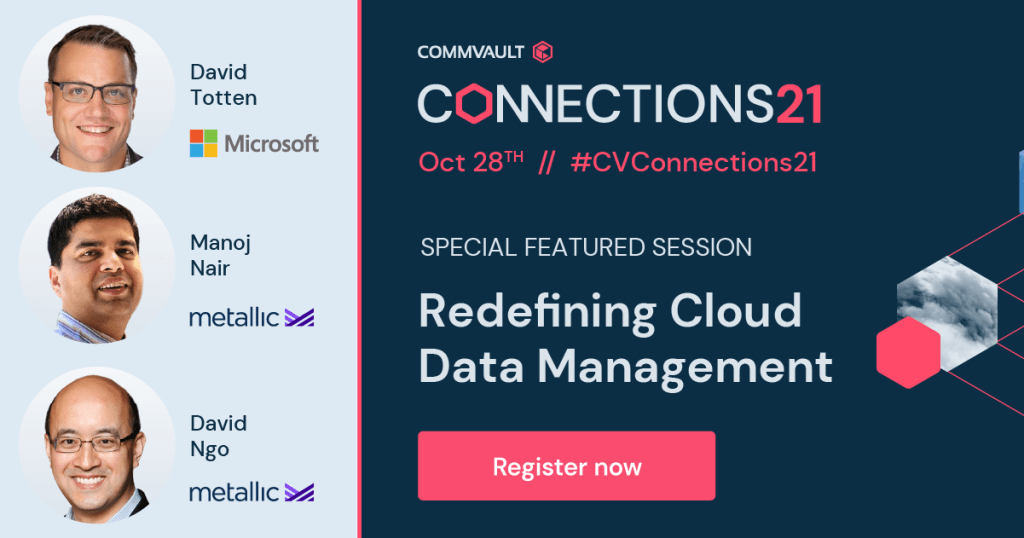 Our Immersive Event Experience
I think we can all say that we are a little tired of back-to-back zoom meetings. Rest assured our immersive hybrid event experience will keep you engaged and there are lots of ways to engage with Commvault leaders, partners and fellow IT professionals.
Meet our Experts
How often do you meet a real life jedi? Our Commvault Experts are back and ready to unlock the potential of your data (and protect it against evil). Register to book your personalized session – but be warned these slots go FAST!
Ransomware Recovery Lessons
Learn 5 lessons about ransomware recovery from people who have been there: from what happened when they were attacked and how they recovered to the lessons learned, so you can defend your data. Get the inside scoop at our Five Lessons Learned from Ransomware Attacks session!
It's Global
Great news—no matter where you're located, Commvault Connections21 is available. Our event is intended for a global, virtual audience and designed to be immersive as well as informative. That means more fun, more data, and more exclusive Commvault content, no matter where in the world you are—and did we mention we have an amazing, global lineup of speakers?
Cost Efficiency Hacks
It is a truth universally acknowledged that streamlining data protection can lower costs. Learn more about how modern data protection practices can improve efficiency and support innovation—while driving costs way down. You can learn more at our How to Find Cost Efficiency session!
Exclusive Roadmap Session
This is one road trip you want to be on: buckle up and join Ranga Rajagopalan to learn about our Intelligent Data Services from Commvault and Metallic. This roadmap gives you everything you need to know about putting your data first. Snacks are BYO.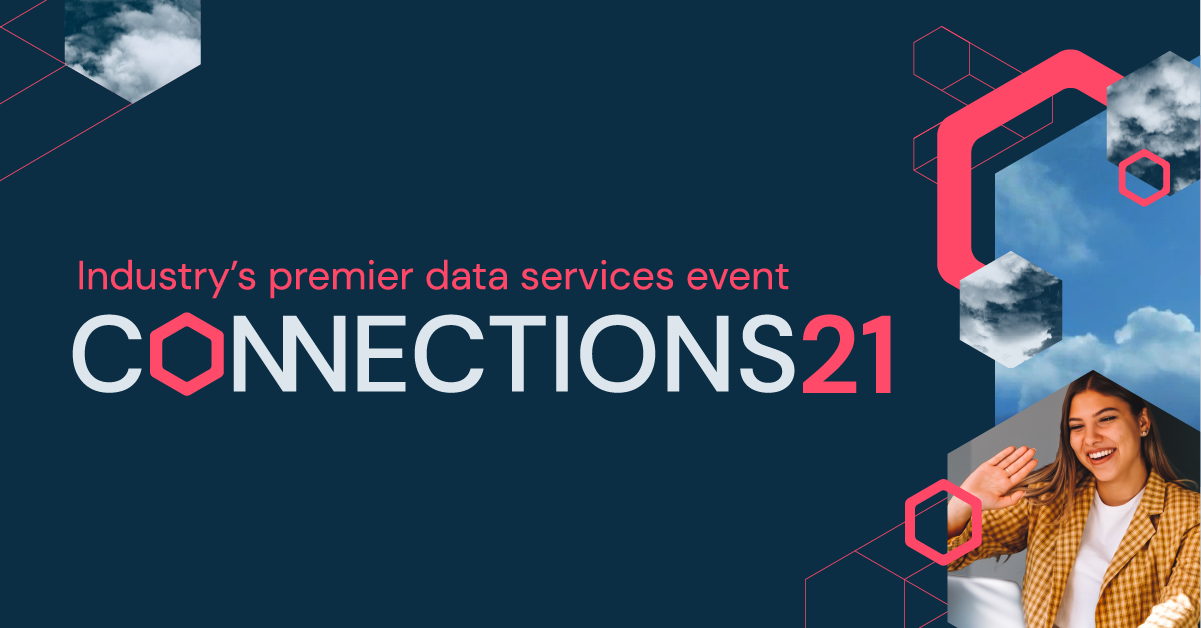 Tackle Data Challenges
Tackle data challenges with us! Learn how Commvault delivers powerful Intelligent Data Services through its multi-product portfolio, offering flexible delivery and enabling simplification to your data management challenges in our Tackle Data Challenges session.
It's the Coachella of Data Events
Not to be dramatic but… this is the Coachella of data events. Amazing headlining acts, good vibes, and memories that last a lifetime? Check, check, and check. You want to join us virtually: glitter is optional but recommended for full Coachella vibes.
Prizes/ Swag/ Merch
As if attending the event alone wasn't enough of a win, did you know there will be prizes at the event? We can't reveal too much, but safe to say you won't want to miss the opportunity to take these exclusive items home! Eligibility rules apply (the lawyers made me say that).
Workload Jenga
Workloads stack up in the enterprise and spill over from the data center to the edge. This balancing act works short term—but how can you become the Jenga master of your workloads? We've got the inside scoop, and even a checklist (!) at our Workload Jenga session.
Social Media Shenanigans
Our amazing Social Media Manager, Taylor Lown, will be giving social media updates throughout the event. Trust me when I say you won't want to miss her insights on social buzz! Join the (already) hot conversation by engaging with the event hashtag: #CVConnections21
Customer Panel Discussion
Chris Rein, CTO of the State of New Jersey, and John Gallagher of Global Supply Chain leader, syncreon will be joined by Commvault CIO, Reza to discuss current data protection challenges and how they are managing data sprawl while protecting against the latest threats.
Our HQ
We're welcoming everyone into our living room to experience Commvault Connections 21. Commvault is proud to be based in New Jersey (shout out to the Boss!) and we are looking forward to showing everyone around.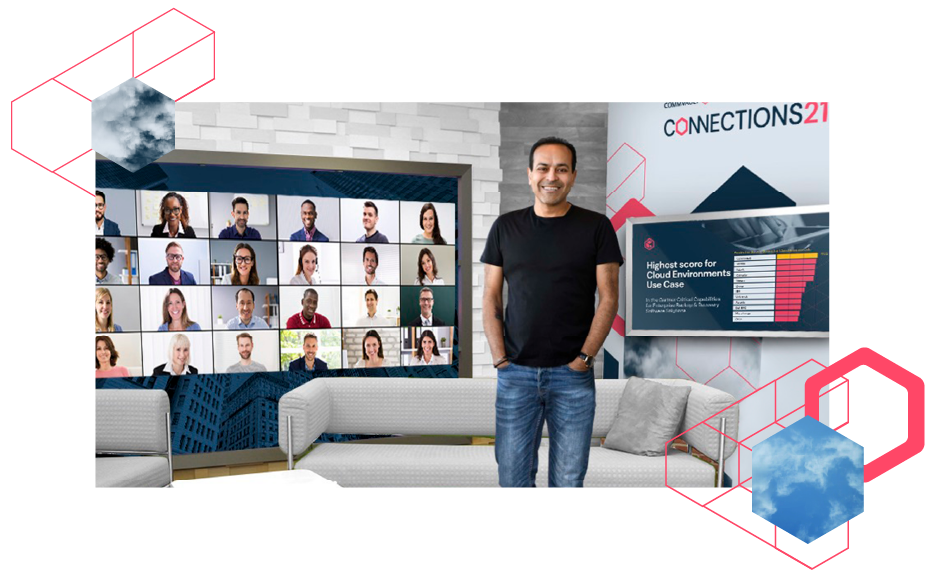 It's LIVE!
Saturday Night Live, the Oscars, the World Cup… a lot of great things are live, and Commvault Connections21 is no exception. The excitement of a live event is like nothing else, and we are so excited to invite you all to experience our event, as if you were here with us!
Hands-On Labs
Access a vital learning tool that provides a flexible method for gaining hands-on experience with Commvault software—only available at Connections21!
Our Emcee
Welcome, Lauren Schwartz! Our Connections21 Emcee is a professional emcee and keynote speaker since 2001, whose body of work spans from the White House to Australia's #1 Today Show. Award-winning and so much fun, we can't wait to welcome her to the Commvault community!
Ask us Anything #AMA
Ever think "I wish I could ask a Commvault Engineer…"? Well, now you can! Get answers in a customized one-on-one session with a Commvault data expert at our Meet the Experts sessions.
Are you excited now? We certainly are, and we can't wait to see you there. If you haven't already – register RIGHT HERE