Data Protection
3 Reasons Why Cloud Computing Needs Data Protection
Organizations are adopting cloud computing for many business objectives, but one truth is clear: Cloud computing needs data protection.
Organizations are adopting cloud computing for many business objectives, but one truth is clear: Cloud computing needs data protection.
Even though the public and private clouds are highly secure, your organization is responsible for the data protection – and rapid recovery – of the workloads you migrate to the cloud.
Here are three reasons why cloud computing needs data protection.
1) Cloud computing needs data protection for availability.
According to Gartner Research, "Through 2020, cloud will be used for use cases that impact most organizations' core business operations."1
With your critical operations running in the cloud, you can't have downtime due to data availability issues.
Whether the issue is a natural disaster, an outage or a human error, you need fast, reliable and comprehensive data recovery.
Data recovery comes from reliable backups. In a recent survey of IT leaders, 75 percent indicated that data protection and backup in the cloud was the project that was most impactful on their business. 1
Relatedly, 68 percent of survey respondents said uptime, backup and recovery of SaaS applications was the most impactful cloud project. When you backup and recover SaaS applications in or across clouds, you can have fast, reliable application recovery. From your CRM to your ERP, Commvault can help you backup and recover SaaS applications to keep your business up and running.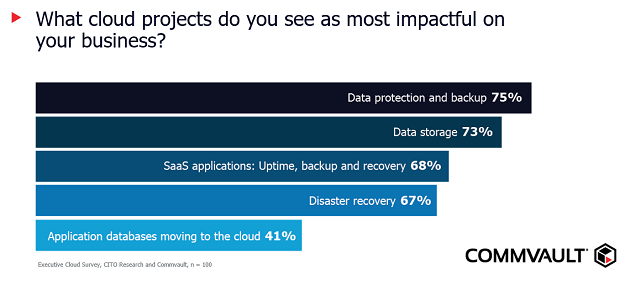 Plus, 67 percent of IT leaders surveyed said disaster recovery was the cloud project most impactful to their business. Disaster recovery is about availability. Keeping your virtual machines, databases, or even single files available is critical to serving customers, processing orders and continuing operations.
2) Cloud computing needs data protection for flexibility.
Today, more CIOs have a seat at the table when the organization's key stakeholders discuss their changing data demands.
Marketing leadership may be purchasing a new SaaS technology to better target key customers with campaigns.
Finance may be planning a shift to a cloud-based ERP.
Customer support may be looking for more historical data in order to better serve long-time customers.
All of these projects involve data – the data your IT team manages through backup and recovery.
Would you have more flexibility to support these changing data needs if you were using cloud data protection strategies?
3) Cloud computing needs data protection to reduce staff workloads.
Your IT staff is already doing too much work. Let technology streamline the work of cloud data protection.
Today's modern cloud data protection platform can employ automation, orchestration and artificial intelligence to reduce workloads. Projects can be completed in less time and with reduced risk.
If you do not yet have a single, comprehensive data protection platform that includes both cloud and on-premises data protection, it's time to look at better options.
Learn more about why cloud computing needs data protection
Commvault aligns with IT organizations of all sizes, plus service delivery partners and cloud technology vendors, to help ensure IT leaders are ready for the future of cloud computing.
Included in this newsletter are four valuable Gartner reports:
Predicts 2019: Increasing Reliance on Cloud Computing Transforms IT and Business Practices – Gartner research analysts share the changing landscape of cloud computing through predictions. Learn how IT and business practices are aligning for organizational success.
Infrastructure Availability and Recovery Primer for 2019: On-premises, cloud and hybrid IT environments all need reliability, availability, resiliency and recovery. Learn what technology, tools and skillsets are needed in today's environments.
Cloud Computing Primer for 2019: Discover what is on the horizon for cloud computing, especially as more organizations adopt a cloud-first approach.
4 Starting Points for Digital Business Transformation: Digital business transformation is a big job. Four diverse case studies illustrate how CIOs can drive successful transformation projects.
1 Gartner, Predicts 2019: Increasing Reliance on Cloud Computing Transforms IT and Business Practices, Yefim Natis, David Smith, Ed Anderson, Sid Nag, Neville Cannon, Rene Buest 13 December 2018 ID
2 Executive Cloud Survey, CITO Research and Commvault, n = 100