Backup and Recovery
3 reasons why DBaaS needs data protection
Learn why DBaaS needs data protection in the new "Cloud Tech Talk: How to provide backup and recovery for cloud databases (DBaaS)."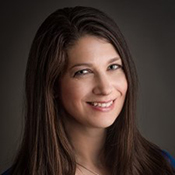 Why do Database as a Service (DBaaS) projects need data protection? It's a common question – and one answered in a new Commvault tech talk and demo.
Cloud vendors like Microsoft Azure, Amazon AWS and Google Cloud Platform offer extensive Database as a service (DBaaS) options. Organizations adopt DBaaS as an innovative technology that provides scale, budget optimization and automation opportunities. As firms use data to support new business requirements and modernize critical legacy platforms, DBaaS is an attractive option.
DBaaS services actually need data protection just like any other cloud service. Cloud databases still need backup. If data is important enough to be included in a cloud database, it's important enough to be protected — and that is your responsibility.
Learn why DBaaS needs data protection in the new "Cloud Tech Talk: How to provide backup and recovery for cloud databases (DBaaS)." In the on-demand replay, Shreyas Agnihotri, Commvault Senior Product Manager, shares technical insights to help you protect and recover your DBaaS environment.
Here are just three of the examples, but join the 20-minute webinar replay for the complete details.
Reason No. 1 why DBaaS needs data protection: data loss
Whether it's through human error, ransomware attack or another reason, loss of DBaaS data can be a painful issue for your business. Accidental deletion of your data or snapshots can painfully impact your business goals.
Cloud vendors that support DBaaS may offer short term 0- to 35-day backup retention through snapshots. This process can be manual and involve scripting.
There are many limitations – and risks – involved in solely relying on cloud vendor backup tools.
Using a cloud native backup solution like Commvault lets you perform a streaming backup of tables in addition to snapshot based protection. Choose streaming or a snapshot of individual databases, all databases in the region, or across regions.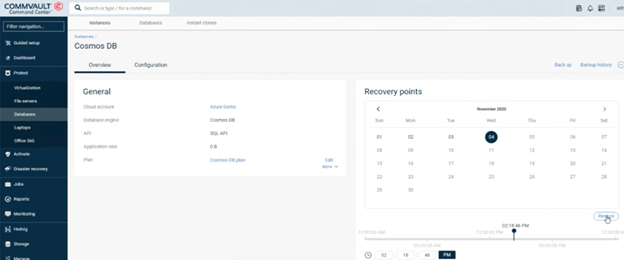 Recovery of the DBaaS data is just as critical. Commvault helps you model fast, reliable DBaaS recovery within your RTO and RPO requirements.
Clear, accessible reports help you show executive leadership DBaaS backup and recovery plans that meets organizational requirements
Choose to restore DBaaS across different regions, different accounts, or even across different clouds
Empower database administrators with simple self-service recovery with proper role-based access control
Define DBaaS backups based on your requirements and avoid data loss
Reason No. 2 why DBaaS needs data protection: flexibility
Today's organizations need flexibility to choose where DBaaS backups are stored. You need to control where and when to recover DBaaS.
With cloud vendor DBaaS snapshots, you can't necessarily choose where those snapshots are stored.
Give yourself the option to choose when and how backups run. Store DBaaS backups to a cost-effective storage tier in the same cloud, a different cloud, or back on-premises. Get the flexibility to choose based on business requirements.
When you use a complete data protection option like Commvault, you can choose the way data is collected and accommodate large, customized web-based applications and databases with ease.
Plus, Commvault gives you flexibility for change. Business demands may require you to move from one cloud service to another.
Today's situation may change tomorrow.
You need the flexibility to transport data easily and securely between clouds. Snapshots won't support flexible data migration of cloud apps and databases – especially at scale.
Commvault has the only data protection solution in the market to support the broadest range of DBaaS products across the most diverse range of cloud providers.
Be confident in the ability to move DBaaS to the services and clouds and geographic regions that support your business demands today – and what's coming tomorrow.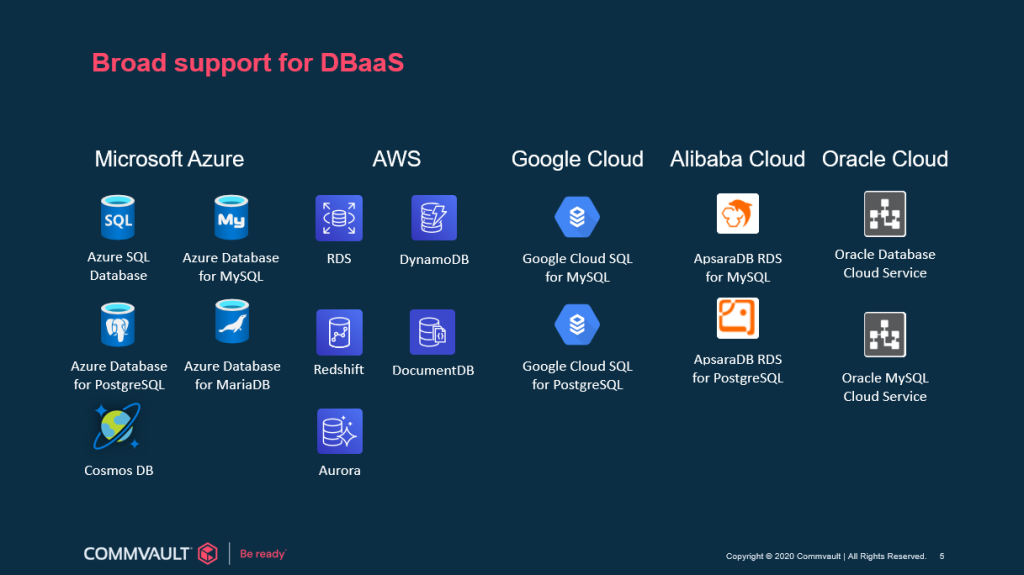 Reason No. 3 why DBaaS needs data protection: compliance
No matter where it lives, your data needs to be compliant. The business-critical data in your DBaaS initiatives needs to comply with your retention SLAs. You need ability to retain your data for long term, as long as you need without incurring huge cloud expenses typically associated with cloud snapshots.
The snapshots that cloud vendors may offer are only 0- to 35-day retention periods. You need to comply with your long-term retention policies and maintain complete backups and control.
Commvault gives you the flexibility to manage long-term retention at scale. Keep your data as long as you need it and store it on a cost-effective storage tier to keep the cloud costs down.
Need to backup DBaaS data tables in a particular cloud region? Choose the backup and recovery options that work for your compliance needs.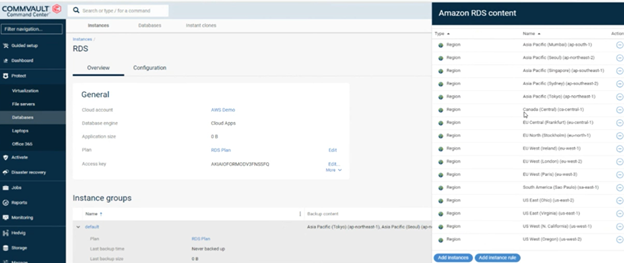 Join the 20-minute replay
New Commvault Cloud Tech Talk: u0022How to provide backup and recovery for cloud databases (DBaaS).u0022nnnSee the demo and then reach out to Commvault with your DBaaS backup and recovery questions. n