Commvault GO
5 Cloud Data Protection Trends From Commvault GO 2019
There were five big cloud data protection trends at Commvault GO 2019, the premier data readiness conference. Check out these five cloud data protection trends from Commvault GO.
There were five big cloud data protection trends at Commvault GO 2019, the premier data readiness conference. It was an amazing event with even more incredible customer stories, new alliance partner innovations and insights from industry experts. Across the board, cloud – and cloud data protection – were hot topics.
Check out these five cloud data protection trends from Commvault GO.
1. Multi cloud adoption is on the rise
From the Fortune 500 pharmaceutical company using the three major public clouds to the mid-size health manufacturer that is starting to migrate workloads to AWS, Commvault GO was full of more interesting stories of cloud – and multi cloud – adoption than I've seen at past events.
Along with cloud adoption comes the need for cloud data protection. Commvault customers are well aware of the need for protection of cloud data. Even heavily regulated organizations are choosing cloud for agility and cost savings.
As Dave Bartoletti, Vice-President, Principal Analyst of Forrester Research, illustrated in a Commvault GO keynote, cloud adoption is on the rise.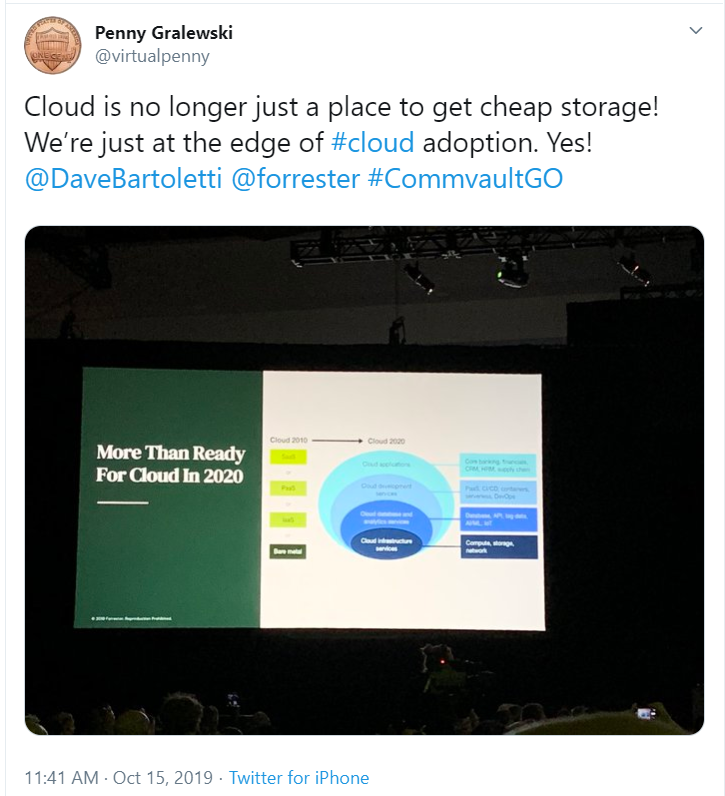 2. It's popular to establish a cloud data strategy
Cloud data migration is easy, but does every workload need to go to the cloud right away? No.
Commvault customers shared their experiences for developing a cloud data strategy. Some organizations start with workloads that were on physically intensive tape storage, saving costs and labor. Others start with applications or large cloud-native databases that can benefit from cloud-to-cloud backup and recovery.
What's trending is a strategy that includes cloud disaster recovery. The Commvault GO keynote featured a demo of a real disaster recovery scenario that echoes the power outages surrounding the California wildfires. If the lights go out, you can use SMS on your phone to kick off a Commvault disaster recovery scenario from Microsoft Azure.
3. Cloud is global, so flexible data protection is a requirement
From the keynotes to the sessions, the global nature of cloud – and cloud data protection requirements – was a hot topic.
Commvault customers are relying on cloud storage and availability to drive regional manufacturing, worldwide disaster recovery and market expansion. Currently Commvault manages more than 700 PBs in the cloud, with only 40 percent of the customer base included in that analysis.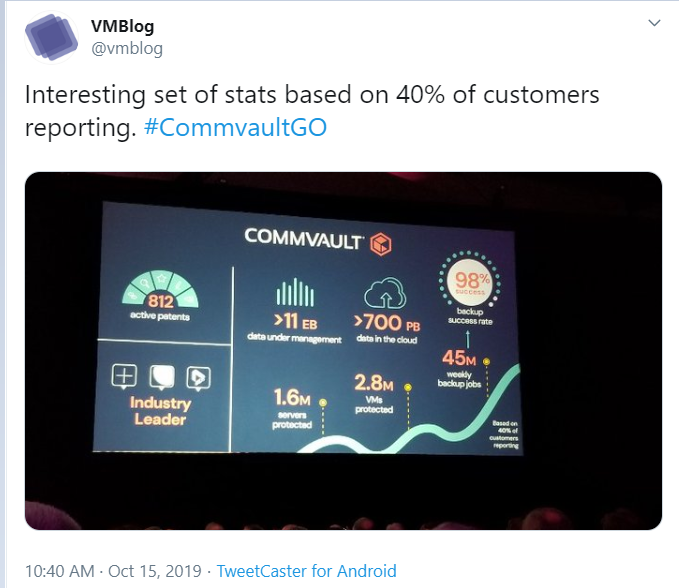 Cloud has global demand. The cloud vendors are quickly expanding their regional data center availability. There are currently 54 Microsoft Azure regions, 22 Amazon Web Services (AWS) regions and 20 Google Cloud Platform regions. Oracle Cloud just announced a goal for 36 regions available by the end of 2020. For Oracle customers, that means a new availability region every 23 days.
Commvault customers have the flexibility for quick, encrypted data migration to new clouds and new cloud regions. If you need to support cloud disaster recovery in an Asian manufacturing facility or launch a call center in Germany and have local backup of the data to comply with new regulations, Commvault gives you the flexibility to move and support the data when and where you need it. With just a single interface, Commvault empowers IT leaders to move, manage and use data across multiple clouds and on-premises environments.
4. Learning more about cloud – and data protection – is a career changer
Training sessions at Commvault GO were sold out. Hands-on labs and workshop sessions were extremely popular. IT leaders are eager to learn the skills needed for cloud data protection and working with the cloud.
As a natural extension of an IT environment, cloud is moving quickly. For cloud customers, people who want to be cloud customers and cloud partners, there's never been more free education available. The cloud vendors really want you to be able to learn how to use the cloud – and use it well.
Microsoft offers free training in Azure and an AI School to help people learn how to design and build for Artificial Intelligence. For partners, Microsoft offers training on the technology, but also education on attracting and nurturing talent.
AWS Educate teaches career people and secondary school students about cloud computing. It even has a job board to match students with cloud computing jobs.
AWS just released new partner courses to help APN Partners identify areas of cost savings and data center economics for their customers. Move to the cloud – and move to the cloud efficiently.
Google has tons of free training on Cloud, ML and GSuite administration.
Commvault GO interest in multi cloud education showed cloud data protection learning can be a career builder.
5. Cloud data protection trends are evolving
Every year at Commvault GO, our community shows more interest in cloud data protection. Every year the cloud-related topics are slightly different. New cloud topics are evolving, and IT leaders want to learn about them.
To help you learn, Commvault has released a set of Commvault GO cloud sessions available at no charge. From disaster recovery to Office 365 data protection, containers to PaaS, there's something for everyone.
Be sure to check out the sample cloud data protection sessions.