Backup and Recovery
5 Top Cloud Data Protection Priorities During The COVID-19 Pandemic
What are the top cloud data protection priorities for organizations during the COVID-19 pandemic? We asked and you answered.
By Penny Gralewski
What are the top cloud data protection priorities for organizations during the COVID-19 pandemic? We asked and you answered.
Commvault surveyed a sample set of our cloud data protection customers, asking "What are your top 3 data protection priorities during the global pandemic?"1 The results echo what you're seeing in headlines, industry analyst reports, and probably your own workplace.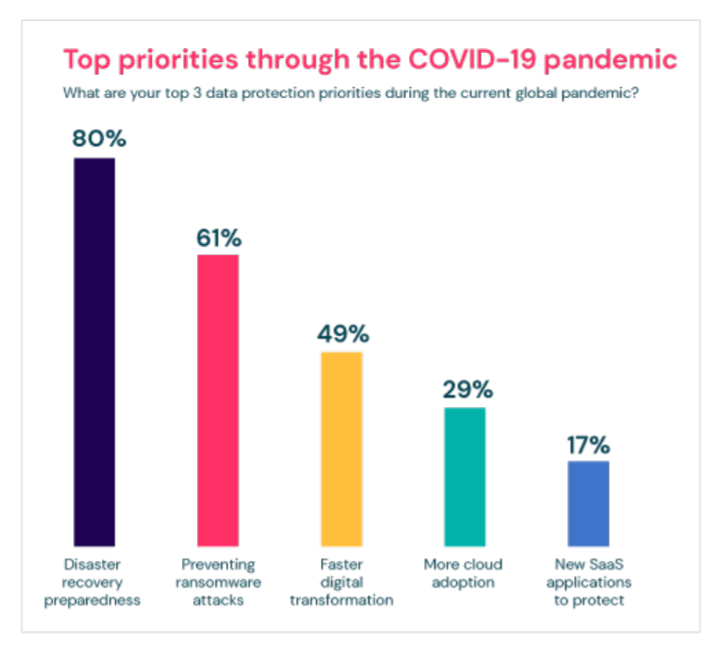 What do these trends mean? Let's explore why these are the top priorities for cloud data protection right now.
Top cloud data protection priority No. 1: Disaster recovery preparedness
For 80% of surveyed Commvault cloud customers, disaster recovery preparedness was a top priority.
Cloud disaster recovery is enabling organizations to quickly recover data from locations around the globe. While working from home in Chicago or Chennai, IT leaders using Commvault can quickly restore cloud-based workloads to offices, manufacturing facilities, or cloud-based services around the world.
Top cloud data protection priority No. 2: Preventing ransomware
There's a new headline – and a new ransomware code name – almost every week. It's no surprise ransomware prevention is a top priority for both cloud and on-premises data management professionals.
Preventing ransomware attacks was a priority for 61% of surveyed Commvault cloud customers.
Commvault helps customers prevent ransomware with encrypted backups, alerting, anomaly detection, immutable backups, air gap and data isolation support. If a ransomware attack does happen, Commvault enables rapid data recovery.
Top cloud data protection priority No. 3: Faster digital transformation
Microsoft put it best in April: "We saw two years of digital transformation in two months."
For 49% of surveyed Commvault cloud customers, faster digital transformation was a top priority. When your workforce needs to suddenly work from home, technology priorities shift to security and productivity.
Customers know that the Commvault platform offers flexibility to quickly provide data protection for new technologies – from industry-specific SaaS applications to virtual machines, PaaS databases to Office 365. Many customers were able to absorb new technologies, just using the same Commvault interface and processes that were already in place.
Top cloud data protection priority No. 4: More cloud adoption
Cloud-based workloads may rely on the high availability of the cloud, but cloud-based workloads still need data protection from a third-party source. Enterprise grade backup and recovery are your responsibility.
In the Commvault cloud customer survey, 29% saw increased cloud adoption as a top pandemic-driven priority.
In separate research, Boston Consulting Group (BCG) found about one in three organizations had reported a pandemic-influenced push for increased cloud migration. While 34% of the BCG survey respondents reported accelerated cloud migrations in response to COVID-19, 46% expect cloud migration to be a major priority over the next 12-24 months.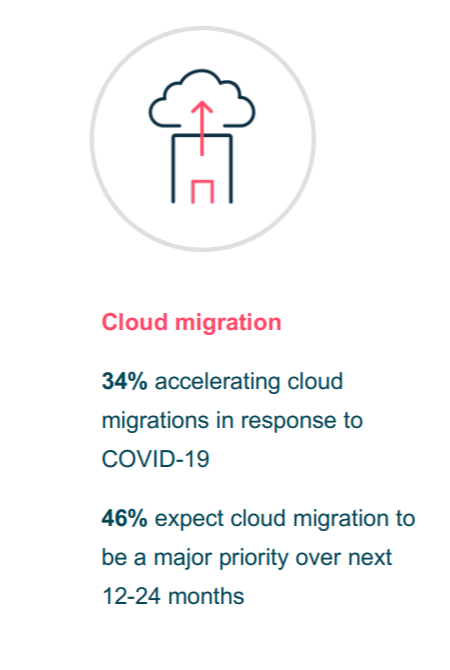 If cloud data protection isn't yet on your radar, set up a time to speak with your local services partner, your cloud provider and Commvault to develop a cloud strategy.
Top cloud data protection priority No. 5: Protecting SaaS applications
SaaS applications enable a remote workforce, but the data stored in the application needs to align with your data backup and recovery SLAs. SaaS vendors are responsible for availability – not data recovery.
That's likely why 17% of surveyed Commvault cloud customers saw new SaaS applications as a top cloud data protection priority during these early months of the pandemic.
SaaS apps need data protection. Maybe it was a pandemic-influenced switch to Microsoft Office 365 or a recent realization that an entirely mobile workforce needed to use Salesforce outside the office walls. Again, you own the backup and recovery of data from these cloud-based applications.
You can streamline adding support for SaaS-based applications, including Office 365, into your existing Commvault implementation.
Get Started with the Definitive Guide to Cloud Data Protection
The cloud is everywhere – and it's changed everything. Public, private, multi, hybrid—today's environments open a world of possibilities to help your business become more agile, flexible and responsive. But there's a right way to do it.
Get a new free resource to learn more about your role in protecting cloud data, especially during these uncertain pandemic times. Learn more about Cloud Data Protection: The Definitive Guide.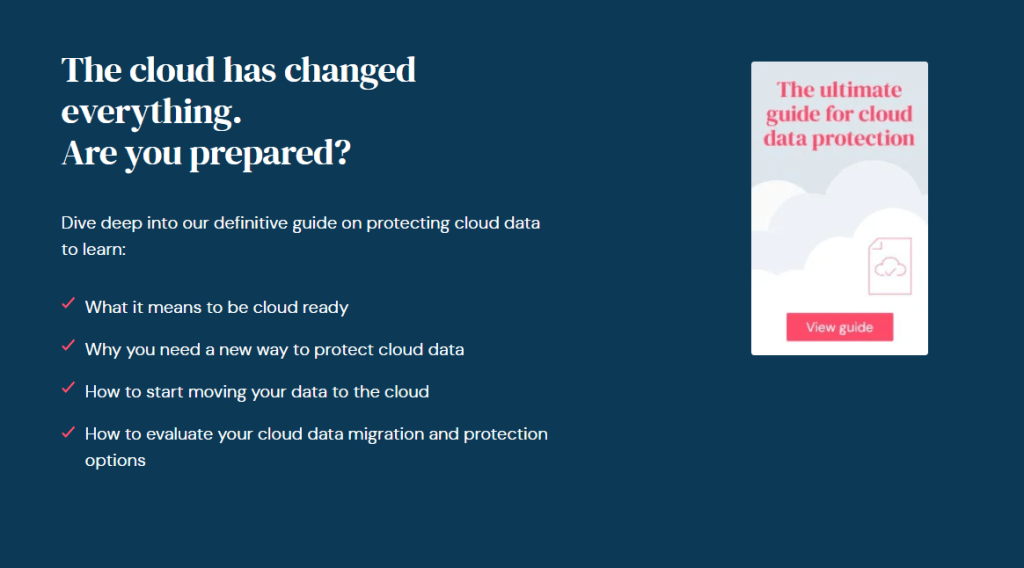 Reference
1 Commvault cloud data protection customer survey, 106 sample size, June 2020 TVID: 19E-028-0C4