Hello Digital! A new way to wear your Commvault Badge of Honor
By Suzanne Klausner
Whether you are Commvault certified (congrats!) or working up to a certification (congrats in advance) – we have some exciting news! There is now a new way to show off your accomplishments and highlight your Commvault skills – through our digital badge accreditation program, available to customer partners, and employees right now.
As with anything of value, Commvault certifications take time and commitment to achieve – that's why they deserve to be celebrated. And in 2021 – that means digital. We've partnered with Credly, a leading digital badge platform that helps learners showcase their verified knowledge, skills, and abilities to their entire online network.
In short – your Commvault qualifications are verified, and you can show off your skills and education to your digital contacts and followers. Who doesn't like that!
You will earn badges for each Commvault achievement – whether it's renewing an existing certification or adding another one to your transcript. As soon as the certification is successfully earned, the corresponding digital badge will be sent to you for use on email signatures, digital resumes, websites, and social networks such as LinkedIn (and it will contribute to your all-important All-Star LinkedIn status). Just take a look at what your profile could look like.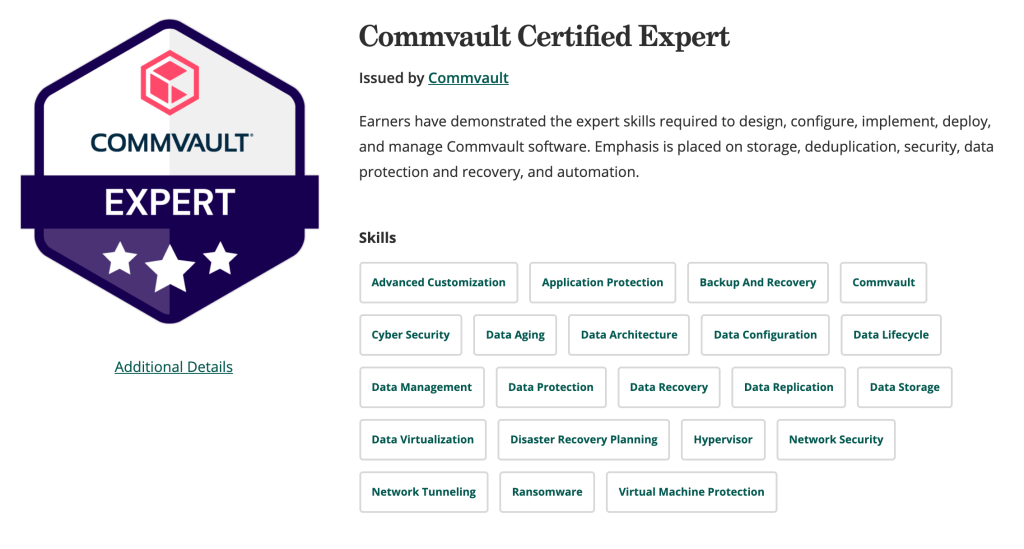 Each badge links to a web-enabled version of your certification to display a detailed explanation of what you have learned and completed to earn this badge.
Already hold a current Commvault certification? Watch for an email from Credly with instructions to claim and proudly display and share the badges you've already earned.
Getting started with Commvault and want to get certified? Check out our education

page

– there is so much goodness awaiting you!
We look forward to seeing and congratulating you as you display your badges of honor!
What is Digital Badging?
To learn more about Digital Badging check out our FAQ page.