Backup and Recovery
AWS Outposts Backup, Recovery, and Migration with Commvault
A deep dive into AWS Outposts backup, recovery, and migration with Commvault.
By Mat Ericson
Since the first release of AWS Outposts in December 2019 (Announcing General Availability of AWS Outposts) adoption of on-premises AWS managed infrastructure has been growing in demand. AWS Outposts provides low-latency, on-premises infrastructure that is fully managed by Amazon. Businesses with high-performance compute needs or regulatory restrictions are seeking AWS Outposts to meet their unique requirements.
Outposts provides localized EC2, EBS, RDS, EKS and more recently S3 services within Amazon managed racks. Commvault has supported protection of AWS Outposts EC2 workloads since its initial release in 2019 (AWS Outposts Launch Changes Cloud Opportunity For You). Commvault recently expanded its Outposts capabilities via the AWS Outposts Service Ready program, being one of the 32 launch partners able to help customers accelerate their Outposts adoption.
Challenges of migrating your applications to Outposts
AWS Outposts provides a fast path for adopting AWS services within business owned or operated facilities. The immediate challenge faced by many consumers is – "How do I get my applications into my Outposts?" And more importantly, once applications are running on the Outposts, "How do I perform backup and recovery for them?".

Complexity of challenges faced depends on the current adoption of AWS services within the business. Challenges include:
How to migrate existing on-premises Virtual Machines (VMs) and applications to the Outpost.
How to migrate existing AWS workloads from an AWS region to the Outposts (or vice versa).
How to visualize, manage and report the recovery readiness of applications across Outposts and the region.
Migrating, Protecting, and Recovering your Outposts workloads
Commvault was recently named an AWS Outposts Service Ready partner, and solves these unique hybrid multi-cloud data management challenges today. Commvault and Amazon have validated backup and recovery, migration, and disaster recovery of AWS Outposts workloads (including Commvault infrastructure) as part of the service ready program.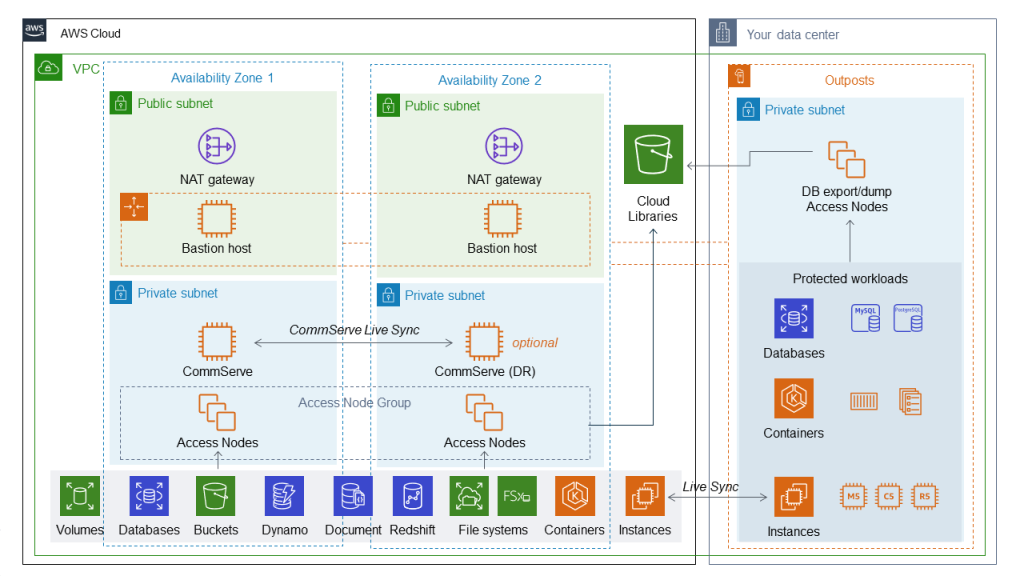 Commvault helps accelerate and secure each step of the AWS Outposts journey by enabling:
Migration – Commvault enables the migration of AWS EC2, EBS, RDS, and EKS workloads from the AWS region to the Outposts. Additionally, Commvault can migrate non-Amazon VMs (VMware, Hyper-V, Azure) and databases (MySQL, Postgres) and on-premise Kubernetes applications into and out of the Outposts.
Protection – Commvault provides cloud-native backup and recovery of Outposts EC2, EBS, RDS and EKS workloads. This includes orchestrating snapshots and tiering backup data out to localized or remote Amazon S3 storage. Additionally, application consistent protection for 50+ modern and traditional applications is supported. This provides ultimate flexibility in protecting your applications, wherever they reside.
Recovery – Commvault provides in-place recovery of files, folders, applications, databases, or entire instances back to the Outposts. By providing the ability recover to a new location or instance both on-premises or within any of the 24 geographic regions.

Backup data may be stored locally within an AWS Outposts S3 library, or stored remotely in the AWS region for protection from site-wide events or unplanned outages. In fact, multiple Outposts may also be combined to ensure high availability for on-premises protection activities (see below).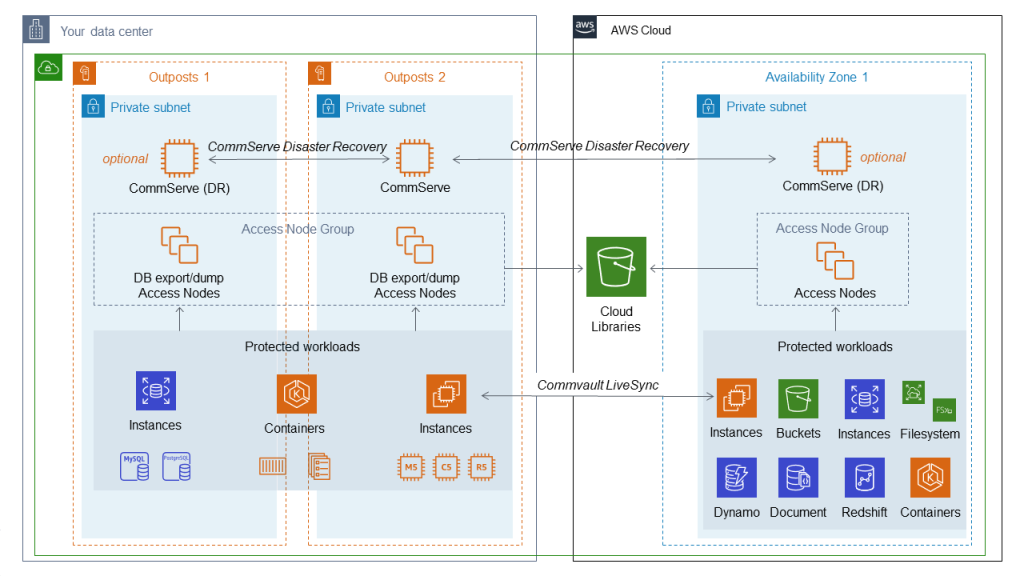 The true challenge is holistic data protection
The key to remaining recovery ready in today's hybrid multi-cloud environment is cloud-native automation. Commvault provides automation and orchestration of cloud and on-premises data management activities from one place, Commvault Command Center™ (see below).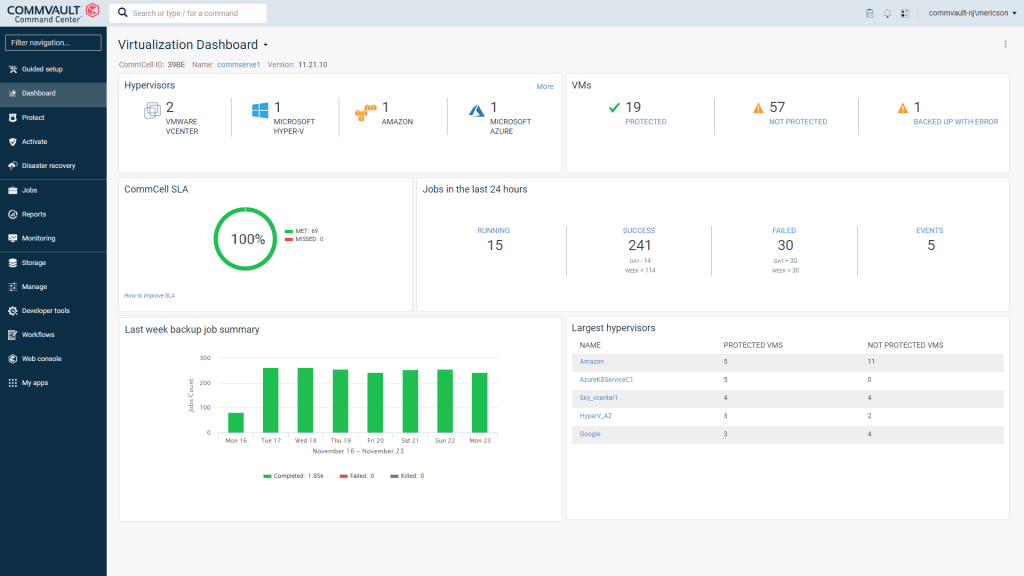 Command Center provides a single pane of glass for managing backup and recovery, replication, migration, and Disaster Recovery across all multi-cloud locations. Workloads are auto-discovered by Amazon tags and protected in accordance with centralized SLAs (i.e. Plans).
Commvault orchestrates Amazon-native snapshots, and optionally tiers backup data to optimized Amazon S3, S3-IA, Glacier, and DeepArchive. Commvault storage tiering provides the ability to store long-term, regulatory backup and archive data at reduced cost (as opposed to traditional EBS snapshots).
Data management across an entire business rarely involves a single location or Amazon account. Commvault automates protection cross-region and even cross-account, ensuring secure separation of your production workloads and backup data. Built-in ransomware protection prevents access to backup data, and also monitors for anomalies across your data estate. Actionable alerts provide awareness and response if suspicious activity is identified. Some workloads demand and increased level of business continuity, Commvault provides one-button Disaster Recovery for Outposts workloads, ensuring site-wide recovery is automated and repeatable.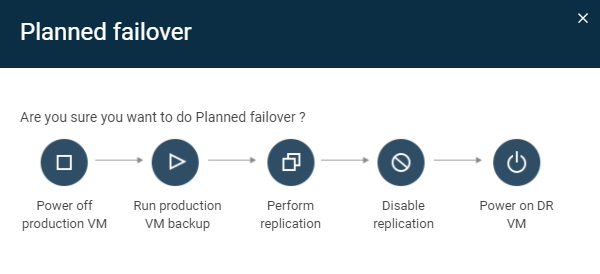 Get started today by ordering your first Outposts
You can get started today by checking the AWS Outposts – Pricing page for availability in your region. Commvault can help you get started with the Commvault Cloud Control Server in the AWS Marketplace. Create your first Cloud Control Server today to start protecting your AWS Outposts workloads and more.