Being Plastic Free During A Pandemic

Here's a challenge: Can you be Plastic Free for the month of July?
Plastic Free July is a global initiative of the Plastic Free Foundation to help drive awareness and help people be part of the solution by not using single-use plastic. In April 2019, I committed to a month without single-use plastic. Since then, I continued to be vigilant about using single use plastic.
Then came COVID-19.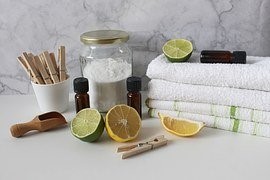 My commitment to a no single-use plastic lifestyle has been greatly compromised during the COVID-19 pandemic. It turns out, plastics are an indispensable resource in a pandemic.
There is no denying the necessity of plastic in terms of providing life-saving medical equipment and protective gear for front-line workers. But what happens to all that single use plastic once it's used and how can it be recycled? I read an interesting article published by the Medill School of Northwestern University that addresses single-use plastic in a pandemic – not just from a medical perspective, but from an overall consumer outlook as well. It's worth a read.
Being single-use plastic free became much harder with virus restrictions. I can't bring my re-usable bags to the grocery store now; I'm forced to accept plastic bags. You can't bring your refillable mug to your local coffee joint; instead, you have to accept a cup with a plastic lid. People are wearing plastic gloves when they go shopping. Restaurants are open for take-out only – increasing the use of packaging.
So, can you be single-use plastic free for a month?
The answer is yes. But it's not going to be easy.
There are ways to reduce the amount of single-use plastic in your daily life. In addition to Plastic Free Foundation's suggestions, here are some of mine:
We're all washing our hands (right?). So why not use hand soap wrapped in paper or packaged in a cardboard box.
If possible, buy food in bulk that doesn't require bagging.
When shopping online, request paper or cardboard packaging instead of plastic.
It's summertime – visit your local farmers market for fruits and vegetables not covered in plastic wrap.
If you do order take-out and compostable containers aren't offered, save the plastic containers and re-use them.
I am going to join the Plastic Free Foundation and commit to Plastic Free July. Who wants to join me?
Chris Powell is Commvault's Chief Marketing Officer.