Building SaaS Backup: What Really Matters
By David Ngo
Cloud has almost become a buzzword. In the IT industry, companies are attaching themselves to cloud to explain their value to customers, some with more success and relevance than others. Newer companies talk about being "cloud-native" and all the advantages it brings them, like being able to scale to handle lots of customers and keep their costs down. What puzzles me is why they're not focused on what's good for customers instead. There's only one right cloud architecture and that's a customer-centric one.
There will always be companies out there who sling misinformation. We get it. They might try to attack us by making inaccurate and misleading claims. You can see one of the latest attempts in a recent blog from Druva¹. Those companies try to convince you that one size fits all, that their cloud is the best, that their solutions work for everyone. Metallic gives customers the choice the others don't – the choice of what clouds to use, where data should be stored, and how customers can manage their data.
While some vendors might confuse the conversation, when it comes to backup architecture, there are two questions customers should always be asking:
1. Is it built with the customer at the center?
Delivering on what customers need and want is all that matters when talking about SaaS architecture. Customers need to ask, is it easy to get started and use? Does it provide me (not the vendor) with the scale and performance I need, or will I have to switch solutions someday? Does it give me peace of mind with strong encryption and security built-in? Will it cut down on manual work? How quickly can I get my data back? How can I keep my solution as flexible as my business needs are? Those are the questions that really matter – not "how does the cloud help my backup vendor run their business."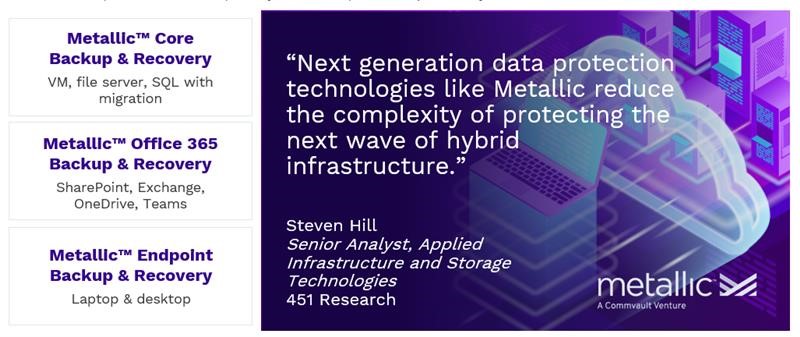 From the start, our focus has been on building the best possible customer experience, from learning about Metallic to trying and using the products on a daily basis. We did exhaustive research on what customers wanted from a SaaS solution, instead of cobbling something together. We made Metallic cost competitive with all the other products in the space, and made the pricing model transparent on our pricing page. Years of experience in how most IT customers operate allowed us to streamline configuration of the products, while providing the flexibility and best practices to help Metallic customers:
Go ahead and use Azure or AWS for your cloud storage. Metallic gives you that option, or you can buy Metallic storage. It's up to you. We won't charge you for the storage if you don't buy it from Metallic. This is a big departure from the approach of other vendors like Druva.
Need rapid recovery capabilities, or is your data footprint outpacing your network bandwidth? Store a copy of your backups onsite and control what moves to the cloud for longer term/offsite retention. A limited cache is a poor substitute for a real copy under your control.
Looking for Office 365 or endpoint data protection? You'll get unlimited storage included, since customers told us that in these offerings they wanted storage included by default.
Do you have an application that isn't supported by Metallic or a datacenter configuration that needs more fine-grain control? Metallic is part of Commvault, so feel free to choose Commvault Complete Backup software or a local HyperScale appliance and enjoy the same robust technology on-prem.
And of course, since Metallic is a SaaS offering – you don't have to manage the backup infrastructure, you get automatic updates and in-product support, and there's no upfront investment required.
2. Is it built for the future?
Customers want to know that their backup solution they buy today will work for them tomorrow as they grow. The conversation around our cloud architecture matters when talking about how we were able to rapidly deliver industry-leading data protection capabilities in a SaaS model they can trust. Here's how:
Building Metallic as cloud-native allowed us to leverage the features of cloud technologies like containers, serverless services, blobs, tables, queues, and more to rapidly build a scale-out service. You won't find us talking about it too much, though, because our customers care more that it just works.
We have a treasure-chest of proven, enterprise-grade technology (with more than 800 patents) to leverage as we expand upon Metallic's offerings over time. This, along with our customer experience focus, allows us to bring real value to our customers in pure performance, to grow with our customers' needs, and to provide technology that is both hardened against ransomware and provides a path to detection and recovery should it strike our customers.
The combination of cloud-native architecture and leveraging secure technology allowed us to quickly achieve security certifications, validating our processes and procedures to customers entrusting us with their data.
So, while the allure of a good buzzword may be hard to avoid, I believe we need to keep the conversation about real value to our customers. It should really be about how to get a solution that has all of what Metallic offers — and is backed by the knowledge, experience and technology that comes with protecting more than an exabyte of data in the cloud. That's what Commvault does and that's what Metallic was built on.
Of course, don't take our word for it – check out Metallic's free trial, and see for yourself. We have a feeling you'll love it.