Caring for the Earth and each other every day
By: Amy Schmidt
Solving the climate crisis and creating a sustainable world requires everyone to do their part each day – and our business is no exception.
At Commvault, we make a difference together. We strive to reduce our carbon footprint by taking steps to improve our data center's energy efficiency and be spreading awareness of the importance of responsible data management. In the spirit of Earth Day, I want to shine a spotlight on just one of the ways our Vaulters care for our planet by reducing, reusing, and recycling.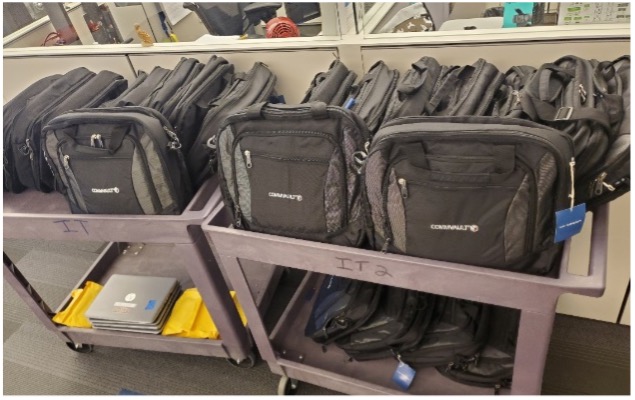 As we retire equipment, our IT teams work hard to match laptops, desktops, monitors (you name it!) with schools and non-profit organizations in the local areas. For example, in FY21 during the height of the COVID-19 pandemic, we donated hundreds of laptops to local organizations serving children and vulnerable communities near our headquarters office, such as The Children's Center of Monmouth County, The Ronald McDonald House of Central & Northern New Jersey, and 180 Turning Lives Around. Our donations not only provided these organizations with access to more technology, but it also enabled connections during a time where in-person connecting was limited.
While some may think used devices should just be thrown away, we knew they not only deserved a new home, but we were also doing right by the planet. And the materials that did not get donated were responsibly recycled through our licensed recycling vendor.
As we continue to evolve our corporate social responsibility (CSR) programs, we know that our planet is a key stakeholder in our business alongside our people, customers, investors, and communities. This summer, our third annual CSR Report will be released and will outline our continued commitment to sustainability.
We not only save your data, but we're also doing our part to save the planet. I can't wait to see what great things we will continue to do. This is just the beginning!