Backup and Recovery
Commvault Backup and Recovery for your EKS applications
Commvault provides Kubernetes-native backup and recovery, migration and disaster recovery for containerized applications.
By Mathew Ericson
Application modernization has accelerated through 2020 with businesses looking to balance traditional lift-and-shift to the cloud with adoption of containerization. Amazon Elastic Kubernetes Service (EKS) is a leader in managed Kubernetes (K8s) services3, providing a production-ready location for these new applications.
Your company / organization manages containers with: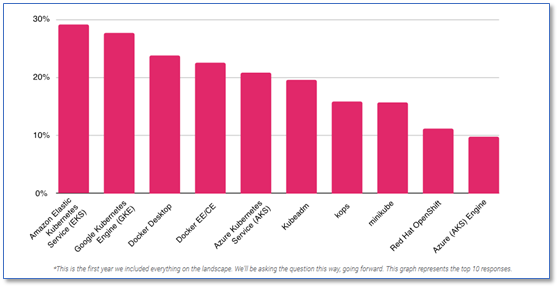 The Cloud Native Computing Foundation (CNCF) Cloud Native Survey 20201 recently found the following:
Use of containers in production has increased to 92% of survey responders, up from 84% last year, and up 300% from the first survey in 2016
60% of organizations are using a hosted platform for K8s
26% of organizations are using a managed K8s distribution
Kubernetes is complex
This increased adoption is not without its challenges. Survey responses indicate that the key challenges when adopting containers are:
Complexity (41%) of buying, building, and operating
Cultural challenges (41%) in adopting containerization technology and operational processes
Security (32%) and Storage (29%) of applications and stored data
Commvault agrees. The complexity of building and securing Kubernetes environments has unfortunately made front page news. Specifically, a Kubernetes Dashboard was configured insecurely in Tesla's cloud environment and a crypto jacking worm named Graboid was observed to spread to more than 2,000 Docker hosts using containers.
Businesses need a way to adopt standard, proven and currently maintained K8s distributions. Additionally, backup and recovery of K8s applications is mandatory to ensure recovery can occur if or when a cluster is impacted by malware. It is no surprise that storage remains a key challenge as containerized applications require programmable, flexible storage deployed across their hybrid multi-cloud locations.
Commvault Backup and Recovery for K8s helps simplify the complex
Amazon Elastic Kubernetes Service (EKS) provides a quick and easy consumption model for businesses looking to adopt Kubernetes without the complexity of having to build and operate it.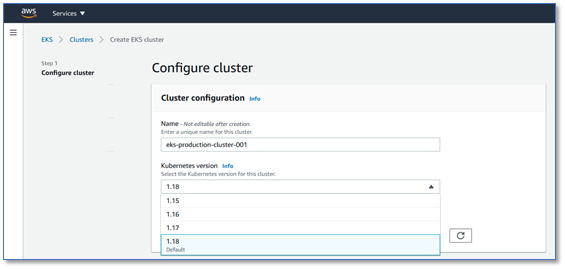 Additionally, EKS provides support for vanilla, unforked Kubernetes, supporting the latest three releases at all times, meaning selection of a stable, secure, maintained version is simple. See Updates to Amazon EKS Lifecycle5 for more information.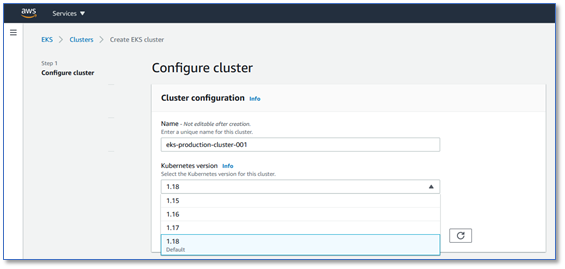 Commvault is uniquely prepared to help businesses solve for the security and recoverability of K8s applications today. Commvault provides Kubernetes-native backup and recovery, migration and disaster recovery for containerized applications. Protection is provided for all CNCF certified distributions4, including Amazon EKS and Amazon EKS on Outposts.
Additionally, Commvault provides Commvault Command Center™, a single pane of glass for K8s, multi-cloud, SaaS and traditional workload protection. This single view across all your data and locations means you will be recovery ready for just about any unplanned data loss event.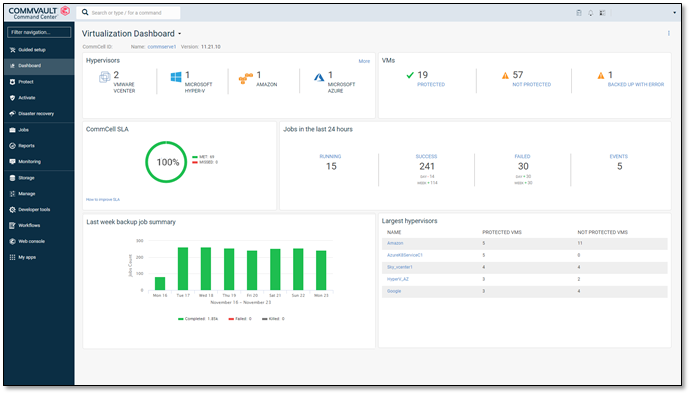 Commvault Backup and Recovery uses the kube-apiserver to collect K8s application configuration7 data (ConfigMaps, secrets, StatefulSets and more). Protection is granular, allowing selection of application YAML manifests, persistent volumes, or entire applications. Additionally, leveraging namespaces and label selectors, Commvault automatically discovers and protects new K8s applications as they are published.
Protection and recovery leverages the Container Storage Interface (CSI) and VolumeSnapshotClass to ensure application-consistent protection of your stateful applications occurs quickly and efficiently.

In fact, with Commvault software-defined storage, containerized applications can leverage an enterprise-grade persistent StorageClass spanning on-premises and cloud locations. Storage is truly application-centric where storage attributes (replication, deduplication, encryption, disk technology) can be selected on a per application basis without compromising on scale, TCO or data reuse since many K8s clusters can leverage the same Storage cluster. This capability is all available to the developer via kubectl and custom resources to ensure seamless integration with DevOps and GitOps workflows.
Commvault protects all your data, containers and more
The key to solving the complexity and cultural change is making K8s easier for the organization to adopt. Commvault delivers that outcome by allowing protection of K8s within Commvault Command Center. No specialist knowledge is required to protect or recover K8s applications.

Additionally, Commvault leverages K8s-native APIs and the CSI driver to provide cloud-native protection for your K8s applications. Commvault orchestrates the collection of your application configuration and persistent data residing on your Amazon Elastic Block Store (EBS) volumes. Simply identify your apps and assign a Plan to ensure automated protection, alerting and reporting against your protection SLA.

Still experimenting with Kubernetes? Metallic™ provides Backup as a Service (BaaS) for your Amazon EKS applications all delivered via SaaS. No infrastructure setup and no configuration or ongoing maintenance, just provide your API endpoint and tell Metallic which data needs protection. Your data protection approach can flex with your EKS adoption.
Metallic provides multi-cluster, multi-cloud protection and migration capability across all your EKS clusters (AWS region, Outposts) by leveraging K8s, CSI and EKS and EBS APIs. If you still have hybrid applications that span EKS and other Amazon services (EC2, RDS, DynamoDB, Redshift, S3, more), we protect those, too.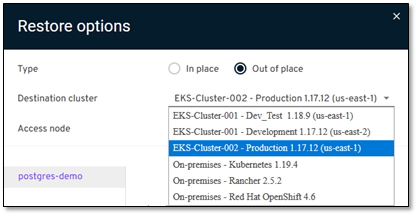 Get started today
Commvault recommends adopting a holistic protection approach for your containerized application data. Commvault can protect your EKS workloads along with EC2, RDS, S3 and many more Amazon services. Your business is not all containerized today, so take a centralized, policy-driven approach to protection to ensure recovery readiness for all your applications. You can get started today with Metallic™ VM and Kubernetes Backup for FREE6. Alternatively, get started in Amazon Marketplace by creating your own Commvault Cloud Control Server to start protecting your EKS applications and more.
For more information, check out Commvault's solution for containers.
References
1 CNCF Cloud Native Survey Cloud Native Survey 2020, Nov 2020
2 Staxrox, Cryptojacking Attacks in Kubernetes: How to Stop Them, July 2020
3 CNCF Cloud Native Survey Cloud Native Survey 2019,
4 CNCF Landscape – Platforms Card
5 Updates to Amazon EKS Version Lifecycle, Amazon May 2019
6 Metallic VM and Kubernetes Backup – FREE Kubernetes Offer
7 Commvault Kubernetes Backup & Recovery – documentation 11.21