Commvault brings data therapy to (virtual) VMworld 2020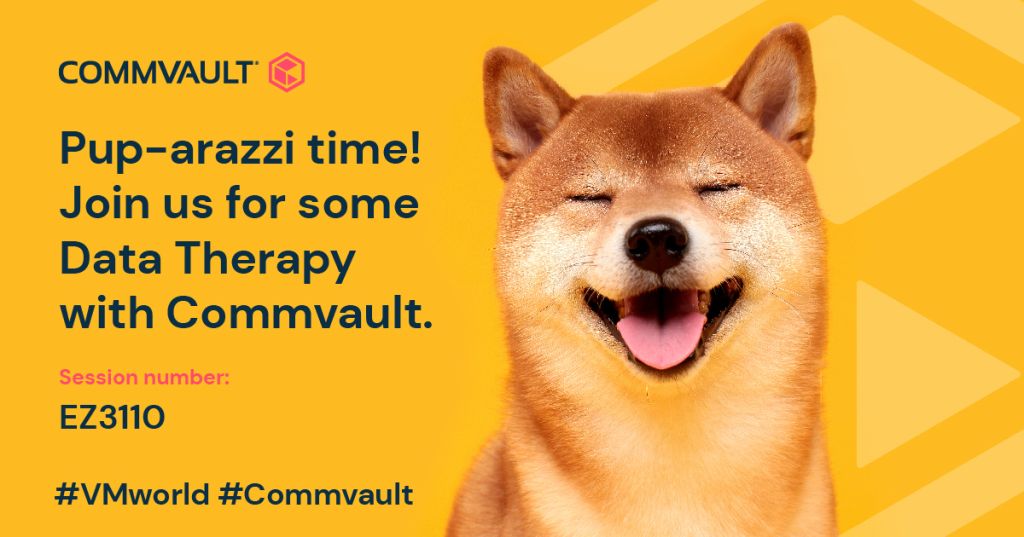 By Sam Grover
Event season is in full swing, and while everything has pretty much gone virtual, Commvault's presence will still be known – especially at VMworld. Running Sept. 29 – Oct. 1, VMworld will be filled with three days of action-packed content.
Check out what we have planned for the week below, and be sure to visit Commvault in the digital Sponsor Demo Zone to see our Intelligent Data Protection, recovery and disaster recovery solutions for virtualized environments in action. We did receive the highest scores across all use cases – physical, virtual and public cloud environments – in the Gartner Critical Capabilities for Backup and Recovery Solutions report, after all.
Don't forget to also chat with our experts and vote for your favorite data therapy animal!
Breakout Session – Modern Data Protection: From VMs to Containers and More [MAP2984S]
On demand
Joining myself will be Commvault's Don Foster, Vice President, Storage Solutions and Mathew Ericson, Senior Product Manager, AWS and Containers, as we discuss why and how to use Commvault's virtual server agent with your on-premises or cloud-based virtualization platforms. We will review modern strategies for data protection and recovery while highlighting some advanced recovery use cases. We'll also demonstrate how you can take industry best practices and apply them to new containerized workloads running on Kubernetes … on-premises, in the cloud and across multiple clouds. We will review Commvault's Kubernetes agent and how it integrates with VMware Tanzu. And, finally, we'll discuss how Commvault's Hedvig can help solve your container storage problems to bring the flexibility, economics and scalability of the cloud to your on-premises VMware environments.
Virtual Data Therapy PuppyFest Sponsored by Commvault [EZ3110]
Various 15 minute sessions on Sept. 29, Sept 30 and Oct. 1
Protecting virtual environments … storing and managing data in hybrid infrastructures … managing multiple RPOs and RTOs … optimizing cloud costs … we get it! This stuff can be stressful! Not to worry. Commvault's got your back. Not only can we help solve your data challenges, we can set you up with a little data therapy to help bring your stress down and your confidence up! And what's better for relieving stress than puppies!?! While we may not be able to be together in person, the adorable puppies that brought down cortisol levels for all who visited with us in San Francisco last year are back and they can't wait to bring their unique brand of stress relief to you. See the pack in Commvault's Virtual Data Therapy PuppyFest video, featuring some irresistibly cute pups and a whole lot of playful activity, then stick around for the live Q&A with our rescue partner, Puppy Love. Who knows? You may find your new best friend. The best part: all of the pups are available for adoption – if they haven't already been snapped up! Life is better with a dog. Data is better with Commvault.
Registration is free and easy! And as you're taking in the exciting sessions during the week, don't forget to make time for a visit with the puppies!
Learn more about the partnership with Commvault and VMware and how we work together to address customer needs.
Sam Grover is a Senior Product Manager, Virtualization and Cloud, Commvault.