Backup and Recovery
Commvault Disaster Recovery for VMware using live sync direct
With growing business requirements, it is more vital than ever to have a disaster recovery plan to ensure that you are prepared for any catastrophic event with minimum downtime.
By Sana Farooque
In these uncertain, unprecedented times as we all adapt to this "new normal," there's one thing that has not changed. That is Commvault has been named a leader again for the backup and recovery solution in the Gartner Magic Quadrant for the ninth time in a row, with the Critical Capabilities Report1 attesting to it.
With growing business requirements, it is more vital than ever to have a disaster recovery plan to ensure that you are prepared for any catastrophic event with minimum downtime.
Commvault's disaster recovery solutions can be broadly categorized as "continuous" and "periodic." For workloads that require aggressive recovery time objectives and recovery point objectives, you can use continuous replication to capture virtual machine writes and replicate them to a DR site for near real-time replication.
For less critical workloads, you can replicate virtual machine workloads to a DR site for recovery on an as-needed basis. We talked about continuous replication, aka "Live sync I/O" in our last blog.
Today, let's talk about periodic replication, aka"'Live Sync Direct," in detail and how differently it functions and addresses your needs. Live Sync Direct enables incremental replication of a virtual machine (source VM) to a synced copy of the virtual machine (destination VM) by using snapshots. It mounts a snapshot then reads data from the mount directly to the destination VM.
This process can initiate replication automatically or on a scheduled basis, without requiring any additional action. Using backed up data for replication minimizes the impact on production workloads by avoiding the need to reread the source VM. Also, in cases where corruption on the source VM is unintentionally replicated to the destination VM, you can still recover to a point-in-time.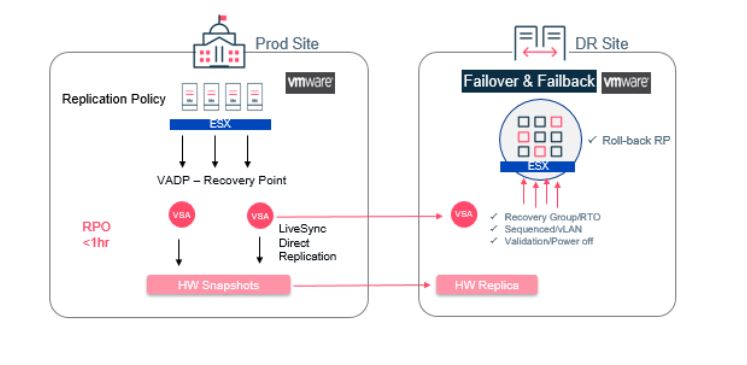 Key benefits:
The impact on production servers is minimal because it uses backup data to create replicated virtual machines; backup captures virtual machine data in a single pass and replication runs on backup infrastructure.
Automated validation and the ability to specify new network connections for each replication VM at the recovery site ensures that startup time is minimized.
With the ability to select a software (virtual server agent) snapshot or a hardware snapshot, Commvault can replicate the VM snapshots with no backups involved. This significantly reduces the replication time.
Validate VM's as they are created, without the need to maintain destination infrastructure indefinitely.
A replication group can be configured in 4 simple steps:
1. Add source hypervisor to select the VM's to replicate.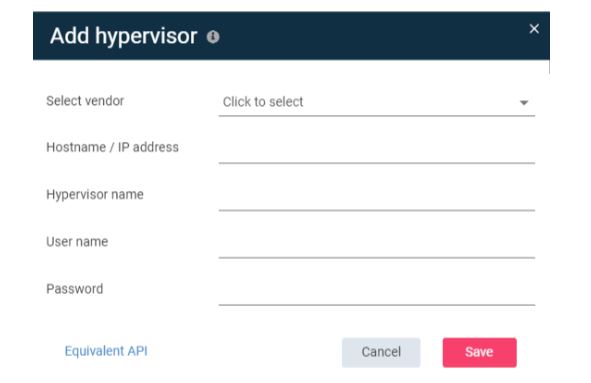 2. Add the destination site for replication.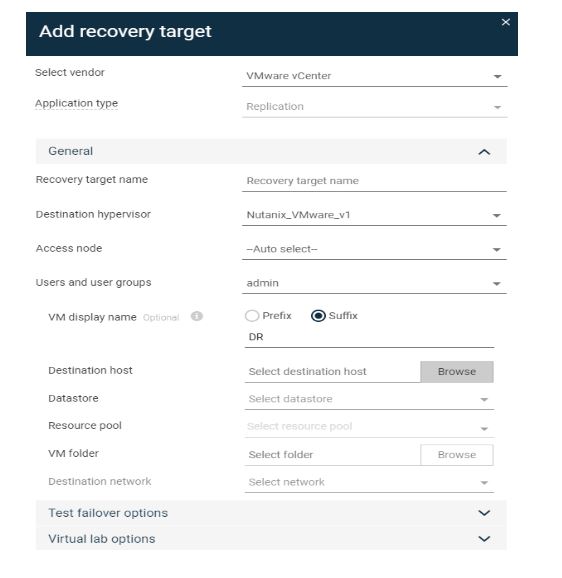 3. Select a storage location for recovery points. This also allows you to select a hardware snapshot or a virtual server snapshot for the source.


4. Monitor Replication.

Monitor all the VM's (both periodic or continuous) that are being replicated. This dashboard also provides you with vital statistics such as SLA status, last sync time and frequency.
Once a replication group is created, you can perform the following from the options on the replication group.
Enable Validation – enabling this feature validates if destination VM is usable by powering on the VM. This can also be disabled if needed.
Planned failover: Initiates a failover to the secondary site after updating the destination VM with the most recent changes from the source VM.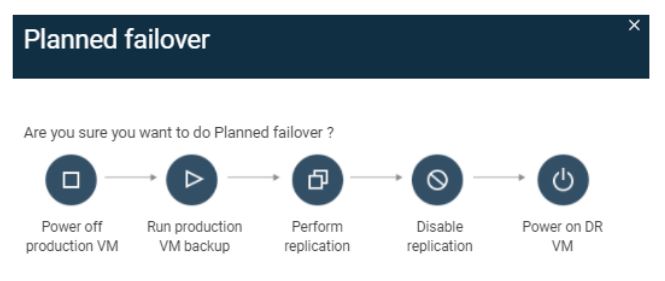 Unplanned failover: Initiates an immediate failover to the secondary site.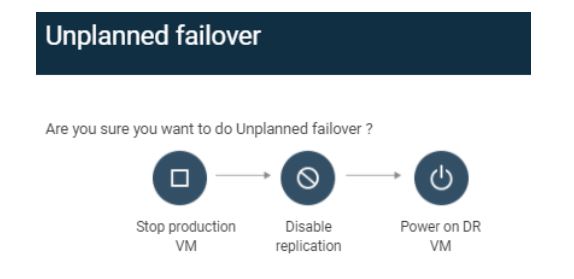 Failback: After a virtual machine has failed over, you can perform a failback operation to return the VM to the original site or a new primary site. A failback operation performs a backup of the VM at the failover site and uses that data to replicate the VM back to the primary site: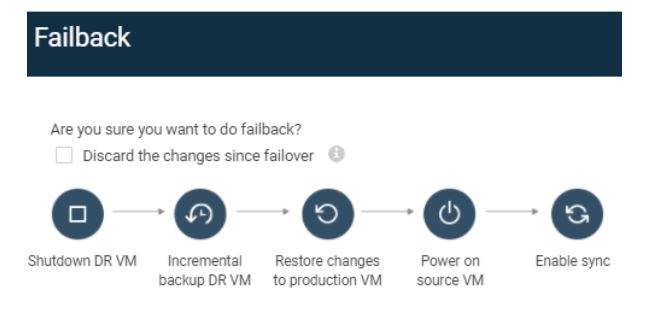 When a failback is performed after a planned failover, the virtual machine already exists at the primary site and only incremental updates are written from the failover site.
When a failback is performed after an unplanned failover, an incremental backup of the VM at the failover site is taken. Then a full replication is performed to recreate the virtual machine at the primary site.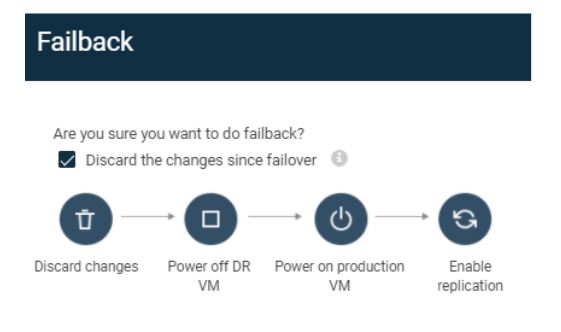 Test boot VM: Powers on the destination virtual machine to verify that it is ready for use in the event of a disaster. To avoid conflicts with the source VM and ensure that the virtual machine is not modified by the test boot, this scenario takes a snapshot of the virtual machine before the test boot, boots destination VMs with network connections disabled, and reverts to the snapshot afterward. It is useful during DR drills to validate the destination VM while keeping the source VM intact.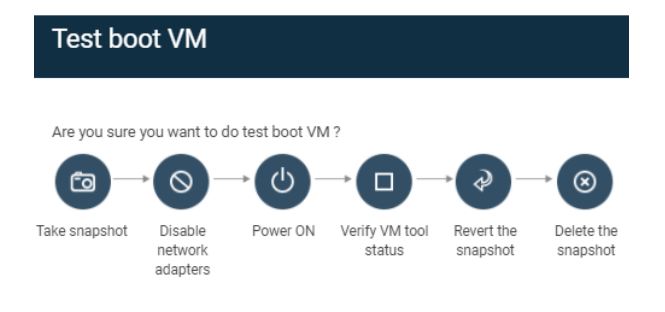 Configure Automatic failover: Ensures immediate access to critical virtual machines in the event of an outage by:

Continuously monitoring VMs that have been configured for replication to a secondary site.
Detects problems with VMs or network access for the primary site.
Automatically failing over to the secondary site if the VMs in the primary site are disabled or unreachable.
Brings destination VMs online immediately or after a specified delay.
Highlights:
Reduced recovery time objectives (RTO)
Reduced recovery point objective (RPO)
Three-step replication configuration
Supports deduplication and compression
Supports application-consistent recovery point
DR VM validation
Planned/Unplanned failover
Failback
Automatic failover
A disaster recovery plan boosts confidence in your data availability and security. Features like test boot, VM validation and automatic failover not only help you to remain compliant with IT regulations but also help in case of a real disaster, reducing the cost impact of downtime on your business.
Be sure to learn more about disaster recovery solutions.
References
1 Gartner, "Critical Capabilities for Data Center Backup and Recovery Solutions," Nik Simpson, Santhosh Rao, Jerry Rozeman, Michael Hoeck, July 20, 2020