Commvault Is Ready To Make Our Customers Ready For The Future

Tuesday's Commvault FutureReady virtual event started with a jam-packed keynote session with the company's most well-versed subject matter experts, who shared their insights on Commvault's most recent product and partnership announcements with members of the press, analyst and social media community from 20 countries. And while I missed the chance to sit down in person with our attendees over a meal – who am I kidding? A glass of wine – I was happy to see the lively participation and support of our Global Goals contest.
Kicking off the morning was CEO Sanjay Mirchandani, who provided Commvault's vision on how the company helps IT professionals truly become Future Ready. Sanjay talked about the importance of bringing products, people and partners together to solve hard business problems – and then delivering on these fundamentals in a way that simplifies the experience for IT and the organization. He provided an overview of Commvault's new portfolio of products and services that can be used to intelligently manage data.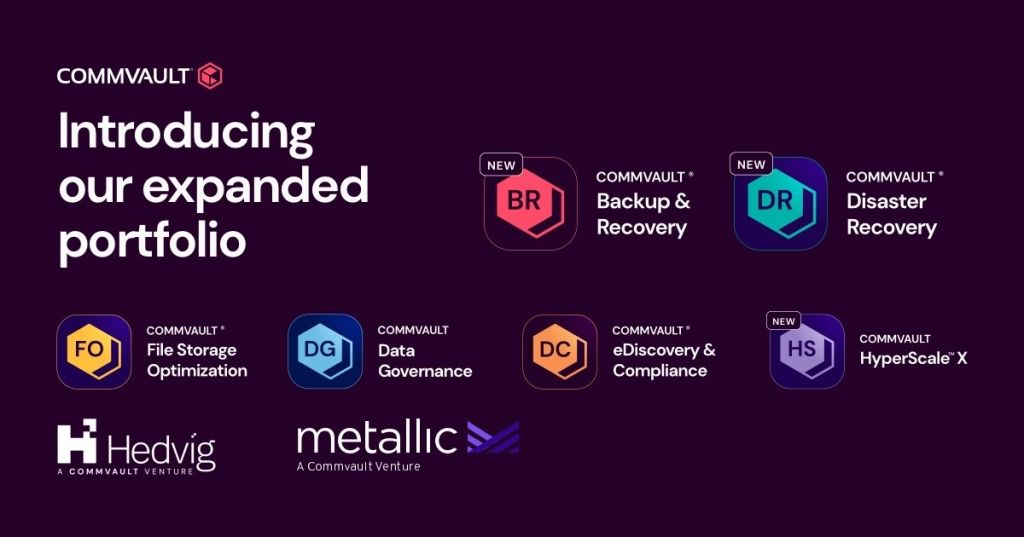 Shifting gears, Sanjay spoke about change – and how behind every transformation is the unsung heroes of IT. This year, these heroes were thrust into unexpected, radical change, including: structural shifts for a distributed workforce; ransomware attacks; remote workforces without data center access; and unfair expectations of increased productivity — all with pressure from above to compress the path to digital transformation. Then, quoting Microsoft CEO, Satya Nadella, "They have seen two years-worth of digital transformation in two months." 
Sanjay then held a lively discussion with Ron Dowden, IT Unit Director for Johns Hopkins University, who shared his story of how Commvault and Microsoft help him to navigate the many IT needs in the cloud, multi-cloud and on-premises. In fact, Ron stated that Commvault was the university's first big success in the cloud, as it was able to leverage the native cloud architecture Commvault provided. The conversation ended with a validation of Commvault's partner strategy, which is also being simplified throughout the partner ecosystem. This strategy is exemplified by Commvault's most recent strategic partner announcement with Microsoft.
Following Sanjay's overview, Commvault experts — Rajiv Kottomtharayil, Chief Product Officer; Ranga Rajagopalan, Vice President of Products; and Manoj Nair, General Manager, Metallic – each provided a deep dive into the new product offerings and cloud strategies and solutions being offered by Commvault.
An Innovation panel consisting of Ranga, Manoj and Avinash Lashman, General Manager of Hedvig – took on the hard questions live from the virtual audience. During this talk track, the experts discussed topics including: the mainstreaming of containers; the adoption of cloud versus containers; Commvault's SaaS portfolio; data governance; security and data protection.
Riccardo DiBlasio, Chief Revenue Officer, then spent time talking with Casey McGee, Vice President Global ISV Sales for Microsoft. Casey shared his perspective of how the COVID-19 pandemic resulted in an explosion of remote workers and the data challenges that came with it. He shared the Johns Hopkins partnership success story and outlined how Commvault and Microsoft's recent strategic partnership integrating Metallic SaaS with Microsoft Azure and how the partnership integrates go-to-market, engineering and sales.
Finally, Sanjay returned for a live Q&A to end the morning session. He fielded questions on HyperScaleX, COVID-19 security challenges, Metallic's interaction with the product portfolio, containers versus virtualized platforms, among others. He reiterated Commvault's commitment to supporting all aspects of customer data and that simplification has been taken to heart at Commvault.
The message delivered today is clear: Commvault is ready for the future and is a force to be reckoned with. Our best-in-class portfolio and enhanced partner ecosystem make it easier for IT professionals to move beyond the complexity to seize the opportunity in the cloud and let us meet and exceed the needs of our customers.