Data Protection
Data Protection Vigilance for Black Friday and Cyber Monday
Are you prepared for online consumers and highly trafficked websites this holiday season? Learn more and check out the ways you can be ahead of the risk.
It's that time of the year to see family and friends for the Thanksgiving weekend. AAA estimates that 54.6M people will be traveling this long weekend. 47.8M people will be traveling by car and 4.51M by air. And between all the traveling and eating a lot of turkey, millions of consumers will be traveling to their PCs, MACs, and mobile devices to shop online. I love to shop on Black Friday and Cyber Monday to get the best deals available and to complete my holiday shopping! Black Friday 2021 saw 88 million Americans shopping online1, and 97.3 million were shopping online for Cyber Monday.2 Consumers like me aren't the only ones looking forward to these cyber shopping days. As retailers are preparing to make the most of the holiday shopping season so are nefarious actors who are preparing to capitalize on the mass of online consumers and highly trafficked websites. But retailers are ready too. Below are the top ways organizations have proactively prepared for any potential risks and disruptions to their data.
Data Resiliency
Cyberattackers pressure businesses by threatening to publish the sensitive data information they have hijacked, known as double extortion3. And, bad actors are taking their cyberattacks one step further by demanding ransomware from third-party victims, such as company clients, like me – a tactic known as triple extortion4. Your organization needs to be ready for anything this cyber shopping season. Secure your data and your customer's data. Ensure you have multiple built-in defense mechanisms in place.

Infrastructure hardening: Close infrastructure gaps. The Center for Internet Security® (CIS®) Benchmarks and Security Technical Implementation Guides (STIGs) are two primary third-party baselines adopted across public and private organizations for infrastructure hardening. It also helps organizations remain compliant within their respective industries. Commvault has validated CIS hardening standards for the core platform infrastructure. Taking it one step further, Commvault HyperScale™ storage is pre-hardened using STIGs, so it is ready for deployment across government sectors.
Multilayered security framework: Protect and recover your data through a security framework to better understand, manage, and reduce cybersecurity risk. Follow the National Institute of Standards and Technology (NIST) cybersecurity framework standards and best practices to address these five areas: Identify, Protect, Monitor, Respond, and Recover. Commvault's multilayered security is built on zero trust principles.
Drive Better Security Outcomes From a Single Dashboard
Get unprecedented visibility into your data protection environment to bolster your security posture quickly through the Commvault Security Health Assessment
Dashboard. By design, the dashboard identifies controls available in the Commvault CommCell and provides scoring and remarks to allow organizations to assess the risk properly and continuously monitor security posture.
"With Commvault, we have brought down storage costs immensely and been able to migrate, replicate and protect data all within a single pane of glass."
–Teodoro Macias, Principal Backup Engineer | Herbalife Nutrition

A Ransomware Strategy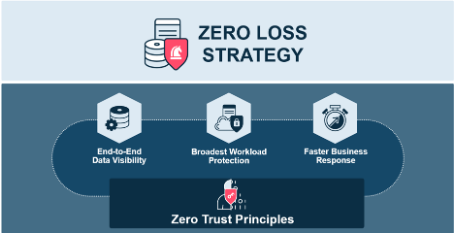 You need a plan to remain steadfast against ransomware. Beyond simply adhering to zero trust principles and hoping for the best, the ultimate solution can manage and substantially reduce the impact of a ransomware attack. It can reduce costs for your organization by utilizing one centralized management platform so security teams don't have multiple product points to log in and out of. It can increase the visibility of your data through a single landscape to minimize complexity for your teams. And finally, it can protect what matters most by providing the broadest workload coverage and rapid recovery capabilities through a unified approach. For all of this to happen, a solution must embrace Zero Loss Strategy. Learn more here.
Be Cyber Ready for Cyber Shoppers this Holiday Season
Simply put, how is your organization reducing the impact of a potential ransomware attack? Do your teams know their roles and responsibilities if an attack occurs? How are you safeguarding data from double and triple extortion ransomware attacks (such as leakage and exfiltration)? Catch threats before they impact your data with cyber deception capabilities. And are you confident that your organization will recover quickly in the event of a ransomware attack? Gain the knowledge your organization needs today in order to be successful against ransomware. Connect with a Commvault Expert today.
References
1. Darina Lynkova, SpendMeNot, 25+ Black Friday Sales Statistics to Know in 2022, August 2022 – 2. Meaghan Brophy, Fit Small Business, Retail Statistics, November 14, 2022 – 3. Brooke Crothers, Venafi, Venafi Survey: Ransomware Evolves—Double and Triple Extortion Now Features in Over 80% of Ransom Demands, February 23, 2022 – 4. Checkpoint Research, The New Ransomware Threat: Triple Extortion, May 2021