Expanding Data Perspectives: Top Industry Analyst Sessions At Commvault GO
By Don Foster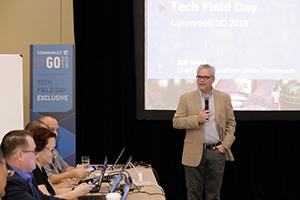 Every year I enjoy taking part in the predictions for the next year. Sometimes I am right, sometimes I am way off and many times I scratch my head and think, "Wow, that didn't go as I thought!"
I don't profess to be a technology tea leaves reader, but I can tell you that the more I speak with folks such as you across the globe the more I have a sense for what is happening right now. The simple chance to engage in thoughtful conversations with my peers is one of the most valuable intangibles of my job. However, speaking with just y'all (my recent move to Texas is making an impact) is only one aspect of being ready.
The industry experts have dedicated their careers to having these conversations. They also provide a level of insight based on their own taking a pulse of the industry. Combine their insights together with our own experiences, needs and general insights and you will find a recipe for forward looking thinking to ensure your organization is ready for whatever may be coming your way.
It is hard to believe Commvault GO is now less than a month away, but here it is and I am excited. Not only to get to speak with a number of loyal Commvault customers and partners, but I also get to interact with these industry experts to help me expand my perspective further. 
These sessions are always a hit with our attendees, and I must admit they are high on my list for reasons to go to GO. Two full days with your peers, and the industry experts to help you put your most forward-thinking ideas to the test is pure gold for planning for the future. You will also get the opportunity to validate the trends, successes and failures experienced across the technology marketplace. Check out this lineup of topics pressing on the ideas of tomorrow:
The why and the how of enterprise Artificial Intelligence (AI)
Join Nick Patience, Co-founder & Research VP, AI Applications & Platforms at 451 Research, as he addresses two major questions facing organizations that are using AI and machine learning:
What are the use cases and business drivers behind enterprise investments?
What are the infrastructure changes that are happening to facilitate adoption of AI and machine learning at scale?
Cybersecurity and digital risk management
Simon Piff will provide an IDC perspective on how some of the leading organizations globally handle cybersecurity and digital risk management, where they focus their efforts and what they consider unimportant and why.
The Enterprise Decade: How cloud platforms will modernize your most important apps in the 2020s
Forrester's Dave Bartoletti discusses howleading enterprises are now using cloud – in all its forms – to modernize even their most critical business apps and why this will be your most important work for the next decade.
Disaster recovery workshop: Getting your DR plan ready for 2020
More than likely, your DR plan also isn't ready for the new threats like ransomware or the new regulations like the General Data Protection Regulation (GDPR) and California Consumer Privacy Act (CCPA). George Crump of Storage Switzerland knows it is going to take more than a breakout session to accomplish the mission; it's going to take a workshop, two sessions dedicated to getting your DR Plan Back on Track.
In summary …
And this is just a quick pull of the 10-plus Industry Expert sessions we are running this year. Gartner, Forrester, IDC, 451 Group, ESG, Gestalt IT and Storage Switzerland all will have their leading experts in the space at GO learning from you, from Commvault and allowing us to learn from them.
I hope you are getting ready for GO. We are certainly ready for you as we have some great thought-leading content to ensure we can all be more than ready going into next year.
Go to GO
Get access to leading data experts, cutting-edge tools and proven tactics — genius stuff you can put into action right away. Bring it on. Be more than ready.