HPE and Commvault: Intelligent Data Protection For Mission-Critical Applications
By Ashwin Shetty
As the value and business criticality of data increases, the challenges of backup, recovery and managing data are tougher than ever. Exploding data growth, copy data sprawl, demanding recovery SLA requirements, and an evolving threat and compliance landscape are putting pressure on costs and intensifying risk. What's more, as you transform to a hybrid IT operating model, protecting and managing apps and data across your data center, private cloud and public cloud infrastructure can prove increasingly complex.
To address this challenge, HPE and Commvault are working together to deliver simplified backup and recovery solutions for your business with combined protection that your data needs now more than ever. HPE and Commvault have held a strong partnership for years, continuously growing our technology integration to bring the best solutions to market. A great example of this is Commvault IntelliSnap® software integration with HPE Primera, the latest flagship offering for high-end storage that combines extreme resiliency and performance with the agility of the cloud.
With HPE Primera, we are ushering a new era of storage for mission-critical apps. Not only have we made it super simple, but we've done this while raising the bar on resiliency and performance with an architecture built for NVMe and storage class memory (SCM).
Interested in learning more? Read on as I share the benefits of HPE Primera, and how HPE and Commvault have come together to offer intelligent data protection for mission-critical applications.
First, let's start with the basics of HPE Primera. With this solution, you get:
An on-demand experience for instant app access to data consumed as a service. No waiting. No tuning. And no more forklift upgrades.
App-aware resiliency based on AI that sees the future to prevent disruptions before they happen, backed by a 100% availability guarantee. Yes, 100% (and that's not a typo!).
Predictive acceleration with embedded AI to ensure your mission critical apps are not just fast some of the time, but all of the time.
Not only does HPE Primera provide enhanced storage for your data, though, we also offer rapid backup and recovery for that data – a crucial element of your data journey.
This is where Commvault comes in.
Building on our long-standing partnership with Commvault,we've made it even more seamless to adopt best-of-breed solutions in a unified stack that enhances the already strong value proposition for HPE data protection for the data center.
Commvault brings its data backup and recovery support to a range of HPE Primera functions, including:
HPE Primera snapshots
HPE Primera snapshot replication
HPE 3PAR to HPE Primera replication
HPE Primera to HPE 3PAR replication
Commvault software technology combines complete data protection lifecycle management features with primary and secondary tiers of HPE storage. The combination of Commvault IntelliSnap technology with the native HPE Primera Storage snapshot engine provides consistent point-in-time recovery copies for enterprise applications – while incorporating hardware snapshots into the complete data protection process with no complex scripting required.
Commvault IntelliSnap technology orchestrates AND indexes the snap contents to make searching and recovery of mission critical data within the snap copy far simpler and more efficient. Additionally, when you require a second or third copy of your data, Commvault can take a backup copy and send this to HPE StoreOnce or Cloud Bank storage for longer-term retention needs.
For applications that have very low tolerance for downtime, rapid recovery and rollbacks from snapshots provide the ideal solution. IntelliSnap technology combines a broad range of application awareness with the HPE Primera Storage snapshot engine to provide reliable recovery of complex applications, such as Microsoft® Exchange, Microsoft SQL Server, Oracle, and so on. Application-aware protection includes auto-discovery features that update protection coverage automatically when changes are made to an application environment.
Protection is also hypervisor-aware and includes auto-discovery of virtual machines with automatic policy-based snapshot protection. IntelliSnap technology and the HPE storage snapshot engine also allow you to meet demanding business-critical application SLAs with scalable protection for recovery point and time objectives in minutes. This integration produces accelerated application-level recovery with granular protection and retention options.
Commvault integration with HPE Primera is the result of a significant joint engineering effort between the two companies. What's more, this extends Commvault's industry-leading breadth and depth of snapshot management support across HPE's primary storage portfolio to include HPE Primera, HPE 3PAR, Nimble Storage, and XP7.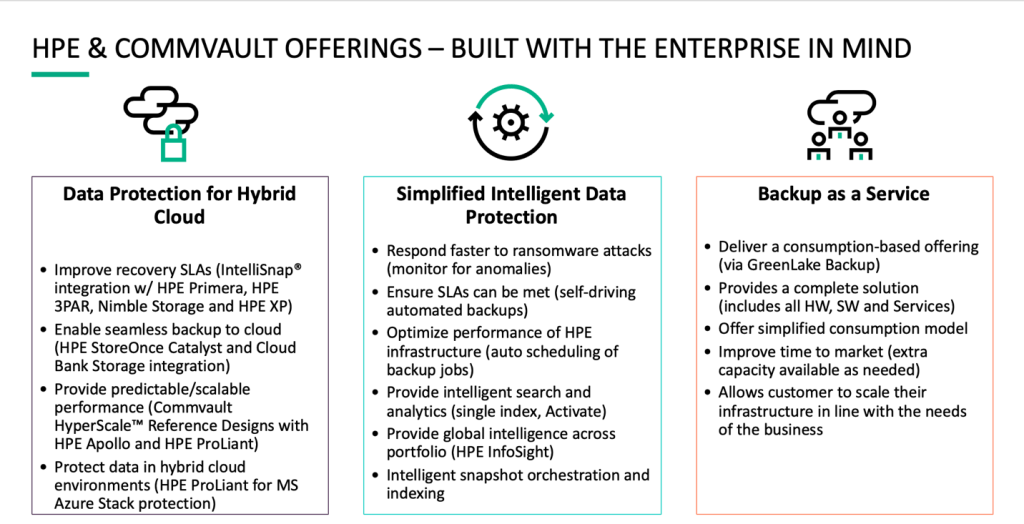 ---
Want to learn more about HPE and Commvault's ability to provide simplified intelligent data protection? Check out the video below:
---
You can also download the ESG report "Commvault and HPE Unite to Defeat Downtime" and check out the following HPE Primera resources:
Ashwin Shetty is part of Product Marketing for HPE's Data Protection portfolio and Object Storage Offerings.