Backup and Recovery
Igniting The Conversation: Office 365 Data Protection And Customer Choice
Less than a month ago, we launched Metallic™ backup and recovery software as a service. From the minds of Commvault, Metallic backup solutions deliver Commvault's powerful technology with the ease of SaaS.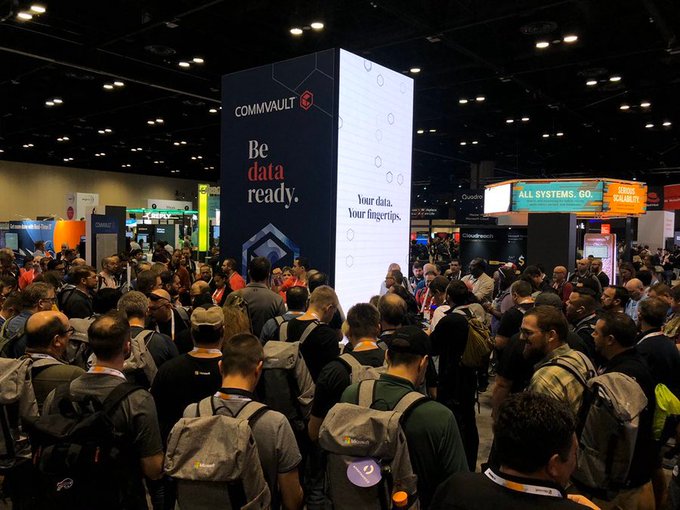 I'm a big fan of Office 365, and it's been a great productivity lever for our org. I'm not the only fanboy, though. There are currently 200 million Office 365 active monthly users and, judging by the massive crowds, it felt like all of them were at the recent Microsoft Ignite event. At the Commvault booth, I talked to customer after customer about how to keep their Exchange, SharePoint and OneDrive data protected with the right solution.
Bringing the Saas
Less than a month ago, we launched Metallic™ backup and recovery software as a service. From the minds of Commvault, Metallic backup solutions deliver Commvault's powerful technology with the ease of SaaS – meaning a simple free trial, up and running in minutes, with no-hassle setup, automatic product updates and a cool new UI designed together with our customers.
Extending from Commvault's 20-year partnership with Microsoft, Metallic is built on MS Azure and offers protection for Office 365. At our Ignite booth, nearly everyone who came by – no matter large or small – wanted to talk Office 365 protection. The conversation was typically twofold:
Why data protection for Office 365?
Your org has tremendous amount of data sitting in Office 365 and it's your company's responsibility to protect it. Your data is at risk from user error and corruption, in addition to malicious attack – whether through ransomware (growing 195 percent in the first quarter of this year alone!*), or clever new scams like the latest fake voicemail phishing attempts to gain Office 365 passwords.
Microsoft ensures high availability for your data, but if it's gone you need to be able to get it back. That's where a backup solution comes in so you can set flexible policies for storage, security and access; meet your compliance needs; and, when you lose data, leverage granular restore to get back only what you need, where you need it.
What sets Commvault's offerings apart?
First, it's our technology. Specifically: performance, scale and usability. Secondly, it's customer choice.
Performance and scale goes back to Commvault's industry-leading and trusted core technology. There's a reason we have more than 800 patents – because we never stop figuring out how to protect your data faster and better. Our Office 365 solution is no exception. We've implemented recent improved performance changes to protect large Office 365 data sets in the cloud; horizontal scaling of infrastructure (storage, access nodes, index servers) as the data grows; and scale up and scale down access nodes to accommodate the large backups. This all translates to faster, and more reliable, backup and recovery. And of course, these benefits are all available through both Metallic and Commvault Complete.
Commvault's User interface is personalized for administrators, tenant admins and end users. End user self-service takes the load off of the IT admins (great, right?), while our data index and granular recovery lets you find and recovery a single file back to exactly where you need it. Easy.
Why customer choice?
But now the kicker: we pride ourselves on putting our customers first. We offer Office 365 data protection through both Commvault Complete™ Backup and Recovery and Metallic™ SaaS Backup, meaning our customers get to choose. Are they looking for a SaaS-delivered solution – with a free trial, unlimited storage and retention included, and with no additional infrastructure required? Then Metallic™ SaaS is the best fit.
Or are they looking for on-premises data protection, or to leverage their own infrastructure alongside their existing Commvault Complete implementation? Do they have specific needs for Case Manager, eDiscovery, or migration between on-premises Exchange and Office 365? Then they can look to on-premises protection through Commvault Complete.
It's always a pleasure to talk to customers and be able to meet their exact needs with a solution that gives them the performance, security and scale they need. And to remind them: never fall for the voice mail scam.
*Source: https://www.hipaajournal.com/ransomware-attacks-increased-by-195-in-q1-2019-but-trojans-remain-the-biggest-threat/