Introducing our new CapAbilities Employee Resource Group 
By Morgan Whyte
At Commvault we continue to keep our Diversity, Equity & Inclusion (DE&I) efforts at the forefront of everything we're doing.
In my role as Global Head of Recruiting, this is a topic we constantly talk about not only with potential candidates, but within our own teams as well. We want anyone considering a role at Commvault to know that our culture that celebrates our differences and empowers everyone to thrive. This rings true for our current Vaulters as well – a diverse employee population and inclusive culture is what allows us to be more successful as an organization.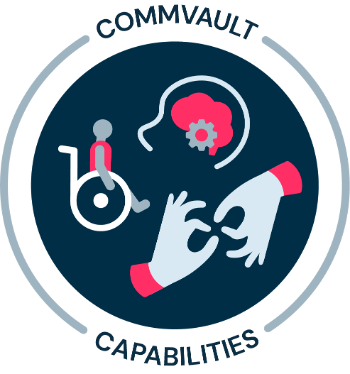 I believe it's so important that we recruit for a diverse employee population and build programs that allow us to be more inclusive and, in turn, more successful as an organization. We all know that now, more than ever, topics like mental health, wellbeing, and support are so important to focus on both in and outside the workplace. So, when I learned that we were creating a new ERG at Commvault, CapAbilities, I immediately volunteered to help co-lead this group to take a more active role as an ally.
The goal of our CapAbilities ERG is to raise awareness and break down the bias of workplace issues that affect people with disabilities and/or caregivers of those with a disability. Together, we are creating a safe and empathetic space where Vaulters with disabilities, caregivers, and allies can openly and honestly have discussions and drive change together. We want to increase awareness and support across all visible and invisible disabilities, including disability etiquette, accessibility, and accommodations.
As we continue our conversation about wellbeing during Mental Health Awareness Month, it's important to remember that mental health issues are one of the leading causes of disability across the globe and the number one reason for disability in the U.S. Our CapAbilities ERG is proud to join our Vaulters across Commvault this month (and beyond!) as we spread awareness about caring for ourselves, supporting others, and having the right resources when we need some extra help.
Everyone has unique strengths and skills to contribute to the workplace – it's what makes us stronger together. I'm honored to partner with such a compassionate group of Vaulters in our CapAbilities ERG, as we make an impact both inside and outside our Vaulter community!
There has never been a better time to join the Commvault family.  Find your next adventure by checking out our careers site https://careers.commvault.com/.