Commvault Disaster Recovery for VMware
With the launch of Commvault's new disaster recovery product – Commvault Disaster Recovery – we'll be featuring a series of topical blogs, beginning with
By Sana Farooque
With the world going through a crisis, uncertainties around recovering business-critical data and meeting time-sensitive SLAs can be a crisis of their own. The last thing you need is added stress from prolonged downtime of critical systems and loss of potential revenue. Now, you might answer that with "My data is already being backed up." But are you prepared for any catastrophic event, be it a natural disaster, ransomware attack, or a power outage that could extend the downtime of your critical systems while you implement your disaster recovery plan?
Commvault saves you from this DR crisis with our Live Sync I/O solution. This replication solution allows you to minimize your downtime with reduced recovery time objectives (RTO), and recovery point objectives (RPO) as low as 15 seconds. Not only does this solution let you perform a disaster recovery test, but it also allows you to create a virtual machine from a recovery point for continued operation, further reducing your downtime.
Let's take a look to see how this solution works.
The Live Sync I/O feature uses block-level replication to synchronize block devices or virtual machine disks, continuously streaming updates from source to destination VMs. Each source VM and the resulting destination VM is a replication group. After you configure block-level replication, backup and replication begins automatically. The backup of the source VM provides the initial image for the creation of the destination VM. Replication is automatically enabled to capture subsequent updates to the source VM.
Live Sync I/O installs Commvault plug-ins on each source VM, leveraging vSphere APIs to capture block-level I/O for each VM disk. The Commvault plug-ins for each VM pass transaction records through daemons at the source ESX cluster (CVBLRH) to the Block-Level Replication (BLR) service. The BLR service at the source sends the collected data from the source ESX cluster to the BLR service at the destination cluster, updating the Recovery Point Store (RP Store) and passing updates through CVBLRT daemons to each destination VM. The RP Store at the destination maintains recovery point data and metadata for each VM.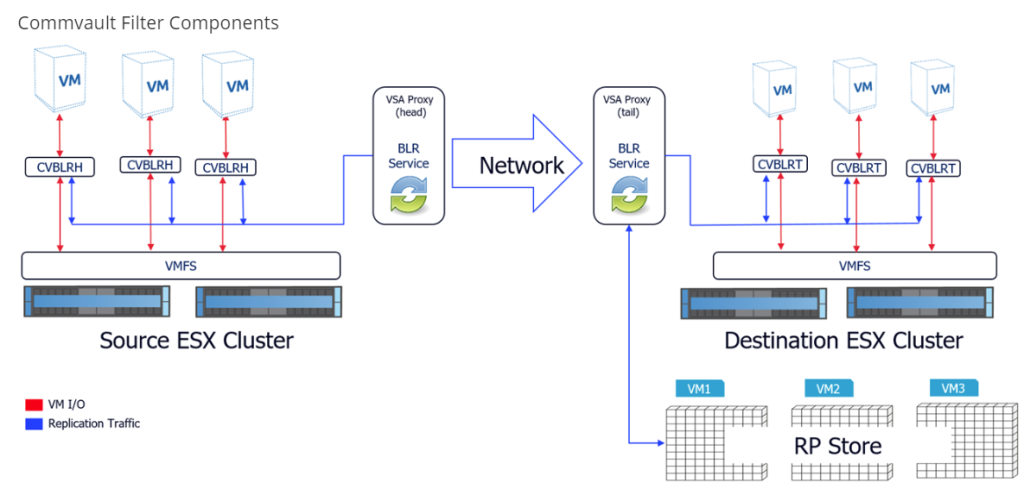 While configuring the replication group, you can select Latest recovery or Point-in-time recovery.
Latest recovery: Only maintains the most recent copy of the source VM at the destination site.
Point-in-time recovery: Maintain multiple recovery points at the destination site.
Crash-consistent recovery point's interval: This option creates crash-consistent recovery options at the specified time interval.
Application-consistent recovery point's interval: This option creates application-consistent recovery options at the specified time interval. When this option is selected, source VMs are quiesced to create application-consistent recovery points for destination VMs. This is useful when an application like SQL is installed on the VM.
Switch to latest recovery if RP Store is offline for more than: This option switches to live replication if the RP Store on the destination site is inaccessible for the time interval you specify.
Prune and merge changes during off-peak time only: Use this option to specify whether to transfer updates for the oldest recovery points to destination VMDKs during off-peak hours. If you do not specify this option, recovery point updates are transferred to the destination VMDK on an ongoing basis, based on the value specified while creating the replication group.
Replication groups can be configured in three simple steps:
1. Add the source hypervisor to select the VM's for replication.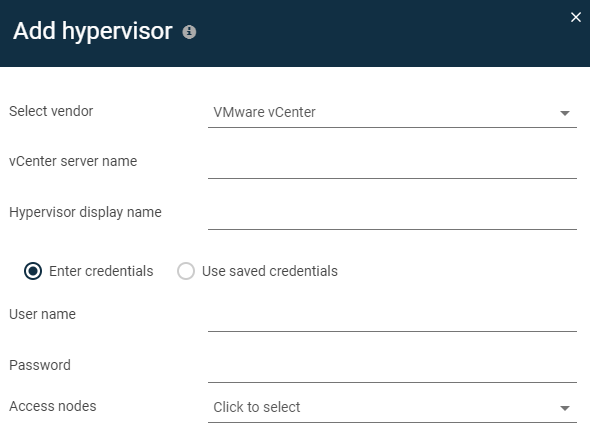 2. Configure the Live Sync I/O replication group to provide information about the source, destination, and recovery options.

3. Add the destination hypervisor by adding the recovery target. It identifies a proxy that can be used for the operation and provides other configuration values for replicated VMs.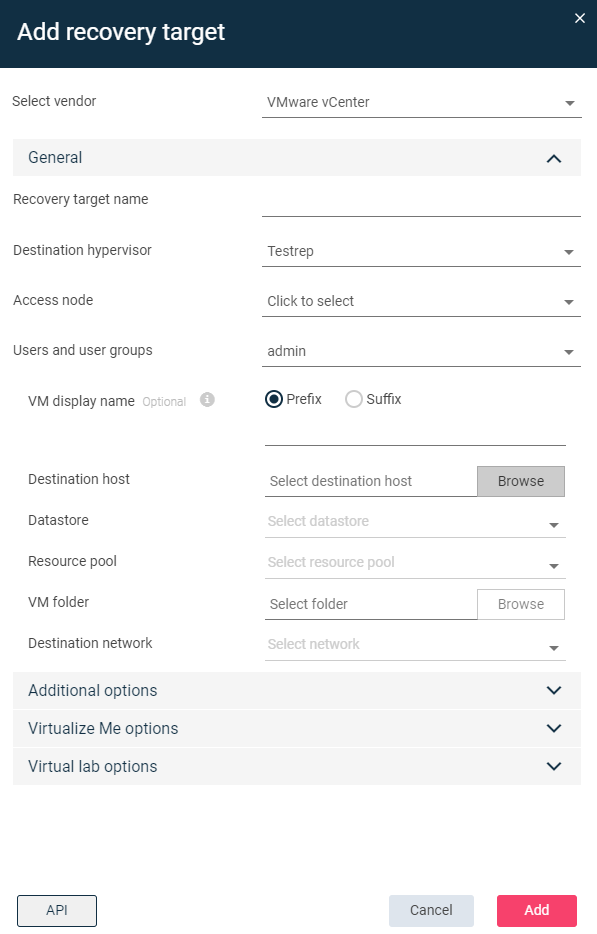 Monitor Replication: This is a one-stop for administrators to monitor the replication group.
Once you have all of your critical VM's configured, you can relax while we take care of your data.

Looking for something more? Here it is: in the Actions column for a replication group, click the action button (example to the right) to perform a test failover or DR VM operation for the replication group.
You can select the latest recovery option or a recovery point, which can be a crash or application-consistent recovery point interval. During a disaster, the recovery point interval allows you to go back in time and create a VM from source VM's data.
If the recovery point interval was 15 seconds, then a DR VM can be created with data on source VM 15 seconds back, thus allowing you to maintain your business continuity. Furthermore, you can schedule test failover and DR VMs, allowing you to have extra peace of mind that your data is safe.
Performing a Test failover: This option allows you to create a temporary VM for a disaster recovery test. Since this a temporary VM, it is automatically deleted after the time specified during creation.
Performing a Clone DR VM: This option allows you to create a permanent VM from a selected recovery point or latest recovery option.
Now you can see that Live Sync I/O for VMware is a MUST try feature.
Live Sync I/O for VMware provides you with:
Continuous data protection
Reduced recovery time objectives (RTO)
Recovery Point Objective (RPO) of seconds
Three-step replication configuration
Latest recovery or point-in-time recovery
Supports application-consistent recovery point
Schedule test failover
Stay tuned for more Live Sync I/O for VMware features that will further streamline your DR needs, and help you to avoid any future costly downtime scenarios.
Resources