AWS re: Invent
Modernize with Commvault at AWS re:Invent
At Commvault, we recognize these drivers and the challenges that organizations face in their digital transformation, so we've made modernization a theme throughout re:Invent 2021.
It's November – the leaves are falling, there's a chill in the air, and you all know what that means… AWS re:Invent is right around the corner. We're excited for a lot of things – seeing your bright, smiling faces for an in-person event is right at the top of the list, but we also look forward to all the innovation on display and the exciting announcements that AWS manages to keep under wraps every year right up until the big reveal.
Modernization is such a pervasive theme throughout the industry these days, and for good reason. A recent Rackspace Technology survey paints a pretty good picture, showing that across 1400+ respondents, 71% say that at least 1 out of 4 of their applications are currently undergoing modernization. 65% said that their digital transformation journey is actively "in process".
Migration to the cloud and the move to modernize applications are driven by a number of different factors, but agility, scale, and regulations/compliance are at the top of the list. At Commvault, we recognize these drivers and the challenges that organizations face in their digital transformation, so we've made modernization a theme throughout re:Invent 2021. We are excited to demonstrate to you how we can accelerate your organization's digital transformation and help you protect and manage modern workloads on AWS and beyond.
Cloud-native backups with EBS Direct API integration
One of those ways is through our integration with Amazon EBS Direct APIs. With this jointly engineered solution, Commvault and AWS come together to bring our customers cloud native, API-based data protection that can result in upwards of an 85% reduction in backup times compared to more traditional backup methods.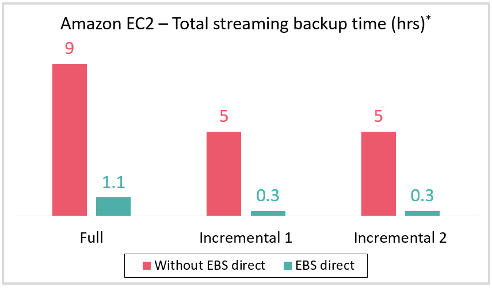 This performance improvement applies to not only incremental backups, as illustrated in the workflow below, but also full backups on large EBS volumes that are not fully populated.

If you want to learn more about how this EBS Direct API integration works, AWS published a great technical blog on their site, co-written by Henry Axelrod and yours truly, which includes information about how to enable this functionality within Commvault (version 11.20 and above). We encourage you to give it a read and then engage our team for a follow-up conversation at the event itself or on our site.

AWS native snapshot management
It doesn't get much more modern or cloud native than native AWS snapshots. These snapshots are the preferred way for many customers to simplify their cloud data management and provide a consistent recovery point for their applications running on AWS.
In release 11.24 and above, customers can incorporate AWS snapshots into protection plans, automating the orchestration of these AWS native snapshots at scale and across AWS regions. This provides simplicity for customers, being able to manage AWS snaps from their entire organization from a single pane of glass, alongside their other hybrid cloud workloads. Deduplication and compression help save on storing and moving those snapshots and, in addition, reducing storage and network egress costs.
With all these benefits, it's not hard to see how Commvault is a perfect complement to help enhance the value that AWS native snapshots bring to customers.
Amazon EKS Distro (EKS-D) support
By now, we don't have to tell you about how important containers are. According to ESG research, 85% of global organizations will be running containerized applications in production by 2025.1 Amazon EKS Distro (EKS-D) effectively brings Amazon Elastic Kubernetes Service (Amazon EKS) into your data center so you can run reliable, consistent, secure Kubernetes clusters on-premises.
Commvault support for Amazon EKS-D, in release 11.24 and above, helps bring the cloud to the edge by enabling data protection and management for this new distribution. Doing so also enables seamless, predictable migration of data between Amazon EKS, EKS-D, and EKS on Outposts for a truly hybrid experience.
Summary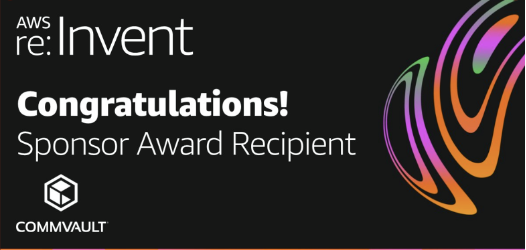 At a time when many organizations are trying to find any edge to help accelerate their transformation, Commvault is here to help. With broad native support for AWS services and deep integration and features like the ones described in this blog, we can help you modernize your data management and realize the immense value that cloud provides. This is just the tip of the iceberg, though – we've got plenty more to show you. So be sure to visit our re:Invent 2021 event web page find out how to attend our session, setup a meeting with us, or engage in other ways.
Oh, and we also are defending our title of AWS re:Invent Sponsor of the Year from last year's event, so you can bet that we'll have some tricks up our sleeves (and swag in the booth)! Come visit us at booth #1202 to see for yourself!


References
1. ESG Research Survey Commissioned by Commvault, Trends in Kubernetes Protection, April 2021