Backup and Recovery
New Commvault Recovery Readiness solutions enable customers to plan for when ransomware attacks
Today Commvault is announcing its Recovery Readiness Solution, a portfolio of services that enable customers to take the necessary steps to recover from a ransomware attack.

Failing to plan is planning to fail – and that's especially true when it comes to ransomware. Today Commvault is announcing its Recovery Readiness Solution, a portfolio of services that enable customers to take the necessary steps to recover from a ransomware attack.
When Ransomware strikes: Will you be ready?
This year has been one that many organizations would like to forget. While the global pandemic has wreaked havoc across retail and consumer businesses, other industries like healthcare and government entities have been repeatedly targeted by ransomware attacks. Unscrupulous bad actors have taken advantage of more employees working remotely to exploit security weaknesses. In fact, ransomware damages are expected to reach $20 billion by next year!
Unfortunately, it is not enough to focus solely on preventing a ransomware attack – the bad actors will find a way in. Instead, organizations must build a ransomware response plan that details how to return to normal business operations as quickly as possible.
As a data protection and management platform, Commvault understands your data is the lifeblood of your organization. When ransomware prevents access to critical systems and data, your business comes to a screeching halt. Unlike a natural disaster, your IT infrastructure is available, but you are unable to use it without paying the ransom or restoring your systems to a last known good state. Since the U.S. Cybersecurity and Infrastructure Security Agency (CISA) advises against paying the ransom, and may be illegal in some regions, recovering your systems to a clean state is the best option. Still, success is contingent on deploying the best solution with the right plan.
Strike back with Ready, Steady, Respond
Commvault's Data Protection Portfolio is a critical component of our customers' ransomware response plans. Over the past several years, Commvault has incorporated industry-leading security features and simplified operational processes to expedite our customers' return to normal business operations following an attack.
Leveraging these features, our global customer community has used our solutions to recover from countless ransomware attacks, data corruptions and other disasters, but the most successful recoveries are those that start with the right plan. By planning, implementing and testing their response plans before a data-compromising event occurs, our customers know that they are ready to respond when the need arises. And like any good strategy, continual maintenance and refinement are essential steps to aligning the plan with their evolving needs.
If your organization is not yet ready to respond to a ransomware attack, Commvault can help. Commvault's Readiness Solutions provide our customers with the resources and expertise to plan, implement and maintain a state of Readiness so you can respond to any data-compromising events.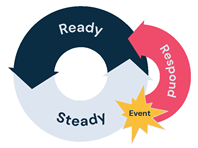 Readiness Solutions consist of three key phases: Ready, Steady and Respond. Each phase has a distinct focus in the Readiness cycle:
Ready helps you align Commvault's technical capabilities with your recovery objectives
Steady assists you in monitoring and maintaining a state of recovery readiness
Respond helps accelerate your return to normal business operations in the event of an outage or disaster
If you are interested in learning more about how Commvault can help you prepare your ransomware response plan, please contact your Commvault account team or trusted partner.
Sandra Hamilton is Commvault's VP, Customer Success.