New Data Protection Features in Commvault Service Pack 17 – Part 1
By Damian Andre
For us in the northern hemisphere, September is bittersweet. Bitter because it marks the end of summer, at which point many of the local attractions around headquarters close for the upcoming cooler months. However, for us vaulters it is also very sweet indeed, as we saw the third major Commvault product release of the year ushered in with Service Pack 17.
This release adds new capabilities for container data protection; a new agent for Splunk; new cloud protection and migration capabilities; security improvements; enhanced virtual machine protection; performance and scale enhancements; big updates for Service Providers; and a whole lot more. In fact, there are so many new features we are splitting this blog into two parts. You can also always read the full list in the SP17 newsletter.
So let's get started:
OpenShift Container Platform
This release adds support for the Red Hat OpenShift container platform. Red Hat OpenShift is a leading hybrid cloud, enterprise Kubernetes derived application platform. Commvault extends full protection to OpenShift applications, allowing fully orchestrated recovery beyond an individual container to the full application, including the orchestration of instantiation of the containers and restoring the data, volume claims, security keys, configuration and more.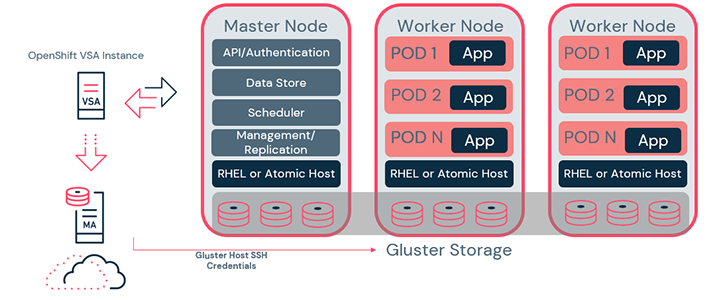 You can read more about Red Hat OpenShift protection in our technical documentation.
Automated Deduplication Scaling
There are several under-the-hood deduplication enhancements to improve performance and scale. Automated deduplication scaling changes the deduplication framework to separate application data that is unlikely to deduplicate against each other into separate deduplication stores. Block, database and file data will all leverage different databases to improve scale and performance. When a database begins to reach capacity based on latency response and other factors, Commvault can automatically redirect new backup clients to a new database, allowing for automatic horizontal scale. You can read more information on this feature at the technical documentation site.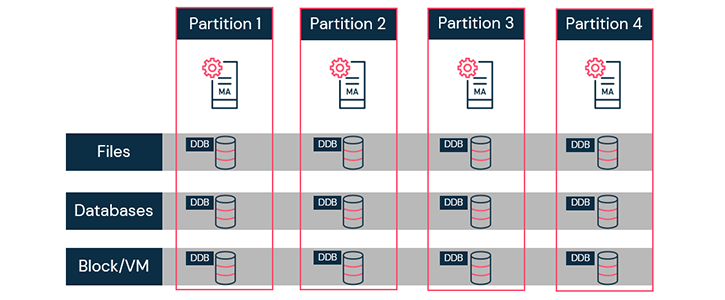 Splunk Data Protection
In this release, Commvault added a new agent to support backup and recovery of Splunk data. Splunk is a leading-industry solution for machine data and log analytics, powering organizations with critical real-time application insights. Commvault can now safeguard the index data used to provide these insights. You can read more about Splunk data protection on our documentation site.
Nutanix AHV NAS transport mode
In SP17 we're expanding upon our first to market Nutanix AHV agentless protection with another first, direct NFS support. With this new feature (known as NAS transport) you can now protect Nutanix AHV Virtual Machines without any Commvault infrastructure having to run inside the Nutanix cluster. This capability provides an alternative AHV data protection architecture which can help reduce load on your Nutanix infrastructure. See our documentation for more details.
Live Sync VM replication for OCI and OpenStack
In this release, Live Sync picks up two new platforms, Live Sync for Oracle Cloud Infrastructure (OCI), and Live Sync for OpenStack. Live Sync enables efficient disaster recovery and migration by enabling low RTO for failover in a disaster. You can see more details for OCI and OpenStack Live Sync on our technical documentation site.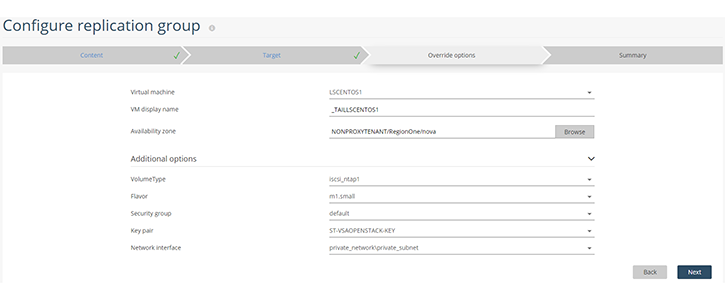 VM conversion from Azure to VMware
You can now convert your Azure Virtual Machines into VMware Virtual Machines on-premises. This is particularly useful as a disaster recovery option, but also allows you to copy production Azure VMs into a VMware environment for development and testing purposes without having to run additional Azure VMs. Read more about this feature.
Additional Virtual Machine Performance optimizations
SP17 includes many performance optimizations for virtual machines located on-premises and in the cloud.
Restores can now leverage multiple proxies automatically using round robin to improve performance when restoring large amounts of VMs
Linux proxies now automatically filter redundant swap and page file data from VM disks
Unused NTFS sectors are now automatically skipped during VM backups. This improves performance by detecting and skipping blocks associated with files, which have been deleted from the operating system
Restores from IntelliSnap backups now support parallel restores using multiple streams
Restores of VM and other data from cloud libraries has been enhanced by increasing the contiguous readable range. The net result is improved performance when reading data from cloud and object storage targets
So that's part one. Check back Thursday to see the rest of the feature highlights of SP17. And don't forget that we'll be discussing the new features at Commvault GO in Denver on Oct. 14-16.