New Data Protection Features in Commvault Service Pack 17 – Part 2
By Damian Andre
Welcome to the second part of Service Pack 17 highlights. Be sure to read part one if you haven't already done so.
IntelliSnap support for SRDF/Metro Configurations using the Dell EMC TimeFinder SnapVX Engine
New functionality in this release allows you to use the Dell EMC TimeFinder SnapVX engine to support SRDF and Metro configurations. With the SRDF/Metro configuration, the TimeFinder SnapVX engine backs up both the local copy and the synchronous remote copy of data. The engine creates snapshots on both sides of the SRDF pair of storage arrays, so if one array is not available, you can use snapshots from the other side of the pair. For more information consult the technical documentation.
Tenant API
SP17 introduces new tenant API functions to allow easier automation of the Commvault platform for service providers. This set of functions presents a simpler "service oriented" interface to automation integration, making it much easier to focus on the asset and service levels.

For more information, see Organization Operations.
Enhanced service provider documentation
The supporting SP17 documentation has been enhanced to centralize information for running a multi-tenant environment. Read more about it.
Security Enhancements
Last, but certainly not least, this release includes several security enhancements to better protect your data from internal and external threats.
Monitor API usage
The new API overview report allows you to monitor API usage in highly automated environments. You can download the report directly from the Commvault software store.

Logging to Syslog
With this release, you can now send alerts, system logs and events to a syslog server to centralize operational data for analysis. Follow these instructions on configuring a syslog server.
Cascading network gateways
Cascading network gateways automates configuring chained network gateways, also known as proxies. This is useful to isolate two environments where both sites route traffic through a local proxy. This common network topology is useful in managed service provider environments, where you may be supporting multiple customers leveraging their own network gateway for enhanced security. Learn more about cascading network topologies.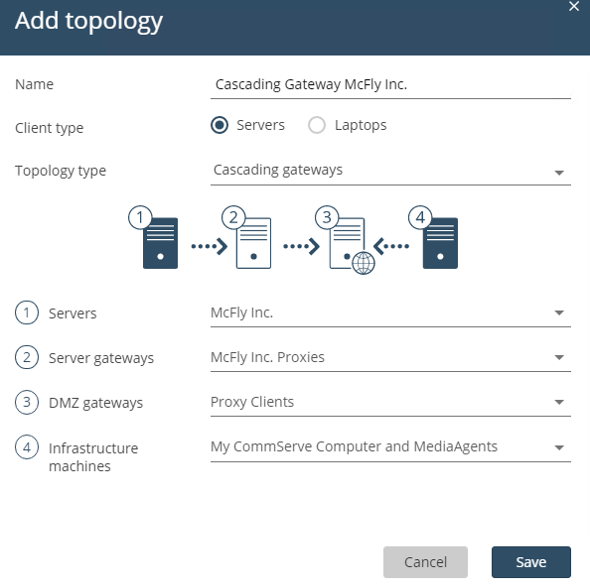 Other security enhancements
SP17 continues to enhance the core security of the platform, including these notable mentions:
Credential manager now supports storing credentials for cloud storage targets
Third-party binaries distributed with Commvault are now signed
Certificate authentication now uses AES encryption rather than 3DES
Refreshed Audit Trail report for Command Center
We hope you are as excited about the enhancements in SP17 as we are.  I hope to see you at Commvault GO in a few short weeks.