Ransomware Prevention: Be ready with Commvault- Part I
By Phil Wandrei
Who is responsible for malware protection within your organization? CIO, CISO, IT, all employees? It is everyone within your organization. From the CEO down to front-line employees, everyone has a responsibility to protect their organization from malware, including ransomware. Everyone must be vigilant in their security, from setting strong passwords to not opening or clicking on suspicious emails, links, or attachments. While IT is responsible for setting the infrastructure, tools, and policies, it is everyone who must remain vigilant.
"One of the easiest and more effective ways to combat the increase in attempted break-ins into corporate networks is to conduct security awareness training for everyone, to level-set our basic understanding of security issues and promote standard practices."
-Reza Morakabati, Chief Information Officer, Commvault
For data protection, Commvault takes the same approach of being vigilant. While Commvault software does not replace antivirus software, it plays an essential role in your recovery readiness. Commvault software's monitoring capabilities uniquely position it to see anything out of the ordinary across the backup environment and report it to you. Commvault provides extra layers of protection and monitoring in your fight against ransomware, and as the last line of defense, it helps you resume operations quickly.
Ensuring you are ransomware recovery ready
Keeping your data safe starts with being recovery ready. A complete ransomware recovery strategy includes identifying what the existing risks are and reducing those risks to mitigate a successful attack and lessen its impact. There are five things you should do: plan, prevent, monitor, restore (quickly), and test.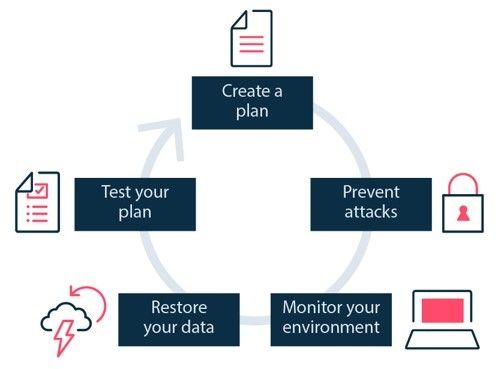 Create a plan: an effective plan is a foundation for a full and speedy resumption of normal operations.
Prevent attacks: enable ransomware protection for immutable backups and apply proactive steps, including foundation hardening, application hardening, and air gapping.
Monitor your environment: always be on the lookout for any anomaly, detecting the attack as quickly as possible to reduce its impact.
Restore your data: perform fast restores with an intact data copy to quickly resume normal business operations and reduce the ransomware impact.
Test your plan: perform frequent tests to verify you can meet your defined SLAs for high-priority data and applications.
For additional detail on these five (5) steps, read whitepaper>
Commvault data protection can be a valuable part of your anti-ransomware strategy. Gartner highlights Commvault's ransomware protection and recovery as a competitive differentiator.
"Commvault's innovation and differentiation lies in: Ransomware protection and recovery — Commvault uses a combination of machine learning algorithms, air gap and honeypot mechanisms to detect ransomware attacks."1
Commvault is positioned as a Leader in the Gartner Magic Quadrant for Data Center Backup and Recovery Solutions for the ninth consecutive time.2
Opportunity and risk— that's the reality for organizations today and the people responsible for the data. A single event can threaten the bottom line or define a career. So how do you prepare? By making sure you're ready.
Learn more about Commvault ransomware protection.   
Footnotes:
Critical Capabilities for Data Center Backup and Recovery Solutions, Published: 20 July 2020 ID: G00464151, Analyst(s): Nik Simpson, Santhosh Rao, Jerry Rozeman, Michael Hoeck
Magic Quadrant for Data Center Backup and Recovery Solutions, Published: 16 July 2020 ID: G00464149, Analyst(s): Santhosh Rao, Nik Simpson, Michael Hoeck