Ready, Set GO! New Commvault Innovations
By Ranga Rajagopalan
With all the powerful keynotes, demonstrations and insightful conversations happening at Commvault GO, it's important for customers to understand the breadth of new innovations in Commvault Complete™ Backup & Recovery.
First, we've helped customers simplify recovery readiness through cloud-to-cloud data backup and migration. We've also added automated disaster recovery validation, intelligent elastic storage planning and powerful workload data protection. While our press release highlights these new innovations, I wanted to provide a deeper perspective on how these enhancements impact customers and empower them to take on today's toughest data challenges.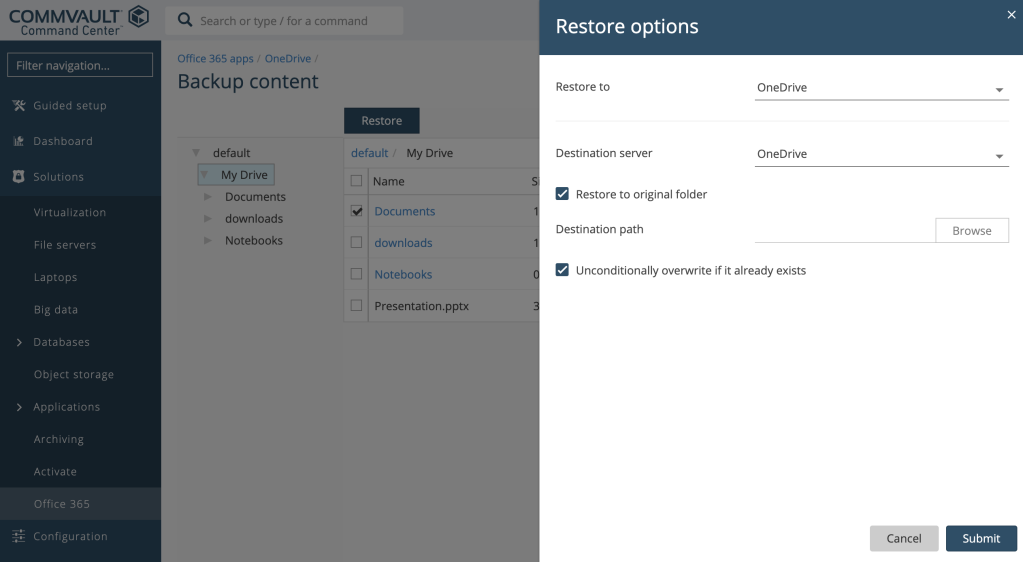 Cloud-to-cloud backup and recovery
New support for cloud-to-cloud data portability makes it easier for customers with multi cloud environments to protect, manage and use data. With Commvault Complete Backup & Recovery, customers can now backup, recover and migrate data between AWS, Google, Microsoft Azure and other major cloud providers, all from the Commvault Command Center™.
Expanding data portability options gives customer the ability to store data on the cloud service provider of their choice, and to change providers when their requirements change. It also enables them to back up from one cloud provider to another to limit the risk of data loss.
With Commvault's current support for on-premises to cloud data portability, this new capability empowers enterprises to seamlessly back up or migrate data to whatever infrastructure that best addresses their business needs.
Automated disaster recovery validation
Commvault's new automated disaster recovery validation capability simplifies recovery readiness assessments. Using the Commvault Command Center, enterprises can schedule an automated recovery of virtual machines and other back up data to a sandboxed environment separated from production. Commvault automatically discovers applications so they can be validated, and then users can easily view the success of the recovery to fix any problems or improve performance. Through this feature, together with existing functionality, customers can mitigate the risk of a ransomware attack and to detect anomalous activities that might indicate a threat.
With these capabilities, Commvault Complete Backup & Recovery empowers enterprises to implement a comprehensive recovery readiness strategy that minimizes the risk of data loss from a ransomware attack.
Elastic storage plans
Commvault's new elastic storage planning capability allows IT to create self-driving, outcome-based backup plans in the Commvault Command Center. These elastic storage plans intelligently automate common backup and recovery tasks to simplify data protection, maximize backup and recovery efficiency and performance.
Users can specify where they want the backups to be stored and when, as well as what Recovery Point Objectives (RPO), Recovery Time Objectives (RTO) and other SLA outcomes they want the backup to deliver. As workloads increase in size, the plans elastically scale to accommodate larger data volumes and alert the user if additional resources are needed to meet the plan's outcomes.
In addition, users can have new workloads automatically assigned to a given plan, eliminating the need to create a new backup and recovery plan from scratch for each new workload. Users can manage all of their elastic storage plans through a single interface – the Commvault Command Center – reducing complexity.
New and expanded workload protection capabilities
Commvault has also added integration for Splunk and OpenShift containerization software and expanded its existing support for Microsoft 365 applications to provide more powerful workload protection capabilities to customers.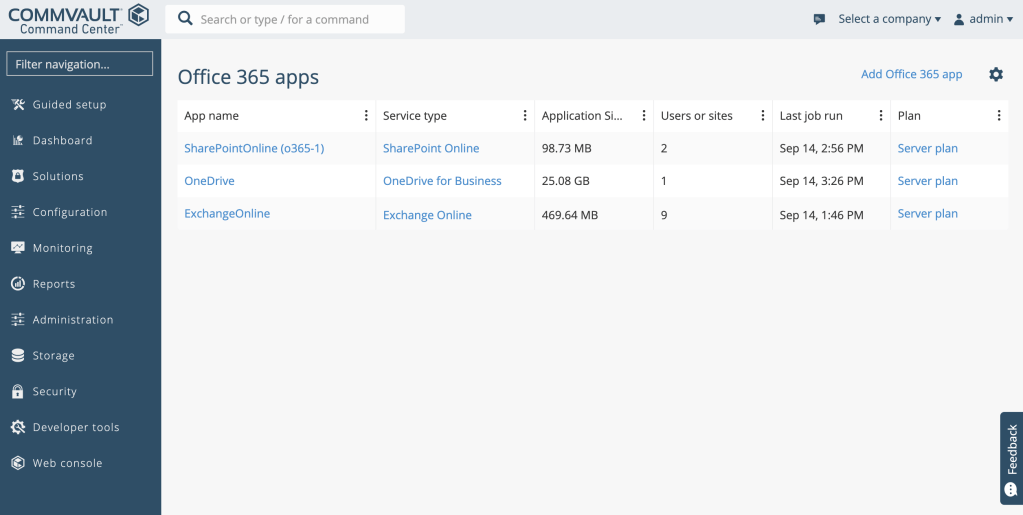 To maximize its value, Splunk data needs to be protected and recoverable with a modernized data protection platform. Like any data, it has the potential for data corruption or loss. Commvault enables true data protection for Splunk with a fully-featured data protection solution that supports Splunk API integration.
With this integration, Commvault delivers Splunk customers script-less protection, protection of hot, warm and cold buckets, self-defined retention with no recycle bin limitations, point in time recoveries, long-term retention and self-defined SLA's (RPO/RTO). See how Commvault makes Splunk data protection and recovery simple.
Building on its long-standing partnership with Microsoft, Commvault also expanded its existing support for multiple Microsoft 365 applications. Commvault has simplified the Commvault Command Center user interface for Microsoft 365 and increased scalability, making it easier for multi-tenant service providers to onboard.
Commvault has also introduced new integrations into OpenShift, supporting the emergence of containerization technologies that are increasingly being used for both DevOps and cloud native applications. Commvault's OpenShift application protection enables new cloud native environments to be compliant, protected and ready for production with a native API driven approach.