Recognizing Microsoft As Commvault Leads KuppingerCole Market Compass Report On Cloud Backup And Disaster Recovery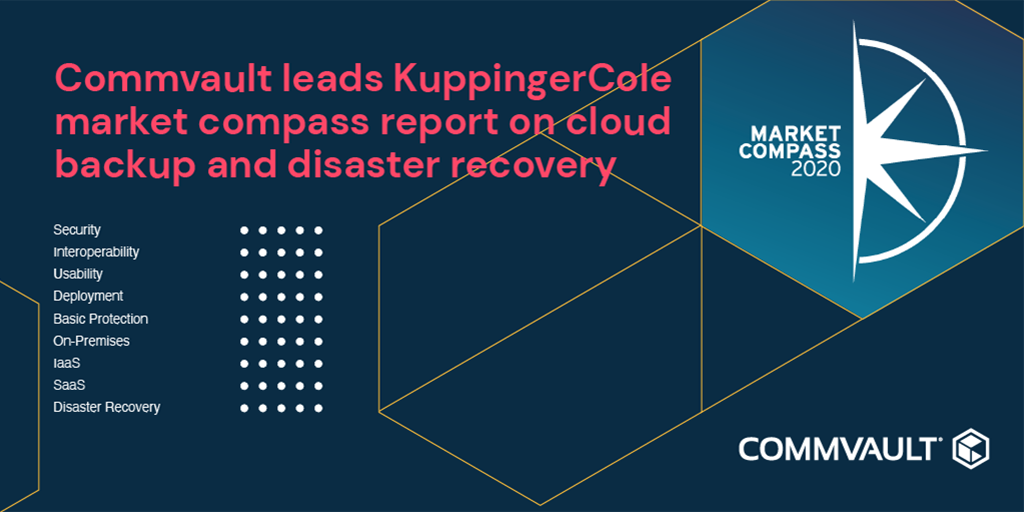 I have been with Commvault for more than 26 years, and in that time there have been several things I've been proud to be part of. At the top of that list are our people, our solutions, our long-standing partnerships and our philanthropic efforts – all of which intersect with Microsoft. In fact, the breadth of our collaboration with Microsoft runs deep – ranging from designing the best solutions for our joint customers, to mentorship as we adjust to industry changes, to philanthropic efforts like our joint COVID-19 response and Microsoft's continued participation in our Hockey Helping Kids program.
It is also this partnership that reaches beyond our shared activities with Microsoft, leading to increased opportunities and evangelism for Commvault. One such opportunity is Commvault's net-new recognition from the well-respected analyst firm, KuppingerCole.
In its Market Compass Report on "Cloud Backup and Disaster Recovery," KuppingerCole thoroughly reviewed Commvault and 14 other "Cloud Backup" solutions. The result? Commvault comes out on top as the only solution rated highest (Strong Positive) in ALL categories. This 81-page review focuses on critical areas for companies on their Digital Transformation journey (Cloud Support, Performance, Durability, Deduplication, RESTORABILITY, security, compliance, auditability and SaaS protection, to name a few). The report also shows its attention to detail for today's modern environments as it investigates solutions across on-premises, SaaS and IaaS.
Now, while I enjoy being a geek on these types of evaluations, the Commvault strength that stood out most for me was: "Range of solution delivery options" as that "range" is something we can thank Microsoft for. It is its scalable, consistent, reliable infrastructure across on-premises, public Azure and Azure Stack that enables Commvault to implement our solutions – as the customer prefers – from the same codebase.
So while Commvault gets a little more recognition from the analysts – let's not overlook the consistent infrastructure framework that Microsoft provides us to build, deliver, optimize and improve on.
Like we do with all of our joint activities, we're proud once again to be in the company of Microsoft and share the stage as we celebrate this honor together!
Learn more about how Commvault and Microsoft work together.
Randy De Meno is Commvault's VP/CTO, Microsoft Practice & Solutions.