Disaster Recovery
Ensure Recoverability of your CommServe for Greater Protection Against Ransomware
In the event of a disaster, ransomware attack, or outage, you need the ability to get your organization back online quickly.
In the event of a disaster, ransomware attack, or outage, you need the ability to get your organization back online quickly. That means always being ready for anything by taking proactive measures to ensure your CommServe® is ready for a disaster or cyber recovery. And given the constant change in today's IT environments, ransomware readiness can't be something you get around to quarterly or annually. Readiness must be a daily focus.
1 in 3 organizations report having been successfully hit more than once by a ransomware attack, making ransomware both a significant and recurring source of business disruption.1
To address our customer's challenges with ransomware, Commvault uses best practices to give you peace of mind that you are ready and able to recover quickly.
Be Better Prepared for a Ransomware Attack
The first step in ransomware protection is to plan and develop a recovery process for protecting the CommServe host and database. If the CommServe were subject to a ransomware attack, it would be challenging to start the recovery process of your other critical systems. To ensure recoverability, you need a Commvault Disaster Recovery (DR) backup. DR backups contain a backup of the CommServe, and other databases installed with the CommServe software.
How to Ensure CommServe Recovery in your Commvault Environment
For greater ransomware protection, set up automatic copies of your CommServe to Commvault's secure cloud portal. A copy of the DR backup is uploaded every time a DR backup job is run.
If you are hit by a ransomware attack and the existing DR backups are unusable, you can use the latest native format DR backup in the cloud to rebuild the CommServe server.
Here are a few recommendations for configuring your DR backups:
You must store the DR backup in a dedicated network location that is accessible from both of the CommServe hosts.
Do not use a local disk or local clustered disk because it is not safe and recommended.
Use a Universal Naming Convention (UNC) path to access the network location. Make sure that this dedicated location is not used for any other CommServe task.
Do not use administrative shares as an export location—for example, \\MyServer\E$\.
For a network location that is on a Windows mount path, the software enables ransomware protection by default.
Read more: Configuring Automatic Uploads of Disaster Recovery (DR) Backups to Commvault Cloud Services Portal
Commvault Command Center™ Steps: Manage > System > Maintenance > DR backup (Daily), then enable 'Upload backup metadata to Commvault Cloud.'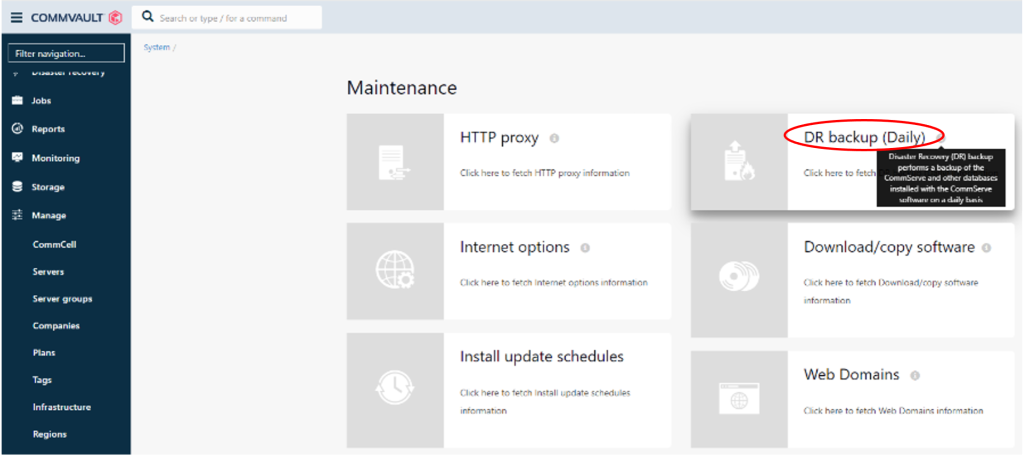 With Commvault, you have the most robust ransomware protection features at your fingertips to ensure your CommServe remains resilient – keeping your business ransomware ready.
It is imperative to start your preparation today. Within the Commvault Command Center™, valuable tools and dashboards help you understand your data and your data protection and recovery capabilities. The Commvault Security Health Assessment Dashboard is a great resource to see what features are enabled and any pressing alerts.
Additionally, the Commvault® Professional Services team provides the resources and expertise to plan, implement, and maintain a state of recovery readiness so you can respond to any data-compromising event. Learn More
Reference
1. ESG Research Report, The Long Road Ahead to Ransomware Preparedness, June 2022