The Freedom to Make an Impact, Together. The Commvault & HPE Partner Advantage
By Jeff Carlat
In 2020, the world realized the criticality of data, digital transformation, and the impact that the cloud has on all companies. This week, the HPE premier technology event, Technology and Solutions Summit (TSS), provided the perfect example of how Commvault is working with high-level partners to provide the best and most comprehensive data services to our joint customers. HPE TSS is the largest knowledge transfer event for Presales Consultants and Solutions Architects across HPE and its partner community. Commvault is thrilled to be a Gold sponsor at TSS because we recognize the incredible value that our partnership brings to customers through co-innovating to simplify and deliver data management solutions for our customers' data. We also realize what a fantastic opportunity this is to engage directly with the specialists that are working directly with these customers to solve their most pressing issues and learn how to make our combined offerings even more effective and efficient. If you missed the event, check out this recap, with the overarching themes that will dictate the future of data partnerships.
The Catalytic Impact of COVID
We have all seen how organizations have been forced to adapt over the past year, but how much of this is a "new normal"? I am certain that the workplace is not going to be 100% remote going forward but there is no denying that work from home is going to be more prevalent, and data more scattered and fragmented, than in the past. With that comes concerns – about security, about endpoint protection, and about the future of data center management and removing complexity while ensuring business continuity. Addressing these concerns is going to be critical for organizations to not only thrive but to compete and be relevant in the world of the future.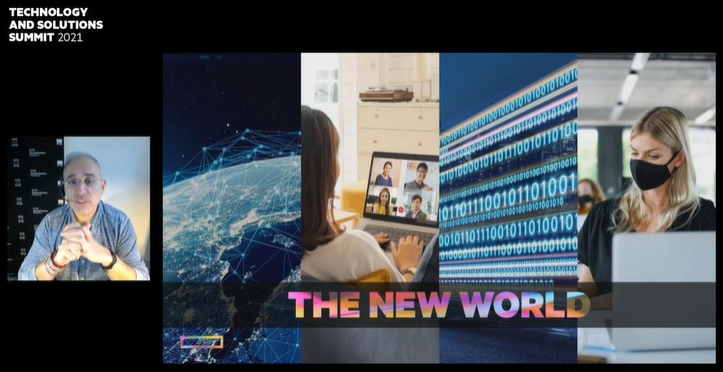 Ongoing Shift to Cloud and XaaS
The second theme definitely has a correlation to the first. As COVID has most certainly accelerated this movement we also understand that the majority of our customers have been on this path for a while now. Cloud is all about agility – being able to move workloads or bring up new services as your business needs evolve. Similarly, 'as a service' models (or XaaS) offer simplicity, turnkey deployment, and an attractive 'pay as you go' model which can shift spend from CapEx to a more digestible OpEx spend. This shift is not confined to the corporate world and the ever-increasing cloud-based consumer subscription services we utilize every day like Spotify, Netflix, Apple TV and more. Businesses are learning that there is value in moving some of these services outside of their data center to remove some of the roadblocks that traditionally slow the adoption of new technology. Being able to deploy quickly, scale seamlessly, and manage efficiently puts us in a position to provide our customers with value from their data.
Security is Required at Every Layer
The final theme is the idea that security is of paramount importance throughout every product, every solution, and every application regardless if it is on premise or in the cloud. Security breaches such as ransomware are all over the news these days – it's such a hot topic right now because the risk of attack is at an all-time high with no sign of slowing down. But even with all the recent attention, ransomware isn't the only security concern out there. Customers are starting to realize that they need to harden their environment at every level to avoid having their data compromised. In the past, data was used to support the business. Today data is the business for many companies. Moreover, customers need a truly comprehensive data protection strategy, so they're not left out in the cold when (not if) disaster strikes.
When we think about these core themes and the challenges that our customers face today, it reminds me of why I joined Commvault to lead the strategic alliance with HPE. I truly believe that our two companies are uniquely positioned to solve customer challenges together with a common view of helping our customers thrive and grow. When HPE's CEO, Antonio Neri, commented in his keynote that they are focused on making cloud "an experience rather than a destination", it continues to resonate with me. Consider how Commvault and HPE are collaborating to make that happen:
As discussed in our breakout session 'Achieving Hybrid Cloud Nirvana with HPE and Commvault', Commvault has native integration with HPE technology to improve recovery SLAs, enable seamless backup to the cloud and portability of data and workloads between clouds, while protecting our customer's data from threats like ransomware or disaster – wherever that data might be.
Our HyperScale X solution, a purpose-built, scalable backup solution built on HPE ProLiant and Apollo servers, was the focus of our Meet-the-Experts session at TSS. This validated reference design is an easy to deploy integrated software-defined data-protection solution with a distributed scale-out file system that provides unmatched scalability, security and resilience.
Data Protection through HPE GreenLake is a consumption-based service offering that combines the simplicity, agility, and economics of public cloud with the security and performance benefits of an on-premises backup environment.
When you consider these two companies with such remarkable technology, with reputations for delivering best-in-class solutions and services to their customers, the possibilities are endless. It recalls Commvault's core value, that working with Commvault, we have the freedom to make an impact, together.
Reach out with any questions at HPE@Commvault.com or visit HPE.Commvault.com to learn more.