Backup and Recovery
The Layers Of An Effective Ransomware Strategy With HDPS Powered By Commvault
Hitachi Data Protection Suite (HDPS), powered by Commvault, together with the Hitachi Vantara storage portfolio, offers a layered anti-malware and ransomware strategy.
By Mark Jow
Protecting your data and ensuring its availability is your top priority. But what happens when an unexpected attack, like ransomware, infects your system? And, even more important, how do you prepare for that? By making sure you are recovery ready.
A complete ransomware strategy includes both reducing the risk of a successful attack and lessening the impact of an attack that does succeed. Hitachi Data Protection Suite (HDPS), powered by Commvault, together with the Hitachi Vantara storage portfolio, offers a layered anti-malware and ransomware strategy. Let's take a look at some of the key layers that help give you an advantage: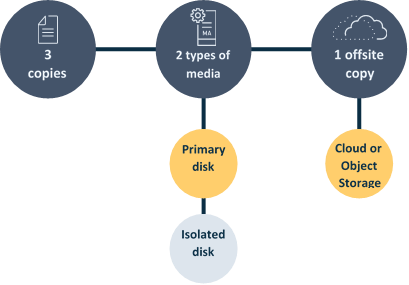 Diversify the strategy and infrastructure
Hitachi Data Protection Suite is storage agnostic and includes industry-leading integration with storage and cloud platforms. Not only can you store copies across multiple media types, but it also includes support for more two dozen cloud vendors, which makes scalability easy.
Object storage may not immediately come to mind when thinking of an effective ransomware strategy. However, Hitachi Content Platform (HCP) is one of the most secure object stores in the industry and its versioning capabilities enrich and complement any existing ransomware strategy.
Air gap ready
Replicated data can be air gapped by severing the encrypted tunnel initiated from the isolated site. The HDPS automation framework makes it simple to customize this functionality, as required.
Industry-leading security controls
HDPS powered by Commvault's AAA Security Framework (Authentication, Authorization, Accounting), provides a suite of security controls to harden the HDPS platform. Additionally, HDPS uses end-to-end encryption and certificate authentication, protecting against malicious data access, man-in-the-middle attacks, and spoofing.
Immutable backups
Utilizing layered security controls, write once read many (WORM) capabilities, as well as built-in ransomware protection for backup data, HDPS locks backup data from unauthorized random changes. This also helps prevent intentional and unintentional bad actors from modifying or deleting backup data in order to preserve the integrity of backups.
Data verification and repairs
Backup data is locked and can only be modified by HDPS processes. Any ransomware, application, or user that attempts to delete, change, or modify backup data from the data mover (media agent), will be rejected within the I/O stack unless it is an authorized HDPS process. Additionally, HDPS uses machine learning algorithms to detect file-based anomalies that may indicate a ransomware attack on a HDPS resource.
With HCP, content is continually checked throughout its retention period for integrity, with proactive data repair. Furthermore, deletions or accidental changes before a file retention period expires are prevented by object versioning protection, which also provides a history of how the data has changed over time. You can also leverage HCP's versioning capabilities to access the most recent version of any file in the event your organization falls victim to a ransomware attack.
Data protection anywhere
HDPS supports a variety of disk, cloud and object storage vendors. When using HDPS for an air gap solution, any supported storage vendor can be used. HDPS also supports WORM and immutable locks used with third-party storage devices.
In the event you decide to send data into the cloud, HCP's encryption capabilities ensure it stays protected before, during and after its journey.
In conclusion…
Taking a layered approach to securing backup data is the best way to ensure its security and availability. Using the HDPS existing security controls and immutable locks (ransomware protection, WORM, and encryption), in combination with Data Isolation and air gapping techniques, provides a well-protected solution. With HDPS you are recovery ready!
Interested in learning more? Join us at the Hitachi Vantara Digital Infrastructure Advantage Show on July 15 to learn more about how Commvault, together with Hitachi Vantara infrastructure, maximizes data agility across on-premises, cloud, or hybrid environments, while improving recovery readiness and reducing the risk of data loss.
Mark Jow is Regional Vice President, Technical Services, at Commvault.