Backup and Recovery
Top 3 Considerations For Cloud Data Management Product Selection And Approval
Consolidating your data into one comprehensive, yet flexible cloud data management solution can help you manage risk, identify new business opportunities and automate administration so your IT team can focus on priority projects.
By Bryan Leopard
The amount of newly created data is predicted to grow 44 times to reach 35 zettabytes in 2020. According to Forbes, "In the coming decade, data will continue to beget data, to break boundaries, to drive innovation and profits and create new challenges and concerns."
In business, data has become a cornerstone of good decision-making and an essential component for growth. It can help revamp and refine business processes, advance business strategy and create new streams of revenue. But for many companies, poor data management stands in the way. How do you ensure you're getting the most out of your data?
Streamline data operations to influence business success
Anyone can collect data. It's what you do with that data that matters.
To put your data to work, it first needs to be accessible. How many backup platforms do you use to manage data across your organization? Is your data managed in difficult to maintain, on-premises tools?
Consolidating your data into one comprehensive, yet flexible cloud data management solution can help you manage risk, identify new business opportunities and automate administration so your IT team can focus on priority projects.
Here are the top three considerations for selecting a cloud data management platform:
1. Select one unified cloud data management solution that offers complete data protection of your hybrid cloud
Like most organizations, you likely use complex cloud operating models to solve for your various business use cases. Eighty-four percent of today's enterprises have a multi-cloud strategy. What does that mean? Your data doesn't live in one cloud; it lives across a variety of public (AWS, Azure, Google) and private clouds – sometimes without your IT department even knowing it. Is your marketing team using Google Drive to collaborate and share documents? Are your developers using AWS to build and launch new applications? Having data stored in these siloed clouds creates a host of new challenges, from security risks to added costs.
Select a data management solution that allows your team to seamlessly and securely move workloads to, from and across public and private clouds so you can efficiently leverage your data when and where you need to address business demands. Having one dashboard for comprehensive cloud data management allows you complete control of all of today's cloud use cases, including PaaS, containers, and massive databases like Microsoft SQL Server, Splunk and Oracle, in one place.
2. Select a cloud data management platform that offers flexibility, scalability and automation
Today's enterprises are collecting an increasing volume of data but employing limited IT resources to manage it. This makes it extremely difficult to scale data-backed business initiatives. The innovation required to attract and retain customers can't happen with IT staff in the weeds of data management.
Ensure the cloud data management platform you select streamlines hybrid cloud data protection with automation and orchestration that takes the burden off IT, so they can refocus their energy on projects that drive business results.
Here are some key things to look for:
Automation: speed day-to-day operations and save your organization critical time during emergencies
Auto-scaling: boost cloud storage needs during a disaster or test, then spin down cloud resources when you're done
Automatic ransomware and anomaly detection: works even when you aren't in the office
3. Don't make a purchase decision without a comprehensive business value assessment for cloud data management
It's no secret that B2B buyers are doing more research online and engaging with sales reps later in the buying process than ever. In fact, SiriusDecisions estimates 67% of the buyer's journey is now completed digitally. (Makes sense. You found this blog because you're researching a potential cloud data management purchase, right?)
But cloud data management isn't just any purchase. Your data is your most critical asset and needs to be treated as such. So how do you ensure you're selecting the very best cloud data management solution for your unique business and not just ticking boxes on a list of features and capabilities you think you need? Stop comparing features and start uncovering value.
Progressive technology providers recognize any large IT investment carries risk. As a result, it has become a best practice for these providers to provide interactive business value assessment tools, including ROI calculators and TCO comparisons, to help buyers make confident purchase decisions.
These tools, often available as self-service on a company's website, help you gauge the value their solution will bring to your business in the context of what you care about most. The data output of these tools is third-party validated, ensuring you get an objective estimation of the benefits (i.e., cost savings, revenue generated, etc.) that you'll receive from the platform – and not a sales or marketing pitch.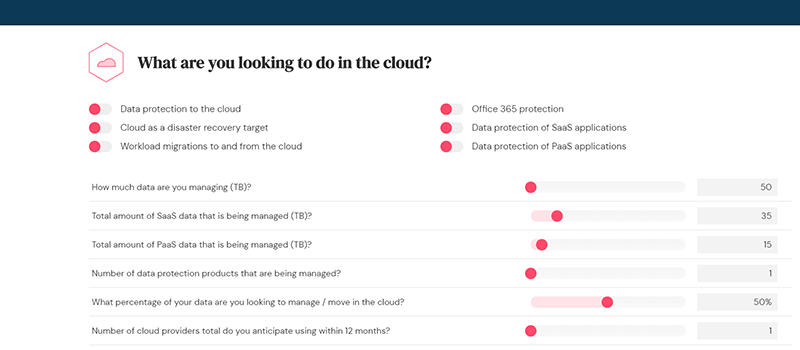 Leveraging these tools allows you to build a compelling business case based on real data effortlessly. You can incorporate the projections of the benefit you'll receive from the technology in question. Use the tools to convince key stakeholders to buy into a purchase decision.
For cloud data management specifically, a business value assessment can:
Provide a side-by-side total cost of ownership (TCO) comparison for keeping your data on-premises versus moving to the cloud
Quantify the return on investment (ROI) of consolidating your existing data management solutions into one cloud data management platform
Estimate the cost-benefit of automating processes so your IT team can focus on priority projects
In 2020, cloud data management is the key to driving revenue. If you're currently trying to determine the best cloud data management solution for your business, check out the Commvault Cloud Value Calculator for help building your business case.
Bryan Leopard is VP Consulting and Advisory Services with Mediafly.