We Are The Women Of Commvault
By Orly Lynn
We are genuine. We are authentic. We are brilliant and determined. We have captivated audiences both in the office and at the dinner table. We are the women of Commvault. In honor of International Women's Day, our Women in Technology employee resource group, has chosen to share the stories of women at Commvault whose passion, perseverance and leadership challenge stereotypes in the year of #EachforEqual. As Commvault's Head of Inclusion and Diversity, I take pride in our organization's commitment to promote gender equality, and the determination to strive for workplace inclusion.
I recently caught up with Commvault CEO, Sanjay Mirchandani, who discussed how empowering half the world's population to share in equal opportunity practices advances innovation, increases growth, and fosters a sustainable work environment for all. At Commvault, we welcome and encourage everyone to be their unique selves, because together we can do more when we are all afforded the same opportunities to rich and empowering experiences.
Join us today and tomorrow as we pay homage to the sheros of Commvault.
Brittany Lamb, Manager, Worldwide Internal Communications, started at Commvault in 2016 as an intern on an internal communications team made up of all women. "I was fortunate enough to build relationships within my team and learn from the women I interacted with on a daily basis. These women taught me how to succeed, how to make my voice heard, and how to own a room. In three years, I have gone from an intern to the manager of our Global Internal Communications team, and I now have a team of women who report to me.
We all bring unique insights and skills to a role because of what makes us different from one another. If we treat everyone with equality, and remove the gender bias, the collaboration and ideas would be invaluable."
Lisa Critchlow, Director, WW Marketing Partner Programs, shares her story of empowerment, fueled by passion, driven by challenge. "Throughout my career, 'Passion, gut and knowledge' has been my personal mantra for success as a woman in the tech industry.  My tenure with Commvault has afforded me numerous opportunities to pursue my passion for the channel – to lead strategic initiatives that shape and influence how we deliver a meaningful and impactful partner experience. I have also been empowered and encouraged to 'trust my gut' and to think outside the box whether attempting to solving an existing business challenge or in conceptualizing a new operating model.  And lastly, I've been very fortunate to have leadership committed to investing in my continued professional development to learn and build the knowledge base necessary to stay abreast of industry and market trends to remain at the top of one's game."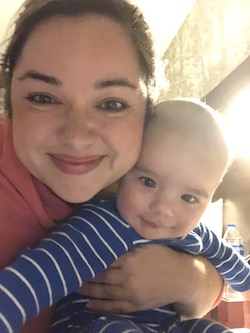 Anna Andre, Global Employer Branding Manager, has found solace in knowing she can achieve her definition of work-life balance, allowing her to flourish – as a Vaulter and as a mom. "I was offered the chance to expand my skill set and grow with a stretch assignment involving some major projects on another team for eight months. Seven weeks into my new role I got the call that I've been waiting to hear for years – 'You have been matched with a birth family.' Unlike more traditional ways of family planning where I would have had ample time to work with my manager on a transition plan and all the details that follow, I had four days. A little nervously, I approached my new manager and previous manager to let them know the situation and really to no surprise, their reaction was to see how they could balance their own families and fly to the other side of the country with me as I started a family of my own. Being able to take the time out that I needed knowing that my teams had my back, gave me the time I needed to bond with my new son, and ensure that my tiny human had every opportunity to connect and thrive in his new environment."