Coffee, Customers, and Commvault
By Sanjay Mirchandani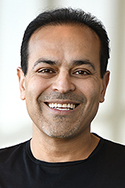 I woke up today working for another company, in another time zone on the other coast. And, even without my first cup of coffee, I am ready to go. Why wouldn't I be? I just joined Commvault, a company with an unrivaled reputation in the industry, innovative technologies and amazingly talented people.
Commvault customers trust us with their data because we have a proven reputation of helping them solve hard problems.
As a former CIO, I've also lived in the world of the customer. Today, we know users are dealing with complex challenges. Commvault has the industry-leading technologies and services to help them protect against cyberattacks, modernize infrastructure, improve compliance and reduce costs.
We also help customers navigate new complexities associated with managing data in multi-cloud and native cloud environments— in ways our competitors can't.
Additionally, as Puppet's former CEO, I've seen how automation and orchestration technologies can help customers tackle the problems of the future.
So, I'm diving right in and looking forward to meeting you – our customers, partners and employees – to hear your stories and better understand how we can make a difference in your own IT transformations.
Until then, I think I'll get myself a cup of coffee because it's going to be a long first day.
Sanjay