Commvault, ARKAY And Cloudian Host 'Frozen 2' Premiere In Cleveland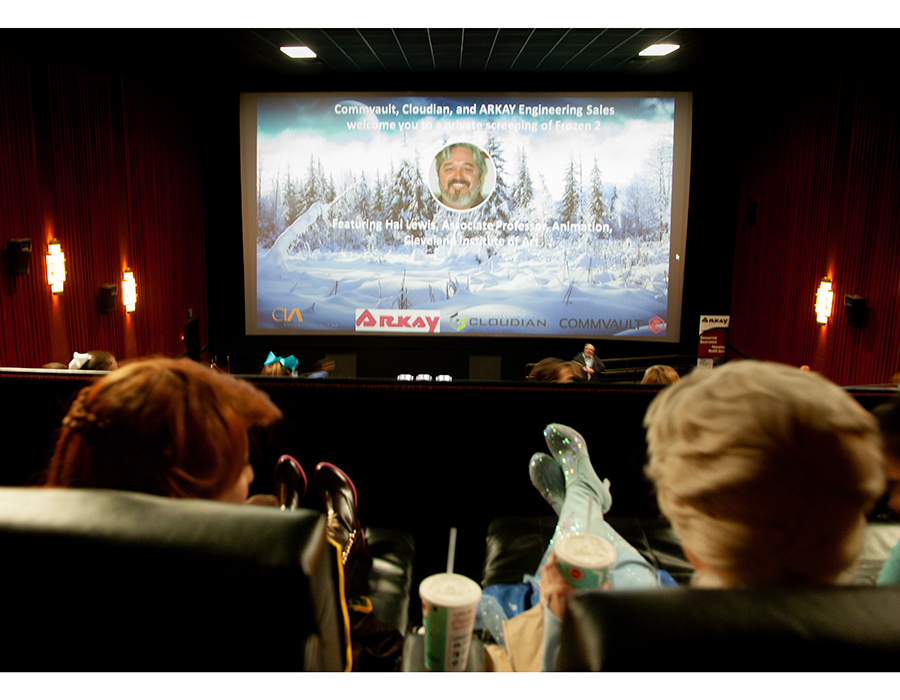 "We keep moving forward, opening new doors and doing new things, because we're curious and curiosity keeps leading us down new paths." – Walt Disney
By Adrienne Locke
When Walt Disney premiered his first feature length film, "Snow White and the Seven Dwarves" in 1938, he likely never imagined that almost 80 years later children and adults alike would be embarking on an even more fantastic adventure to the make-believe Nordic kingdom of Arendelle with an ice queen, talking reindeer and a hilariously funny magical snowman.
However, I'd like to think he would be overjoyed to know that his legacy doesn't just live on but thrives thanks to the talents of some of the most tech-savvy and creative animators ever. Walt was well-known to challenge his animators to push boundaries and look for new and innovative ways to engage tomorrow's youth.
Commvault, Arkay and Cloudian hosted more than 175 guests in two sold-out, prescreening theaters for "Frozen 2" Nov. 21 at the Cinemark Valley View in Cleveland, Ohio.
During the VIP (Very Important Princess/Prince) red-carpet extravaganza, guests (young and not so young) had their photographs taken during a meet and greet with Queen Elsa and Princess Anna, along with autographs from the royal sisters.
Before the house lights dimmed, former Disney animator/CG model designer, Hal Lewis, spoke to the children about how Disney movies, like "Frozen 2," are made today and the important role technology plays in such creative endeavors. Having worked on Disney hits such as "Meet the Robinsons," "Chicken Little and Bolt," Lewis is currently a professor at the Cleveland Institute of Art. Several of his students were on hand to talk to the children about the importance of science, technology, engineering and math (STEM) in order to become an animator.
Lewis said after the show: "Without the development of new scientific and mathematical-based tools like fluid dynamic simulations and cloth and fabric simulation, these movies I've worked on could not have been completed. It is essential that people with specialized scientific knowledge and mathematical skills are employed by studios in order to execute animated feature films, as well as products for television and other media."
Today's animated movie magic is certainly a far cry from artboards and hand-drawn scenes from Snow White. Now built on cutting-edge software and the latest in IT innovation, studios have embraced all that technology can bring to make even the most magical of ideas come to life.
"Young minds are taking the technology of today and running with it; architecting a tomorrow we could have never dreamed of ourselves," said Arkay's Joe Ciborek. "The importance of science, technology, engineering and math in the education and experience of today's youth cannot be over-stated. It will be exciting to see what they do with it."
As children exited the theater, they received a special STEM project to take home and start on their own journey to becoming tomorrow's Imagineers! It was our pleasure to host such a fun and lively crowd.