Commvault Command Center
™

Update: Going Hybrid with Commands
By Michael Fasulo
This blog references the Commvault Command Center™ for those wishing to gain a quick understanding and then return to the blog check out this video resource
The Commvault Command Center has certainly evolved over the past year in many ways. From standardization efforts, to added functionality that operated in familiar ways, it's been quite a journey.
Feedback & open and honest dialogue is of course a major part of shaping that journey. As we transitioned from the "legendary" Java console to Commvault Command Center, I had many conversations about the shift. Our intention was not to directly replicate the Java console in HTML5, but wanted to embrace and represent the most popular features and options it provided, in a simplistic, intuitive and innovative way.
We incorporated dashboards which provide deep insights into the environment to raise awareness of success and failures alike.
Machine learning models have been integrated into the backend to trend, detect and notify of anomalies. This provides key insights into success and failure criteria, to provide greater depth into the activity of the CommCell. This awareness allows for true "manage by exception" strategy, so admins can focus on efforts involving all their other "hats".
Beyond exceptions, we found another cycle spend revolved around configuration and one-time operations. To simplify both scenarios, we introduced and expanded the capabilities within the search bar with a rich command set. This provides similar quickness and efficiency of voice commands (we can do that too!) to make Command Center a truly hybrid approach to an interface.
Global Entity Search
Almost every navigation entity, component, name, report, alert, job id, and VM (you get the picture) within the Commvault Command Center is indexed and can be surfaced within the search bar. Results are instantaneous and are categorized by entity type , so a machine name search will result in showing that machine with all its different components. But it's not just "click and GO"; for several components, like file servers, virtual machines, instances, and databases search will also surface next level commands with a click of the tab button enabling lighting fast actions on search results, but we will get to that a bit later.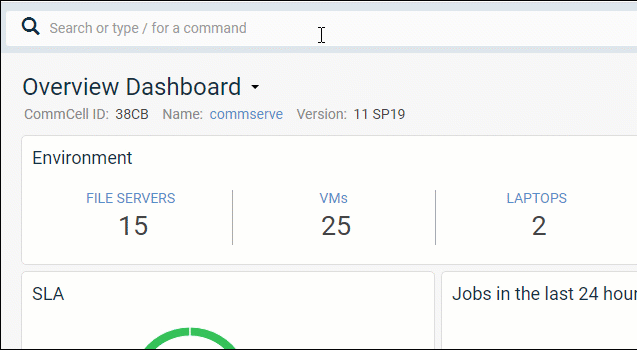 Slash Commands
In large environments surfacing results based on common words could certainly cause the results to be unwieldy. To enhance the current search capability, we implemented slash commands that allow the search queries to narrow the focus a bit more than just using a basic search. Slash commands come in the following types:
/GOTO
/HELP
/ADD
GOTO allows you to quickly navigate to the depths of the navigation, removing an addition click, if you surfaced the result from basic search.
HELP allows you to submit a search query directly from command center to documentation.commvault.com to surface results.
ADD allows you to quickly configure new entities, by jumping directly to appropriate configuration screens. This would include Companies, Hypervisors, File Servers, VM groups, Roles, and Plans, just to name a few.
This is only the beginning. As we continue to evaluate the usage of the command bar, we will expand these out. Check out the image below, to see all the capabilities.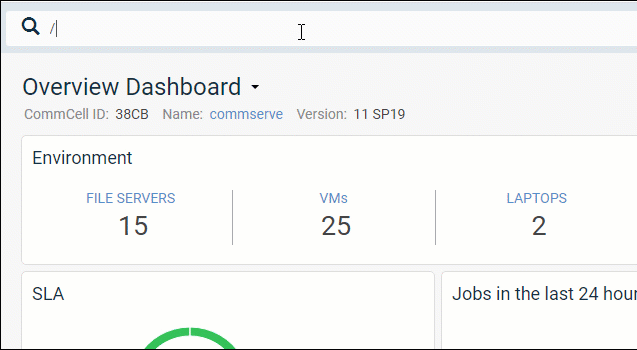 Action commands
A common request is to run a onetime backup of a particular machine. Classically in either interface you would traverse the navigation trees, go to the subclient and initiate the backup. The navigation process would take approximately five clicks or so. In next level commands, you begin typing the machine name, tab > click backup, and start your backup type. Its fast, efficient, and with instantaneous search, there is no need to traverse menus, build XML files to pass via qcommands, or search through schedules to initiate basic actions. The range of available commands that appear are based on which entity type was selected; so a VM will show relevant commands different from a file server. The beauty of leveraging the search bar, is that everything can be done within command center and we didn't further clutter the interface to activate these options.
There is already a good amount of capabilities built into the command bar, and we will continue to expand this out in future feature releases. To see some of the supported functionality, check out the image below and explore the options: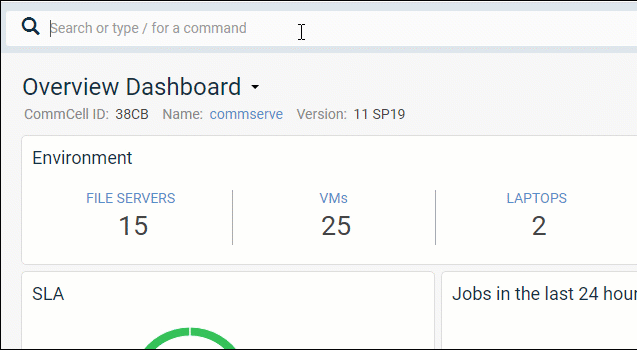 Take it for a spin and see how fast it is to search for a job ID or add a hypervisor, and you'll agree the hybrid approach is the way to go!
As always, I'm available for feedback and you can email me at bro@commvault.com