Commvault Webinar: Three Imperatives For Holistic, Cloud Data Management
By Chris M. Evans
On Oct. 9 I had the pleasure of taking part in a webinar hosted by Commvault discussing the "Three Imperatives of Holistic Data Management." The recording doesn't go into product specifics, but rather looks at the processes around data management and protection that all businesses need to have in place to create a joined-up or holistic approach to managing data.
The three imperatives are:
Cloud Responsibly
Ensure Recovery Readiness
Optimize Modern Data Infrastructure
Cloud responsibly
What does it mean to "cloud" responsibly? As with any infinite resource, it's easy to over-consume and suffer the remorse that comes with an unexpectedly high billing statement. Any transition to public cloud needs to be done with proper planning and understanding of the expected benefits the strategy will deliver.
Putting applications and data into the cloud also provides an opportunity to "spring clean." A good data management policy should include standards and processes that determine what data is retained and what is discarded or deleted. Moving data sprawl to public cloud simply exacerbates a problem that incurs ongoing costs. So take the time to look at unstructured and structured data to determine what really needs to be kept and what level of service that data requires.
Ensure recovery readiness
All businesses depend and thrive on data, to the extent that for most, if not all, the catastrophic loss of data can translate into business failure. Every IT organization should have a data protection and recovery plan that documents both the process of data backup and restore. Key considerations should include:
Recover applications. Mission-critical applications will undoubtedly take precedence over less-important systems. However, complex recovery dependencies can exist, so parallel recovery will also be important. Equally, recovery of core infrastructure such as DNS and email may be critical path items to recovering customer-facing applications.
Minimize disruption. IT organizations should assume data recovery will be a necessary process, but when it does occur, the business must be impacted as little as possible. It may be assumed that production systems rank first here, however, in organizations with large developer communities (for example), the cost of an outage to test/dev systems could be significant and undesirable.
Support disparate services. Today businesses use on-premises infrastructure, supplemented by public cloud IaaS (Infrastructure as a Service) and SaaS (Software as a Service) applications. Data also exists on endpoint devices (mobile phones, laptops) and will increasingly be created on edge devices. All of these need protection.
Use flexible tools. Data recovery can range from restoring lost or accidentally deleted files to recovering entire servers or data centers. There's no guarantee the team performing restores will be the same people who built the backup process, so efficient and easy to use tools become essential.
Remember that any plan needs testing. Without validating that recovery can be achieved, any backup is effectively worthless. Regular recovery should be built into a data management plan. Many backup solutions on the market today offer features to help automate this process.
Optimize modern data infrastructure
Whether using public or private cloud, migration provides the opportunity to modernize the technology in place. In fast-growing environments, scaling up infrastructure is much less practical than scaling out and introduces challenges for the future. Multi cloud can represent a particular challenge, with the risk of leaving data dispersed across multiple cloud platforms for the fear of incurring egress charges to repatriate that data to another cloud.
Readiness
Our webinar discussion asks where attendees would put themselves on a readiness curve.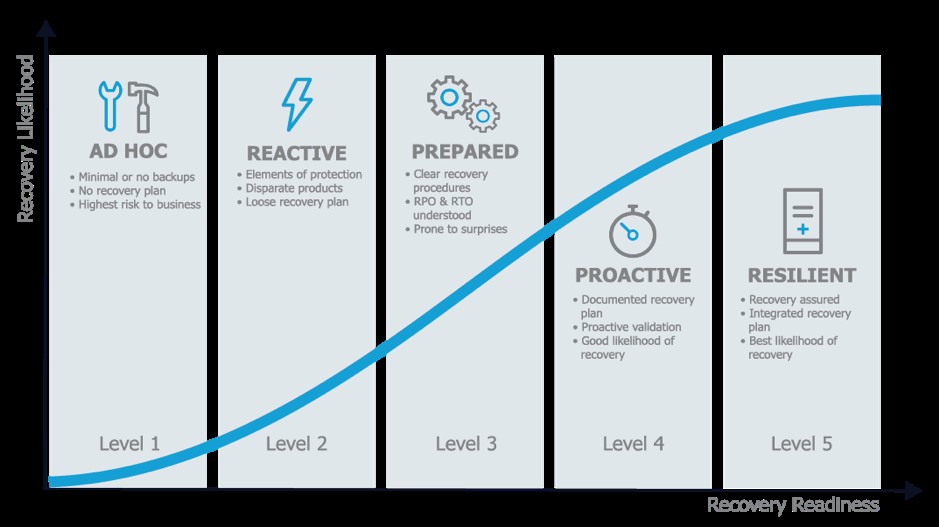 I like this chart as it forces IT organizations to really question the state of their own plans. In reality, although we might want to strive to reach Level 5, most businesses will be in the 3-4 area (if you're not, now is a great time to start). Exact positioning will change as new applications and technologies are adopted by IT and business groups. Assessing readiness will, therefore, be a continuous process of review.
The architect's view
Moving applications to public cloud offers benefits and introduces challenges. The migration represents a perfect opportunity to re-evaluate data management practices, implement new policies and validate backup plans.
Finally, I had an engaging time with industry experts at the recently held Commvault GO 2019 in Denver. In the meantime, you can find much more in-depth information on the topics I've discussed by watching the replay of the on-demand Commvault webinar.