Discover Data Protection Across Amazon Cloud Storage At AWS Summit
By Jeanna James
Data protection is an important conversation for every Amazon Web Services (AWS) customer. Whether you are new to the cloud or an experienced user expanding your cloud initiatives, data management and protection are important aspects of every cloud strategy. Join Commvault at the AWS Summit San Francisco this month to learn how to streamline and unify data management across your Amazon cloud storage locations.
Commvault helps organizations with secure and cost effective data protection, management, backup and discovery. The Commvault data management platform reduces complexity by integrating data management of both local and cloud storage with a single console, minimizing administrative overhead and the need for specialized appliances.
With a clear user interface and powerful data protection capabilities, Commvault also helps you reduce administrative and storage overhead. Commvault can automatically tier older or infrequently accessed data to more scalable, lower cost AWS cloud storage.
Secure Data Protection with Native AWS Integration
With native integration to AWS, Commvault quickly and securely manages data migration from your data center to the cloud or from public or private infrastructures to the AWS cloud.
Commvault natively integrates with:
Amazon EC2
Amazon Relational Database Service (RDS)
Amazon S3 and Amazon S3 Standard – Infrequent Access
Amazon Glacier
AWS Snowball
With Commvault, companies can send backups directly to Amazon S3 or Amazon S3 Standard – Infrequent Access. As with on-premises backups, you can still deduplicate your data for efficient movement across hybrid architectures. For customers seeking long-term archive, Commvault can write data directly into Amazon Glacier as well.
Data formats are no problem: Commvault can convert VMware or Microsoft Hyper-V VMs into Amazon EC2 instances, speeding the migration of on-premises workloads into the AWS cloud.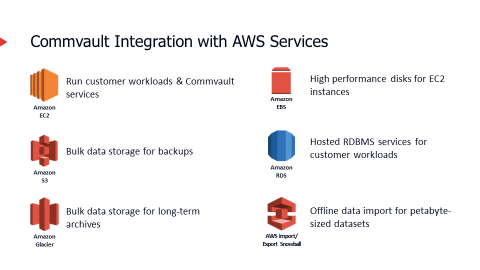 Learn More: See Data Protection at AWS Summit San Francisco
Commvault is a Silver Sponsor of the AWS Summit San Francisco April 18 and 19 at Moscone West. As the shared responsibility model means organizations are responsible for securing their own data within the cloud, make sure data protection is part of your AWS Summit conversation – and learn that Commvault data protection is more than just data backup.
If you're going to San Francisco:
Talk to Commvault about cloud. Get to the cloud faster. See how Commvault can take your data to a higher level with automated cloud data management on the AWS platform. Stop by Commvault booth No. 1849.
Learn about Jointly Validated Commvault Reference Architecture on AWS. A new pre-optimized Commvault cloud data protection model enables customers to reduce cost, improve agility and speed deployments.
See data protection in action. Get a live demo of Commvault data protection software to see how you can easily manage your on–premises data and applications together with the AWS Cloud, all from our integrated management console.
We look forward to seeing you in San Francisco. Stop by the Commvault booth and keep up to date with all the news from the show by following @Commvault on Twitter.