Latest From Cisco Live! Putting The 'IT' In The Multi-Cloud Approach
By Cathy Conroy
At 6:45 a.m., on the first day at Cisco LIVE, the line for registration was longer than anything I'd experienced in years of attending major industry events. I couldn't help but wonder, "Would this be worth the wait?"
The wait was rewarded.
Multi-cloud adoption accelerates
One of the first sessions of the morning was an opportunity to gain the insight of Carlos Pereira, Cisco Distinguished Systems Engineer. This session was all about the "how" behind the Cisco multi-cloud approach. When he asked the crowd (and it was a packed audience) who was working with more than one cloud provider, almost every hand went up, validating a point he was trying to make. He quickly said, "It's multi-cloud by definition."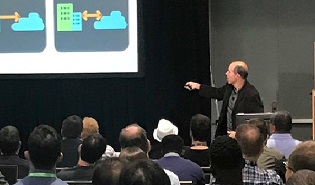 Carlos described what he and his colleagues learned from their close work with thousands of Cisco customers. The need for a "consistent, production-grade experience" across multi-cloud and the desire for "full performance, no matter where 'it's' running" – you probably have deciphered the powerful themes emerging.
The 'it' of multi-cloud
So what is the "it" Carlos refers to that needs full performance, no matter where it's running – or that consistent, production-grade experience? He shared various use cases, which resonated with the audience. Many of us shared thoughts as we headed to the keynote that followed.
The use cases were:
Developing applications in public cloud, consuming data from on-premises
Developing applications on-premises, consuming public cloud services
Developing CI/CD applications across public cloud and on-premises (continuous integration/continuous delivery, for the less technical, myself included)
Carlos also described the Cisco Azure Stack Appliance for Hybrid Cloud and other ways Cisco is aligned, ready and leading in multi-cloud.
Commvault: Data protection for multi-cloud environments
His conclusions caused me to reflect on the Commvault place in the Cisco partner ecosystem and how well Commvault is positioned to help Cisco customers make multi-cloud a seamless reality. Commvault delivers the data management and data protection component that truly covers the multi-cloud scenarios that Cisco customers need to support.
Commvault: Cloud responsibly
Whether by design or by accident (ever uncover "another" cloud provider the business is using somewhere?), the multi-cloud era is here. Commvault covers it without adding complexity. The real Commvault difference? It's one data protection platform. With one platform, Commvault makes the experience better for the end user and life better for every IT pro working with a multi-cloud environment.
Commvault manages and protects diverse kinds of data, across on-premises and multi-cloud environments. That's any combination, including legacy on-premises architecture to SaaS, PaaS and whatever cloud providers are right for the situation, and more. Commvault helps Cisco customers to cloud responsibly.
The multi-cloud data protection discussion continues
If you missed Cisco LIVE or if you're looking for more on how it all comes together in this multi-cloud world, Commvault has teamed up with Cisco, Microsoft and CDW for our "Achieving Hybrid Cloud Nirvana" Executive Summits in Atlanta and South Florida. As the multi-cloud discussion heats up, we plan to bring these events to more locations. It's just another step in the Commvault commitment to collaborating with our partners who are essential to your multi-cloud success. Stay tuned for more details. In the meantime, visit Commvault this week at Cisco LIVE booth No. 1319.