Nutanix Enters Secondary Storage Market With Nutanix Mine
By Dave Orban
At the recent and annual Nutanix .Next conference in Anaheim, Calif., Nutanix announced that it is going all-in on the secondary storage market with the launch of Nutanix Mine, a turnkey solution that integrates secondary storage operations with the Nutanix Enterprise Cloud Platform. Because it's all managed from within a single console, Nutanix customers no longer need to purchase multiple point products and go through the planning and integration process just to back up and recover their critical business data; they'll be able to do it from within their Nutanix Mine infrastructure.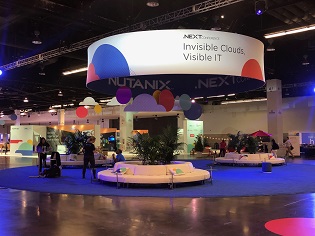 Nutanix Mine allows customers to manage their hyper-converged infrastructure (HCI) environment and back up operations from a single management console, while helping to reduce the cost and complexity associated with standalone point products for backup and recovery. It's easy to deploy. Additionally, it should greatly simplify ongoing management and troubleshooting of backup operations, as well as enable greater scalability. The platform is integrated tightly with Nutanix's HCI data fabric (for intelligent tiering and advanced data reduction capabilities) as well as Nutanix Prism – its centralized management console. And as enterprises continue the shift to hybrid environments, it should be easier for users to plug in new features (IoT, object storage and more) into the Nutanix platform, helping to enhance the customer's return on investment.
Prior to the introduction of Mine, Nutanix clusters were built and priced for production VMs and power applications; they tended to be cost-prohibitive for scaling-out for use as backup infrastructure.
Brian Brockway, Commvault's CTO, said: "The focus of Nutanix Mine is on backup workloads. By integrating with various backup providers, Nutanix is providing an easier way for customers to right-size and operate their Nutanix hyper-converged infrastructure, and properly enable the necessary backup infrastructure."
Commvault, a longtime partner with Nutanix, is finalizing its own integration with Nutanix Mine, which will be able to take full advantage of the Nutanix Acropolis Hypervisor (AHV) and VM layer for running workloads, making it ideal for shops that are considering expanding their Nutanix platform across more workloads. Integrating secondary storage with primary data center operations enhances performance; it also enables greater flexibility and simplicity for customers that, in this era of "do more with less," is becoming more and more critical. Commvault Complete™ Backup & Recovery software can provide robust, reliable and cost-effective protection, and management, across the entirety of your infrastructure.
As Sam Grover, one of our product managers, said: "Nutanix is an amazing partner to work with and is preaching a message of 'freedom of choice;' specifically, freedom in choosing the hardware platform on which you want to run Nutanix software; freedom to choose which applications your business runs on Nutanix; and freedom to choose which backup vendor you want to use to protect your applications and data. Commvault was built from the ground up to scale exactly as Nutanix envisions with Nutanix Mine and to provide best-in-class data protection and management in the most scalable, flexible and effective way possible."
Nutanix also focused on Nutanix Files and Nutanix Buckets at the conference. Commvault is fully-certified with Nutanix Files 3.5 (released at the end of February) and we've already certified Buckets as a cloud library target. These and other innovations underscore how we actively work with Nutanix and how are fully committed to furthering our partnership, all to the benefit of our mutual customers.
Needless to say, Commvault is excited to be able to showcase the power of Nutanix + Commvault in protecting the entire enterprise – from virtualization to bare metal to cloud and to hybrid environments – and extending to the full breadth of our application/platform protection ecosystem from within Nutanix Mine. Stay tuned to these pages for more news about Commvault and Nutanix Mine.