Pledge For A Plastic-Free July
By Chris Powell
Dustin Hoffman's character received some famous advice in the movie classic "The Graduate." "I want to say one word to you. Just one word … Plastics."
Given the movie was set in the 1960s, I'm sure the family friend's unsolicited advice referred to the exciting business opportunities that would arise with the wide availability of plastics.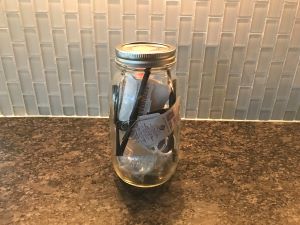 Here we are now, and people are still innovating with plastics 50 years later. But now, the real innovation is coming up with ways to rid the planet of the menace known as "Single-Use Plastics." Plastics that clog our landfills, litter our streets and plague our oceans.
And, if you think that was a dismal turn to this blog, I recommend you watch the end of "The Graduate." 😉
If you've been following my blogs up to this point, you know that I try to avoid the single-use plastic that wraps, packages, cushions, covers and
contains much of what we buy, consume and readily throw away like our water bottles, food containers and product packaging. While some of it can be recycled – easily even – it often isn't.
I'm not alone in this sentiment. That is why I'm enlisting and encouraging you to mobilize for Plastic-Free July.
That said, it's not easy. I wrote about my first attempt to go plastic free for 30 days last year. In fact, here's the jar I used to contain the plastic I reluctantly was unable to avoid during my single-use plastic embargo. What I learned was there are a few things that you can change that will make the month go easier:
Let's start with the liquid needs in our life.
First, water: get past plastic bottled water. Yes, it's a habit you'll need to break, but one of the easiest.
Next, coffee: reusable coffee mugs.
And, finally, other beverages: Aluminum cans for sodas and cervezas – some of the best micro-brews are cans now.
Next war zone is the grocery store.
Use reusable bags at stores for produce, bread and to carry away all your purchases. And, if you forget, ask for paper. It's not great, but it's better.
Buy things at the fish and meat counter. Most places wrap these things in paper. It can't be recycled. Again, not great, but better.
Shop farmers markets – its eco-friendly, local and fun.
Ask your favorite shops and services providers to consider plastic alternatives.
How about how you eat, drink, and store food?
Embrace plastic alternatives like bamboo eating utensils.
Oh, and stop the straws. You're not 6-years-old. If you really need a straw – and we all know the paper variety are still not awesome – then look at these super cool new pasta straws. How cool are these?
Use beeswax wraps instead of plastic wrap. They are really awesome.
And finally – the last place to get the plastic out: the bathroom.
Bamboo toothbrush – just do it.
Ditch the plastic razors – this is much cooler and works just as well.
Bar shampoo and conditioner – it's a thing.
And remember, while going entirely plastic free may not be realistic for everyone, any and every piece we avoid makes a difference. And when you can't avoid it – do your best to recycle everything. While it takes an extra step, plastic film, bags and packaging are recyclable.
So, join me. This July, let's start small, stay committed and reduce our environmental impact one piece of plastic at a time.