Commvault email archive solution datasheet
Highlights
Control Email Data Growth through the use of integrated email analytics that provides visibility into which data can be archived, and automated file retention and deletion polices that enable defensible deletion. Unlike legacy methods that "keep everything," with Commvault software you keep only data that is important to the business, reducing retention costs up to 70 percent.1
Enforce data governance policies with an holistic and automated approach to retaining and accessing enterprise data that includes a robust and intuitive search experience that was purpose-built specifically for legal teams to self-service their own collection, legal holds and reviews without burdening your IT team.
Gain Control Over PST and NSF Files by automatically locating and migrating existing .PST and .NSF files into the archive, to help regain control of the information contained within those files, streamline search, reduce storage costs, backup windows and risk associated with lost or stolen files.
Reduce helpdesk tickets by providing end users seamless self-service access to their archived email so they can view and recover emails without IT intervention.
Reduce cost and risk with a modern email archive solution
Despite the popularity of text and social media, email is still the No. 1 tool for business communication and collaboration. In fact, according to IDC, 60 percent of business critical information is now stored, sometimes exclusively, in email. It's more important than ever to establish an email archive solution strategy that ensures business continuity and information availability.
Commvault's modern email archive solutions accommodate the new realities of the digital workplace by intelligently storing, managing and discovering email content to meet business and compliance requirements. With Commvault you can classify any data and apply automated archiving policies such as data retention, deletion and migration in order to protect sensitive data, remove low value data and reduce overall storage costs by leveraging less expensive, tier-two storage hardware. In addition, this email archive solution offers productivity improvements by providing easy, self-service access to archived data for search and discovery.
Commvault's email archive solution supports detailed archiving policies for any email environment — including cloud email solutions like Microsoft Office 365.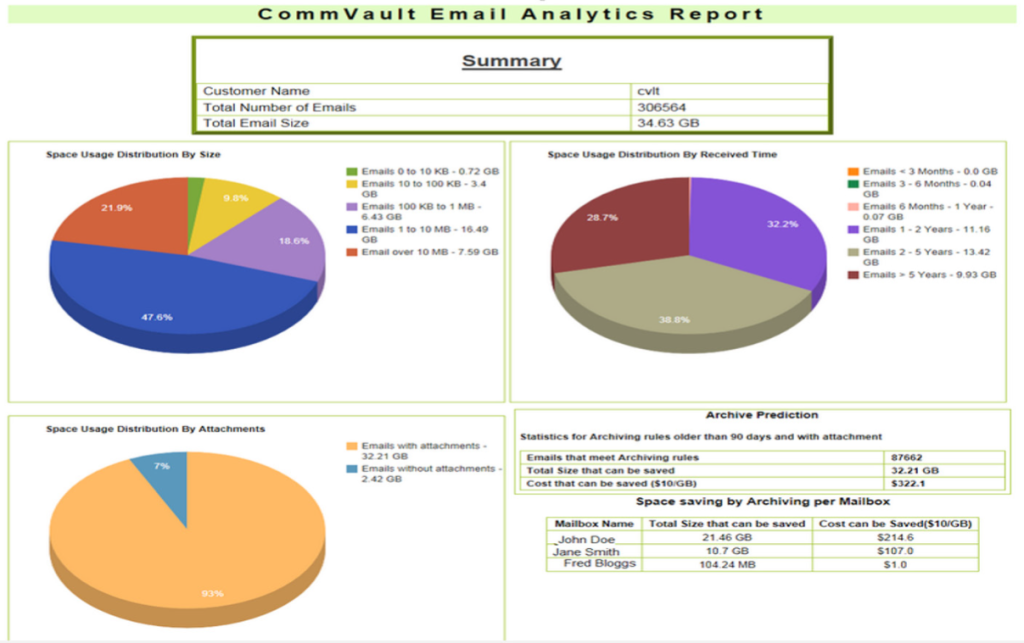 Key capabilities of email archive solutions
FEATURE
BENEFITS
Online/offline end-user access to archived email
Increased end user productivity with easy online or offline access to historical Microsoft Outlook and Lotus Notes email via a native Outlook plug-in, IMAP compliant email viewer or mobile device using Commvault's mobile applications.
Accelerated search, compliance and early case assessment operations
Full-text indexing and searching against a single pool of data from Commvault's virtual storage repositories, accelerates the identification of responsive data for legal hold, compliance audits and investigatory operations. Collection and legal hold workflow automation simplifies the process of ensuring ESI preservation.
Exchange journaling
Retain a copy of all email messages sent and received to help ensure preservation based on regulatory or legal retention policies.
Simple-to-use policy and workflow automation
Reduce IT admin burden with a library of basic tasks, customization capabilities and automated workflows such as auto retention and defensible deletion based on content attributes. You have real-time visibility into all running jobs and events with customized alerting and reporting, as well as out-of-the-box reports.
Robust data encryption and access control
Access control to archived email is role-based with two-factor authentication or single sign-on. SSL encryption is provided during transfer and at rest via AES, Blowfish, 3DES and Ghost. Archived data is encrypted with Commvault's proprietary modules which are FIPS 140-1 and 140-2 certified.
Reduce overall data footprint with single instance storage
Commvault email archiving optimizes your primary storage to save space and reduce expenses. When email is archived, it is indexed, compressed, and deduplicated to reduce the footprint and total cost of ownership of the archive. When a file has already been archived once, Commvault knows not to store it twice.
Lower total cost of operations with smart storage tiring and consolidated backup/archive scanning
Data can be stored on any combination of supported storage devices, allowing data to be tiered and moved over time to ensure that as data ages it gets stored on the most suitable storage medium and that archived data has the smallest possible storage footprint. Unique single scanning of primary data repositories to support backup and archive processes vastly improves storage operational efficiencies.
Microsoft 0365 support
Migrate your Exchange to 0365 while maintaining a single index for searching across 0365/Exchange and your on-premises email archives, as well as other unstructured data protected and archived by Commvault.
Virtually unlimited scalability
Scale easily from hundreds of users to hundreds of thousands of users and from a single location to hundreds of locations globally with Commvault's agile and web scale platform.
Licensing options
Email Archive – Email archive, email analytics, meta data search. Per mailbox.
Search Add-on – Advanced content-based search, legal hold. Per mailbox.
Deployment options
On-premises, Hybrid Cloud. Commvault's cloud service.
Reference
Compliance, Governance and Oversight Council