Complete data protection across cloud and on-premises environments
A complete strategy for on-premises and cloud data protection? It can be your reality. It's time to update your data protection strategy to match your cloud and digital transformation initiatives.
Today's IT leaders are challenged with…
The Commvault platform addresses with…
…managing storage platforms on-premises and in the cloud – or across clouds.
…a single platform for data protection across cloud and on-premises infrastructure.
…understanding where data is stored.
…a comprehensive dashboard to view multiple storage locations with comprehensive reporting.
…addressing data requirements and regulations at a broader
scale.
…one tool to support data lifecycle management: data backup, disaster recovery, management and eDiscovery.
…too many point products to manage different data needs.
…one system for data management across files, applications, databases, hypervisors, and clouds.
…a shortage of trained IT staff plus headcount and budget
restraints.
…flexible orchestration to save time and effort by automating resource provisioning, policies and routine tasks.
Cloud providers give you basic tools and replication options. But your environment isn't basic. You need a complete view of your data across multiple storage locations.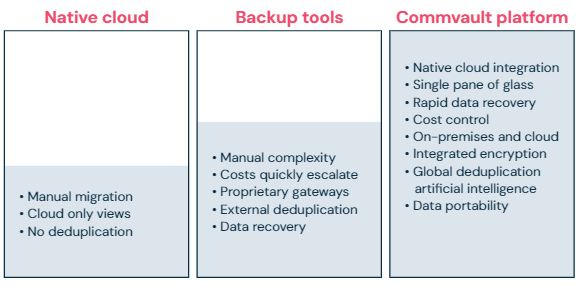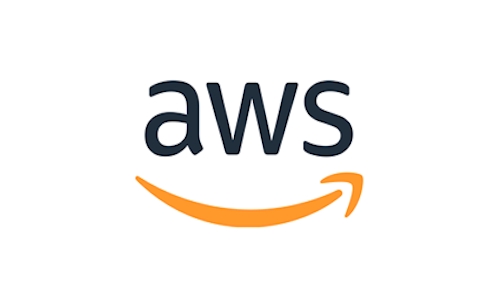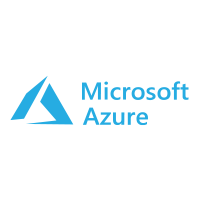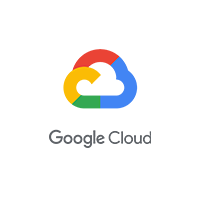 See the full list of Commvault supported technologies: cloud storage options, hypervisors, databases, applications, file systems and more.
Today's IT leaders need cloud data protection with breadth and depth
You have a hybrid IT environment. Commvault is the only unique data management platform to move, manage and use data across on-premises and cloud locations.
Commvault software provides:
Backup/recovery to the cloud
Backup/recovery in the cloud
Application and data migration to the cloud
Disaster recovery in place, out of place, on-premises and cloud-based
Physical-to-virtual, virtual-to-virtual, virtual-to-physical, physical-to-cloud, cloud-to-cloud support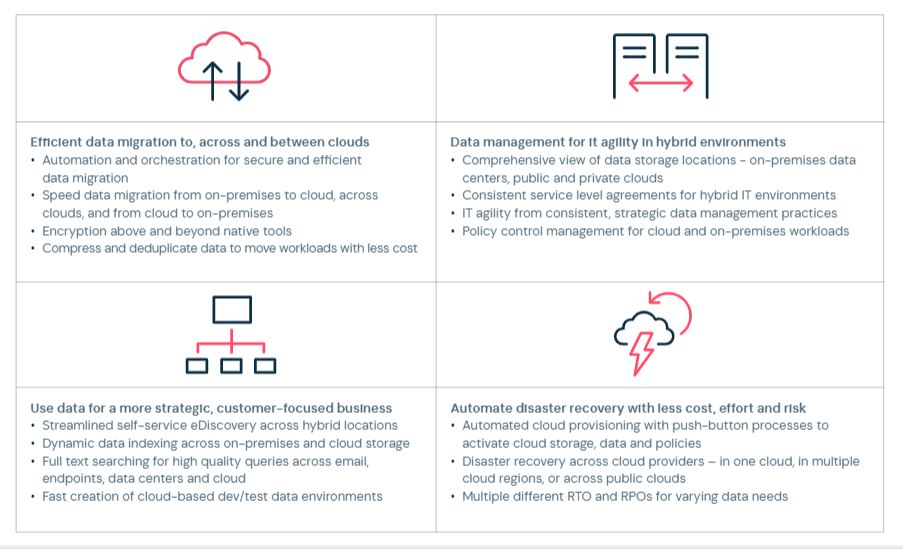 62%
of surveyed Commvault customers report reduction in annual unplanned downtime1.
Join the leaders who choose Commvault for cloud data protection:
Commvault: Unparalleled, comprehensive cloud data protection
Compare Commvault cloud data protection to other products
Modern IT requirements
Commvault
Traditional backup &
recovery
A single, integrated platform for data management across on-premises and cloud locations
★ ★ ★ ★
★ (out of four stars)
Agentless cloud technology support through APIs that create virtual machines and storage in the cloud
★ ★ ★ ★
★
Automation, orchestration and flexibility to reduce IT administrative and manual tasks
★ ★ ★ ★
★
Centralized policy management, control and reporting
★ ★ ★ ★
★ ★
Comprehensive and flexible orchestration, including on-demand cloud access and storage
★ ★ ★ ★
★
Comprehensive self-service search across cloud and on-premises storage
★ ★ ★ ★
★
Efficient replication and source-side deduplication
★ ★ ★ ★
★
Large data volume support with seamless integration into tools like Azure Data Box and AWS Snowball
★ ★ ★ ★
Multiple RTO and RPO tiers, distinct for different application groups
★ ★ ★ ★
★
Native integration with public clouds, plus support for 40-plus cloud storage options
★ ★ ★ ★
★
Rapid, orchestrated data recovery
★ ★ ★ ★
★
IT leaders need to be more than ready – today and in the future. Can you really be data ready with point solutions that don't talk to each other and require separate skill sets? You need a data management command center. Commvault data protection is the comprehensive, flexible platform that supports your current and long term IT goals. The future belongs to the data ready.
Commvault, quantified
The business value of Commvault software straight from our customers.