Delivering performance, availability and protection for Epic Electronic Health Records (EHR)
Solution overview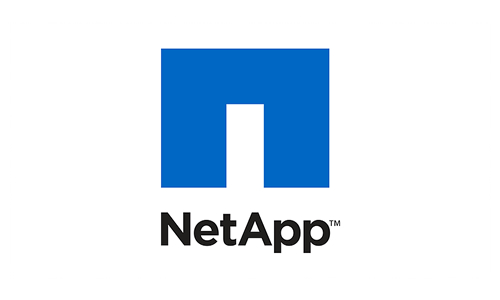 By leveraging NetApp® and Commvault's deeply integrated solution stacks, healthcare IT teams can ensure that their Epic EHR system meets the performance, availability and recovery needs of even the most challenging of clinical environments.
In addition to meeting these demands, the same technologies can also accelerate the delivery of new digital patient services.
Digital patient services – better outcomes, different risks
Epic estimates that many hundreds of million patients now have electronic patient records managed by their EHR. That is an unprecedented amount of critical data. All technology has its challenges, and even the most highly available systems are still at risk from human error, system failures, corruption and cyber-attacks in the form of malware or ransomware. With such a prodigious amount of personal health information (PHI) being created and stored in EHRs, any failure of access and the lack of a solid data management plan can result in untold repercussions to patient care. This means even a single outage could lead to hundreds of thousands of dollars, if not millions, in litigation costs and federal fines.
Maintaining access to life-saving data, with 3-2-1
By using APIs and orchestrating NetApp Snapshot™ and SnapMirror®, Commvault® software can protect your entire Epic system. This integrated approach also creates a backup copy from the snapshots, compliant with Epic's 3-2-1 mandate for data protection. All of these processes have zero effect on production systems, allowing clinicians to access patient information 24/7/365 without fear of any impact caused by data protection operations. These tightly integrated technologies provide multiple layers of protection, simplifying near-instant recovery to just a few clicks. Traditionally complicated disaster recovery (DR) processes can be automated, and multiple long-term and off-site data retention options are available to keep data costs under control.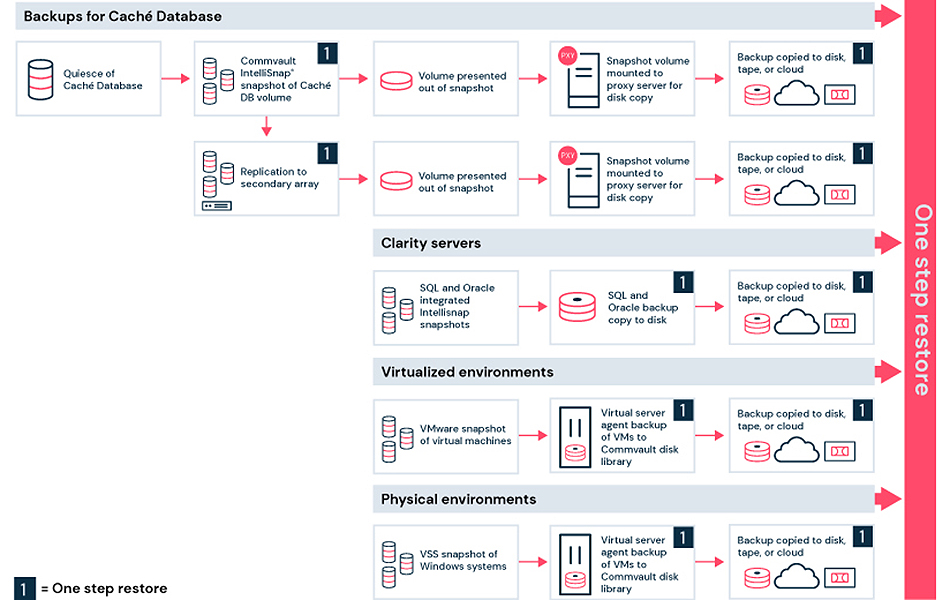 Accelerating the pace of digital patient care
In addition to maintaining clinical system availability, every healthcare organization has a unique set of goals and drivers designed to culminate in positive outcomes for patients. This means safely delivering the of next generation of digital services as quickly as possible. The NetApp 'Epic environment on-demand' framework automates the creation of full copy test environments, like Support and Release, which can be spun-up in minutes, with no additional storage and without any production impact. This can have a significant benefit on patient outcomes, and to the competitiveness of your business.
Challenge
Solution/Benefit
Epic integration
The combined NetApp and Commvault solution is fully compliant with Epic Caché infrastructure, backup and DR design principles. Using APIs, Commvault's policy-based controls deliver the 3-2-1 data protection strategy, a requirement for Epic in 2020 and beyond.
Performance
NetApp ONTAP® illuminate's performance issues for critical Epic workloads, meaning you can easily migrate your critical workloads to NetApp and the built-in service level manager will automatically recommend performance polices via machine learning. This helps you to guarantee predictable performance, while drastically simplifying operations.
Scalability
NetApp has built in flexibility to scale up and out to meet the needs of your business. NetApp is the only vendor1 that offers an Epic high comfort consolidated solution of all Epic workloads (NAS and SAN) on a single platform. Never migrate your data again and future proof your investment. Secure cloud storage can be used for off-site storage if required.
Accelerating dev/test processes
Copies of your Epic system can be created without impacting production for development and testing purpose using NetApp's Epic environment on-demand workflow automation framework. Integrated workflow tools in both NetApp and Commvault software offer many more automation possibilities for Epic and other clinical workloads.
Protection
impact
Managing NetApp Snapshots and SnapMirror, backup processes and disaster recovery (DR) with Commvault allows healthcare IT teams to protect the entire Epic system and its data in a way that has zero impact on clinicians and their access to patient information.
Risk/threat
protection
The tightly integrated technologies of NetApp and Commvault provide multiple layers of protection from corruption, human error, system outages or natural disasters. Protection from ransomware includes multiple proactive detection methods (including the use of AI), backup systems protection, immutable snapshots, (inc. NetApp SnapLock®) and air-gapped backup copies.
Rapid recovery
Should rapid recovery be required for Epic databases, VMs or data, Commvault's orchestrated recovery of NetApp Snapshots means that recovery operations can be completed in just a few seconds to minutes, depending on the type or severity of the incident.
Granular
recovery
In a data loss event, Commvault's indexing allows fast access to the latest copies of data whether stored on disk, in the cloud, or on other media such as tape.
Disaster
recovery
The NetApp and Commvault combination simplify DR planning, testing and execution and offers multiple DR options for even the largest and most complicated of clinical environments.
Regulatory
compliance
Management operations are all audited, and comprehensive reporting plus encryption ensures compliance with HIPPA and other similarly strict healthcare regulations around the world.
By using NetApp and Commvault technology to underpin your Epic systems, and keep them available and protected, you can make a direct positive impact on patient care. These systems will help to answer the demands of key stakeholders in your business, from the risk officer, legal and finance, through to the trustees and clinicians. Don't just protect your EHR, make the Epic Honor Roll – with NetApp and Commvault.
Reference
1 Source: Epic Storage Products and Technology Status, December 2019