File storage optimization with Commvault Activate™
Understand your data. Increase efficiency. Reduce Risk.
It's no surprise that data worldwide is growing exponentially, but how much of that is obsolete or otherwise redundant? With so much data under management, knowing more about it will help you ensure it is secure and that resources are used effectively.
In order to be ready to manage that data, you will need to know:
Where is my data currently being stored?
What data can I tier or remove from expensive storage?
Who owns or has access to that data?
Do I have orphaned or exposed data out there?
How much of my data contains sensitive or critical information?
According to IDC – Data Age 2025(1),
49%
of the world's stored data will reside in public cloud environments by 2025.


Your data. Know it. Act on it.
Commvault Activate gives you the information you need to help answer those questions.
Powered by advanced analytics and machine learning, the information about files, email, databases and their contents are centralized in an intelligent index. This provides a consistent view of your data across your organization. Through these analytics, you can uncover ways to drive efficiency into how your data is stored and reduce risk.
Simplify your file storage optimization efforts with dynamic and customizable dashboards. Quickly drill down into the details of your data. You can even provide stakeholders with their own access to collaborate with IT more effectively.
Accelerate cloud migrations by identifying only the specific data sets that need to move. Reduce your risk of data breaches by identifying potential exposures, such as finding orphaned data and assigning proper ownership. Validate your data is recoverable by locating data that is not currently protected. Lock down your sensitive data by ensuring that only the appropriate parties have access to those files and folders.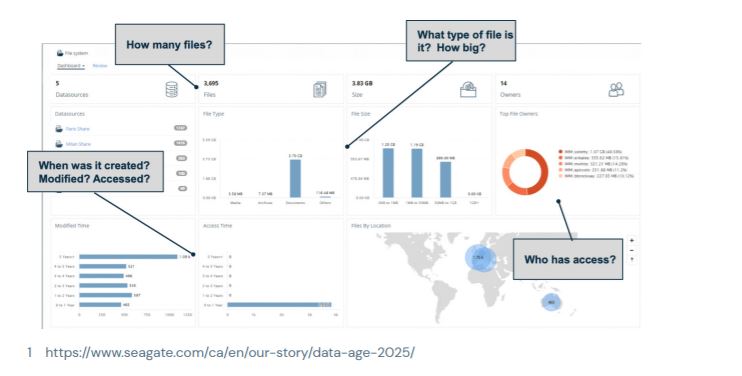 Commvault Activate key features for file storage optimization
Feature
Description

Gain visibility into production
and backup data
Create a full index of data from structured, unstructured and semi-structured sources within your production environment as well as Commvault backup and archive copies. Enrich the intelligence of the index with entity extraction to help classify your data, and augment with third-party data classification tools.
Reduce risk by visualizing sensitive
or critical data across silos
Leverage the Entitlement Manager to assign ownership to orphaned files and restrict access to sensitive data to mitigate data breaches or leakage. Flag data sets that are not being protected and assign them to SLA plans and retention policies.
Dynamic dashboards


Use the out-of-the-box dashboards or customize them for different projects and uses within your organization. Search, filter, and drill down to the relevant details such as:
• Storage distribution and file attributes
• Orphaned files
• Duplicate files
• Inactive users
• Sensitive files
• Tree size
• And more
Review content, curate and tag files
and emails for follow-on actions
Drive increased automation with actionable workflows for tasks such as archive, erase, move, or audit review and approval directly from the dashboards.
Chain of custody and reporting


Maintain an auditable chain of custody to demonstrate compliance.
Role-based access


Robust and granular role-based access enables secure collaboration among IT and other stakeholders.
---
Complete your intelligent data management strategy
Enhance your data management by integrating Commvault Activate with a proven leader and innovator in the backup and recovery market – Commvault Complete™ Backup & Recovery.
Commvault Complete is a single, powerful solution for data protection – whatever your data is, wherever your data lives. Through automation, an intelligent policy engine, and deep integrations into one of the broadest lists of applications, hypervisors, clouds and platforms, you can be confident your data is protected and can be recovered when and where you need it.
Commvault Activate can operate independent of Commvault Complete Backup & Recovery or as part of a combined solution to maximize data management capabilities for your business. Through Activate, you can gain insights to data that isn't necessarily managed by Commvault to drive analytics and other tasks against those data sources.
References
1 https://www.seagate.com/ca/en/our-story/data-age-2025
2 IDC: Quantifying the Business Value of Commvault Software – Worldwide customer survey analysis
Commvault Activate™
An insight toolset for utilizing your data in business, search, discovery and governance contexts.