Hedvig Distributed Storage Platform™ datasheet
Industry challenges
Seismic shifts are happening in IT. Hybrid and multi-cloud adoption are increasing, cloud-native and containerized applications have become the new delivery model, and the adoption of software-defined storage is accelerating. The only thing that hasn't changed are budgets, which remain tight.
Existing storage methods inhibit your ability to deliver on these new technologies that promise better agility, scalability and lower cost. Purchasing siloed single purpose solutions only adds to the complexity of the modern IT delivery. Meanwhile, the amount of data and the number of applications you must manage continues to grow unabated with no end in sight.
The year 2020 and beyond requires a new strategy to infrastructure.
84%
of enterprises have a multi-cloud strategy.1


50%
of global storage capacity will be deployed as software-defined storage by 2024.2
---
What is the Hedvig Distributed Storage Platform?
The Hedvig Distributed Storage Platform is a software-defined, scale-out storage solution. It distributes data simultaneously across multiple locations – from on-premises data centers to the cloud – and scales capacity on-demand by leveraging the storage of commodity x86/ARM servers. The distributed write maximizes availability and protects data from hardware failures ranging from a single disk to an entire site, improving disaster recovery planning.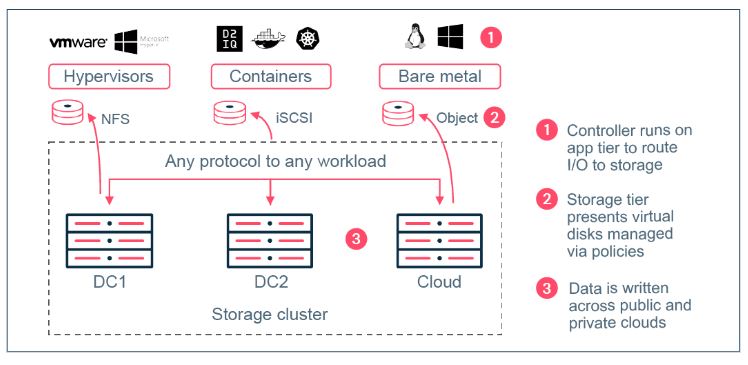 What are the key use cases for Hedvig?
The flexible architecture makes Hedvig an ideal fit for:
Private, hybrid, and multi-cloud environments supporting virtualization
Supporting modern applications running in containerized environments
Consolidating secondary storage infrastructure for backup and archiving
You get a truly programmable infrastructure that meets your future needs.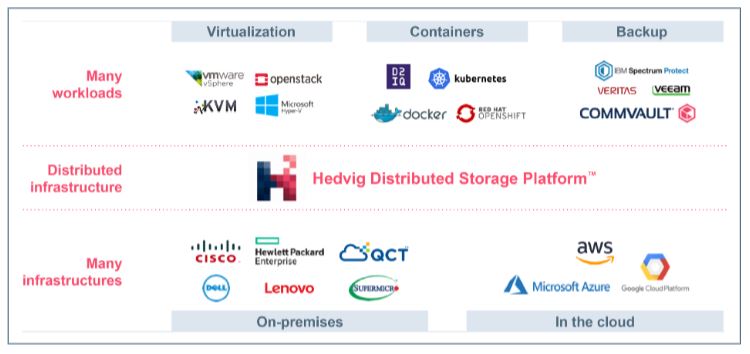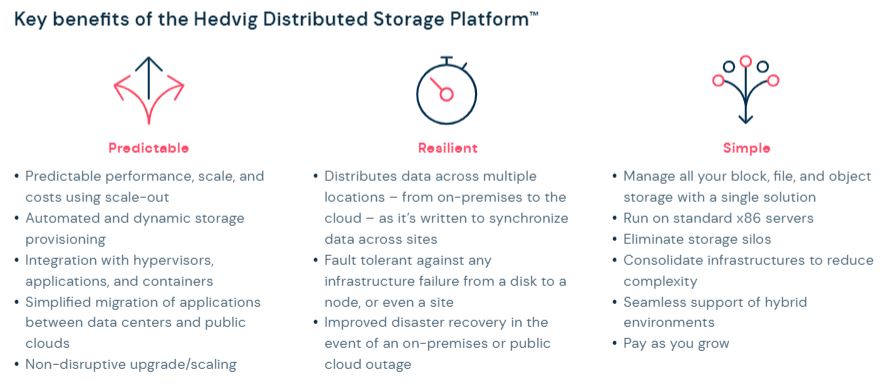 References
1 RightScale 2019 State of the Cloud Report
2 Gartner Research, May 2019

Hedvig Distributed Storage Platform™
Software-defined storage
Infrastructure on your terms. That is the Hedvig Distributed Storage Platform.