Scale-Out With Infrastructure Modernization At Commvault GO
By Phil Wandrei
Plan for the future (and your agenda) with infrastructure modernization
Just like an all-you-can eat buffet, there are endless choices of infrastructure modernization sessions at Commvault GO, the premier data readiness event. In fact, there are more than 120 sessions. The best part is you will hear from your peers as more than 70 percent of the sessions are led by Commvault customers, industry analysts and technology partners.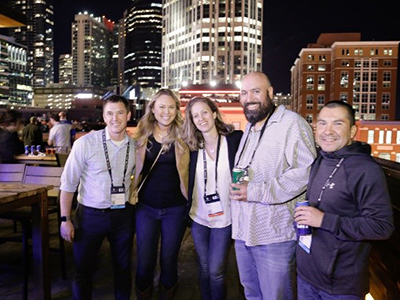 While it may be too early to pull out the suitcase and start packing, now is the perfect time to begin building your session agenda. To help plan your future, here are five (5) infrastructure modernization sessions that are part of the "Plan for the Future" track.
Top 5 Picks for infrastructure modernization sessions
Data protection is tough, but it doesn't need to be. You require a modern solution to consolidate data silos, globally manage data and seamlessly scale. Plan for the Future sessions teach you how to modernize and future-proof your data protection and management, so you can take it easy. In no particular order, here are my five recommended picks for Plan for the Future:
How University of Leicester increased availability using on-premises object storage:  The University of Leicester, a major research institution, needed a new backup architecture that would increase data availability and reduce complexity. Hear how it met these needs – and reduced costs – using on-premises object storage as a backup target.
Simplify your journey to the cloud with the Commvault HyperScale™ Appliance:  Getting your data to and from the cloud can be a daunting and time-consuming task. A technical architect shares how the Commvault HyperScale™ Appliance can help you easily move, manage and use data in the cloud with just a few clicks.
The drive to simplicity: How Denison University is architecting the future – now:  While quick to point out that "Commvault did not impress me at first," Zepu Chen, System & Security at Denison University, is just as quick to add that in the end, "Commvault surprised me the most." Behind these comments is the story of how Denison University, a leading liberal arts college, is using Commvault® software to remove complexity while adding the flexibility and scale needed to respond to complex demands.
Lower your secondary storage costs with scale-out infrastructure:  When businesses are considering IT spending, Total Cost of Ownership (TCO) is a critical aspect of the decision-making process. This session examines how a scale-out infrastructure can reduce TCO in three (3) key areas versus a traditional scale-up infrastructure.
How Emerson Electric went from legacy scale-up to modern scale-out infrastructure:  Fortune® 500 manufacturer Emerson Electric was using legacy scale-up appliances from a vendor that wasn't innovating, but was charging it outrageous fees for hardware and maintenance renewals. Working with Sirius and Commvault, Emerson not only lowered its costs and simplified its data management, but it also significantly improved its customer support experience.
Scale out your schedule for a little fun
Denver and the Rocky Mountains are a great place to visit! So let's plan for a little fun:
Bring your running shoes. New this year at Commvault GO is a 5K Fun Run on Tuesday afternoon. I look forward to enjoying the outdoors and hope you will join us.
Arrive early or extend your stay in the Denver area. It is a great place for a family vacation (if you are from Minnesota, you cannot ask for better timing with MEA!). And it is well worth checking out the great micro-brewery scene.
It is never too early to plan your agenda
There is a lot to see and do at Commvault GO! With only two days, you need to choose your sessions and schedule your time wisely. Based on my calculations, there are more than 90 hours of unique content available! Just like a buffet, be sure to plan and pace yourself.
See you at Commvault GO!